Thanks to its multi-cultural Melanesian, French, Spanish, Polynesian, and Asian heritage, Vanuatu is a foodie paradise. Particularly in its capital, Port Vila, on Efate Island (one of 83 in the archipelago).
Initial thoughts of Vanuatu evoke balmy tropical weather, sizzling sunsets, swaying palm-lined sandy beaches, splashing in azure seas, and even scuba diving, snorkelling and fishing, with a flower-laden cocktail awaiting your arrival. So, we'll forgive you for not thinking about the irresistible, mouth-watering fresh foods that also wait for you here.
Fresh from the land and sea
The island's fertile volcanic soils ensure an abundance of juicy, organic, hand-picked tropical fruits. Enjoy bananas, melons, raspberries, citrus fruits, papaya, mangoes, pineapples, passionfruit and freshly plucked coconuts — the juice enjoyed au naturel or in a Pina Colada.
Discover a wide variety of root vegetables like taro, breadfruit and yams, along with wild spinach and other leafy greens. All cheaply available from the markets or a roadside stall if you're sightseeing around the island.
Chocoholics will love internationally awarded artisan Aelan dark chocolate. Produced from local cocoa beans since 2007, take a factory tour and taste test the different varieties at ACTIV Centre, Port Vila. Try Aelan chocolate spreads made with coconut and Nangi nuts if you like Nutella.
Coffee aficionados will also be impressed. For over 20 years, Tanna Coffee, from the volcanic island of Tanna, has been handpicked, processed, packaged and shipped to Efate for roasting. Partake in a tasting and roasting factory tour, or enjoy a cup at cafes and restaurants around town.
Santo beef is said to be the best in the world. Reared on Espiritu Santo Island, the cattle reportedly get regular massages. But others say the coconut oils in their coconut plantation pastures create the meat's lean and tender composition.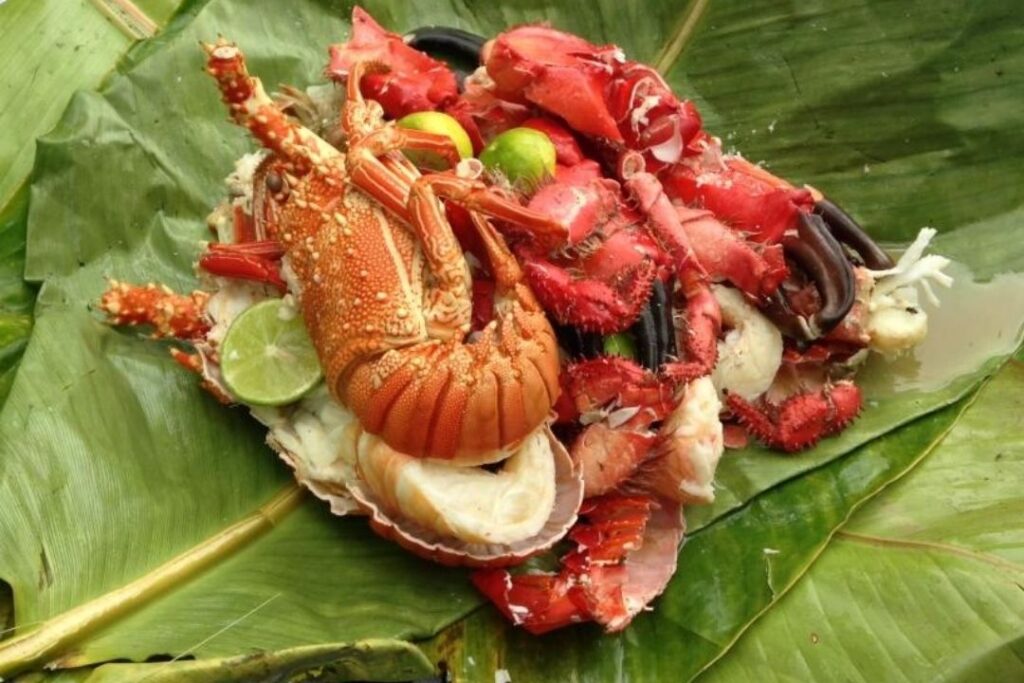 There's no shortage of succulent seafood either. Plate-sized lobsters, palm-sized shrimps, crabs, colourful reef fish, tuna, and Poulet fish (local snapper) are available at the markets and on most menus.
Feeding the Soul 
With cruise ships regularly docking in Port Vila, you'll find a stellar selection of dining options outside your resort.
The busy, colourful waterfront markets are the perfect place to see what's seasonally on offer. Try the national dish, Laplap, with locals at the open-air food hall. Made from ground root vegetables, wild spinach and meat, wrapped in vine tied banana leaves, soaked in coconut cream and finally cooked in an underground oven for three hours, it's traditionally eaten while warm with your fingers. If you're adventurous, try one made with flying fox.
Another local delicacy is Tuluk, a tapioca dough and shredded pork wrapped in banana leaves and steamed. When market shopping, remember to take small local currency, as haggling isn't culturally acceptable in Vanuatu.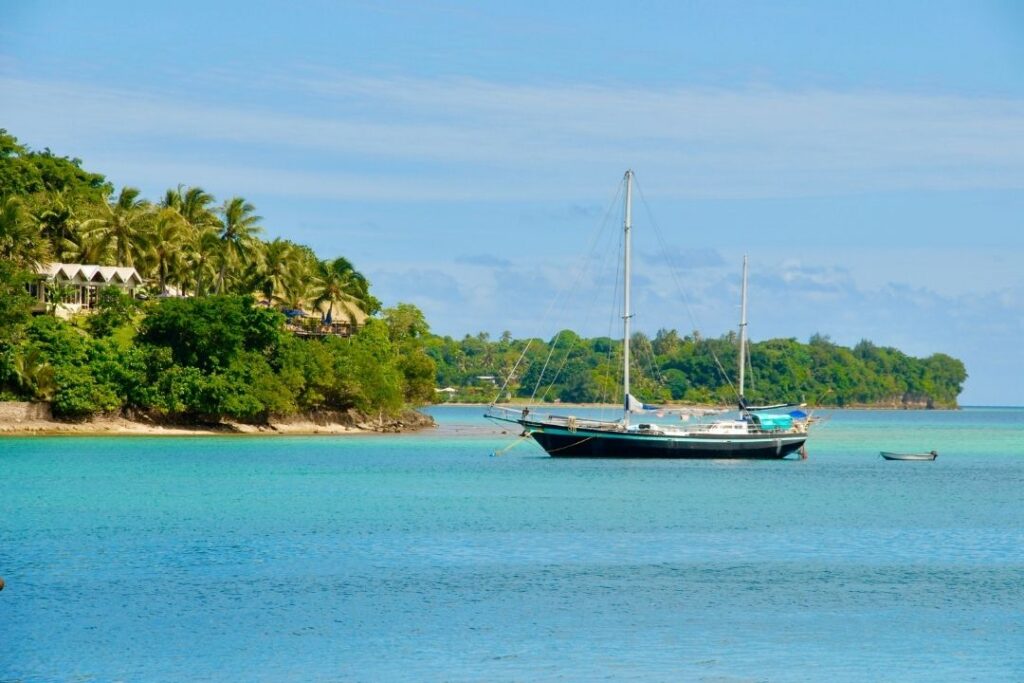 The French influence is everywhere, from fresh plain or chocolate croissants and pastries that rival the best in Paris to the cosy fine dining restaurant L'Houstalet that's blended local cuisine and French methods for over 45 years. Savour their typically French, tropical twist desserts.
For a French bistro-style fare on the waterfront, head to Le Café du Village. Only the sunset views rival the food.
Ten minutes from the town centre on Mele Bay across from Hideaway Island, Vanuatu Beach Bar not only offers tasty meals, cold beverages, fabulous views and sunsets but great music and a fire show on Friday and carnival on Sunday.
A popular bar in town is Anchor Inn. A lively sports bar on the waterfront, they have an excellent range of foods and beverages to compliment the blazing sunsets while you catch up on the game scores.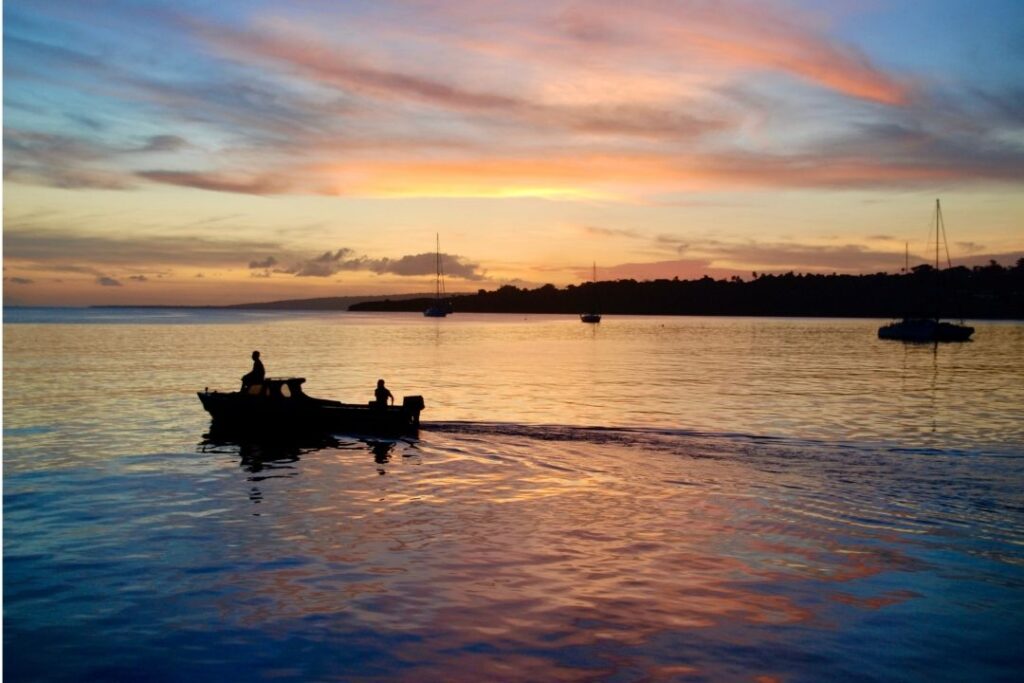 There are several wonderful sunset cruises to choose from, but something unique is The Barge Floating Restaurant. Relax over mouth-watering morsels of local foods and elegant cocktails while lazily cruising by luxury resorts, small villages, locals in dug-out canoes, and the magnificent Our Lady of Lourdes statue outside a cave entrance ensuring safe passage as the sun slips into the surrounding inky lagoon waters.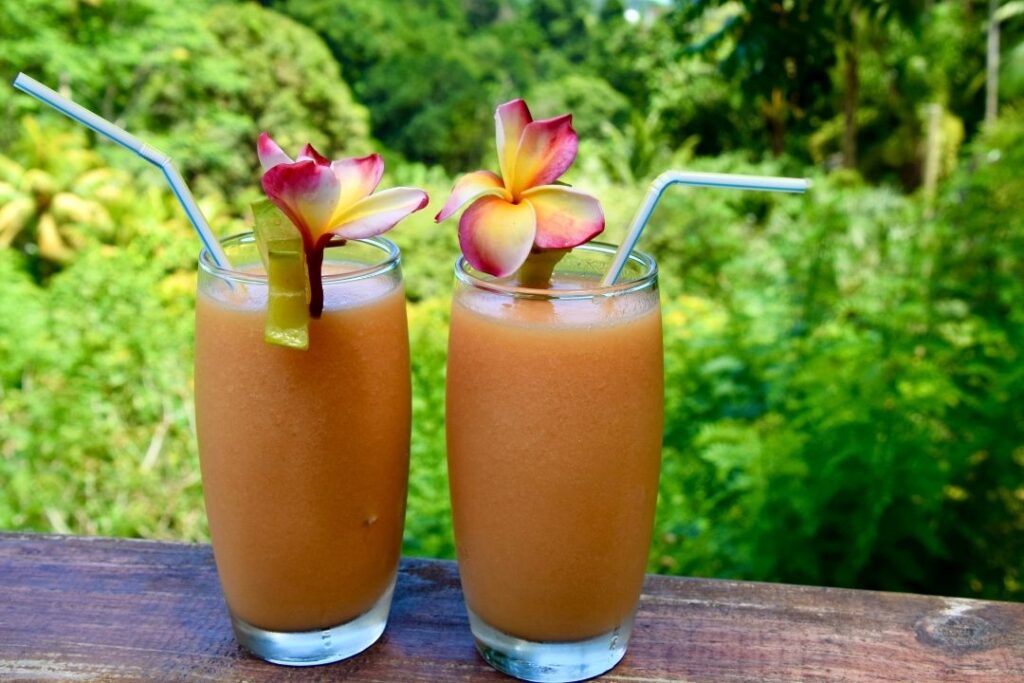 Washing it down
There's no shortage of freshly created fruit drinks, colourful cocktails, local Tusker and Vanuatu Bitter beers, spirits, New Zealand and Australian wines available to quench your thirst. However, locals love their kava. Over 80 of the 118 species are grown in Vanuatu. Traditionally drunk from coconut shells at Nakamals (kava bars), its soothing sedative undertones are an acquired taste. Give it a try. It's legal here.
Head to Au Bon Marché for additional supermarket supplies and Libation Trading Co for the afternoon drinks in your room. The duty-free shops in town are cheaper than at the airport, so stock up before leaving.
Whatever you decide to indulge in, we can guarantee the fresh creations and exotic flavours you experience during your Vanuatuan stay; its magical tropical surroundings, alluring nature and friendly, smiling people, will lure you back again and again.
For more stories about our amazing pacific islands, read about Ziplining and adventures for conservation in Rotorua.