Rotorua is famous for its geothermal activity and Māori culture, and it's also home to ziplining – an incredible conservation initiative that allows tourists to get involved.
New Zealand's birds may be flightless, but Rotorua Canopy Tours has found a way to get tourists flying high above the treetops to educate them on essential conservation work.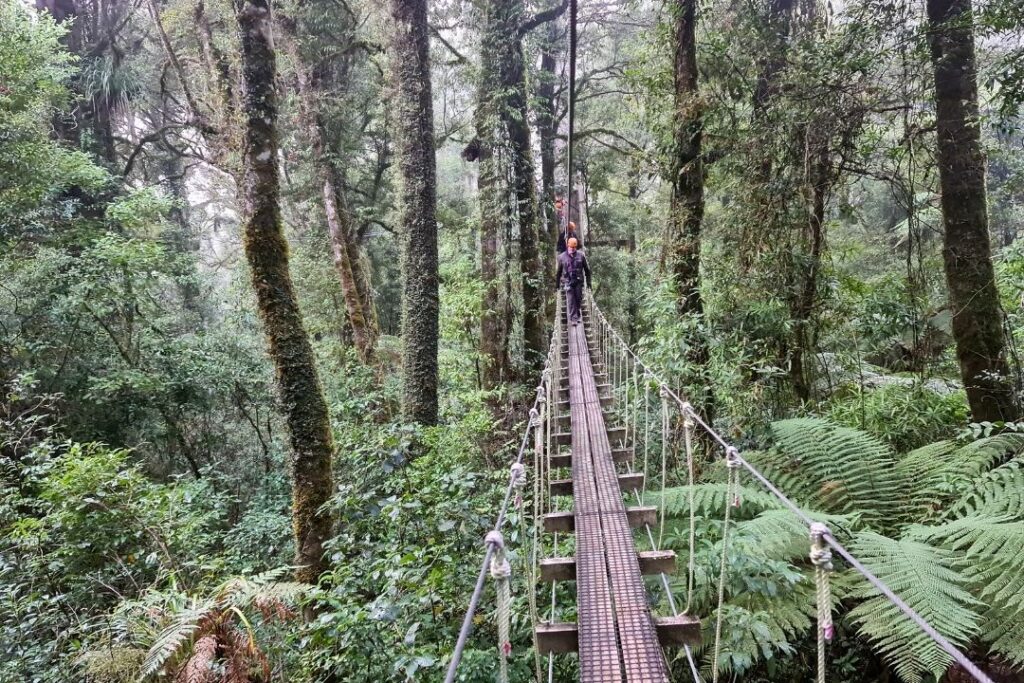 New Zealand, Aotearoa, is home to unique and ancient species of birds, frogs, lizards and plants, with distinct biodiversity through geological isolation dating back some 85 million years, since splitting from the supercontinent of Gondwana. Many of these species are found nowhere else on Earth, but the isolation doesn't make them safe from introduced predators such as rats, stoats, cats and possums.
Rotorua Canopy Tours is working with the Department of Conservation (DOC) on their ambitious vision to be predator-free by 2050, which focuses on the complete removal of rats, stoats, and possums. DOC provides leadership to the Predator Free 2050 programme and their Predator Free Rangers provide regional support to predator-free projects like that at Rotorua Canopy Tours, to protect native species, improve biodiversity, create greater ecological resilience and restore unique ecosystems.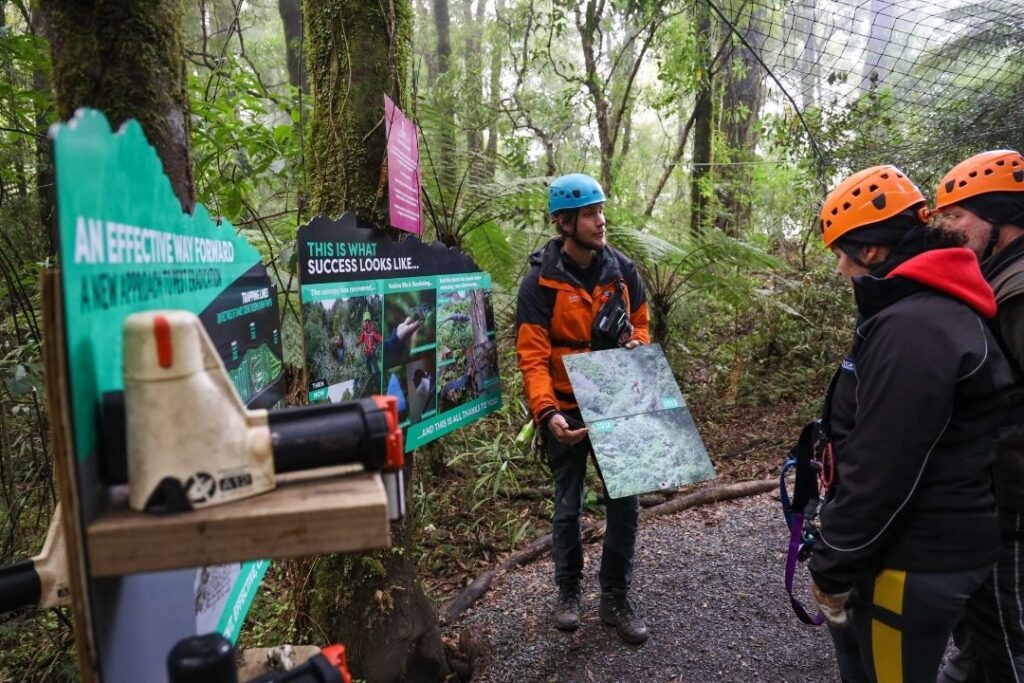 The journey of Rotorua Canopy Tours began in 2008, when James Fitzgerald and Andy Blackford had the vision to create a visitor experience so bold that adventure, education, conservation, natural beauty and people would collide to create a unique conservation tourism experience.
Since opening, the company has taken 10,000's of people to the tree-tops. Through investing over $500,000 of customers money to purchase possum and rat traps, the guides have worked endlessly removing 1000's of rats and possums. They have restored a forest and the native birds have returned.
The forest provides the magic setting – the ziplines, swing bridges, cliff walkways and other features were simply a way to experience it. Your journey through the prehistoric native forest starts on foot, guided by two knowledgeable and experienced kiwi guides, who not only keep you safe, make you laugh, they bring the forest to life as you become part of the forest restoration story.
As you explore the forest floor on the incline up to the first platform, your guides explain the essential conservation work that happens in the area. From trapping and removing feral pests to encouraging natural wildlife to return.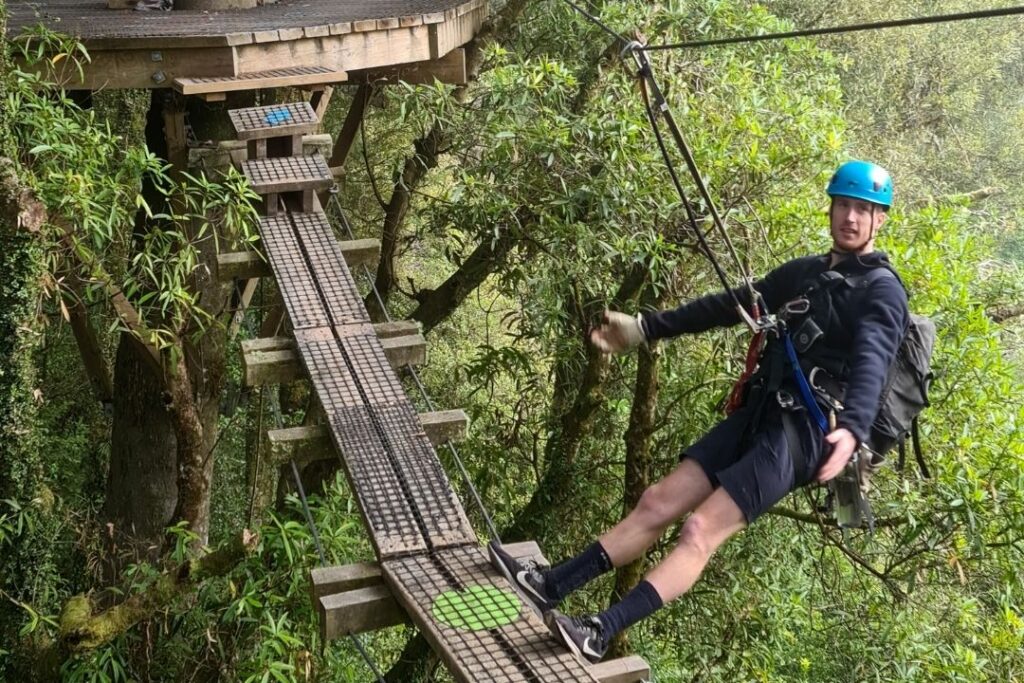 At the time of my visit, the company had worked to trap over 250ha of the forest, resulting in the decline in feral animals, and the trees have been able to restore and flourish. Native animals are returning including long-tailed cuckoo-koekoeā, rare striped skink, tom tit and North Island robin.
There are interactive displays along the walk with detailed information on the wildlife found in the forest. If you are lucky, you might get a surprise visit from a tom tit bird. Endemic to the islands of New Zealand, the tom tit is a small black and white bird that has an appetite for worms. In a flash, they will swoop down and take a worm right out of your hand.
Leaving the ground, you take the first leap into the forest from a platform and get a bird's eye view of the area. Platform after platform is connected with exhilarating zipline rides. You really get a sense of flying through the forest and in some parts, misty low lying clouds. The experience is dreamlike at times.
The education continues in the treetops as you listen for bird calls and touch some beautiful moss-covered trees. Midway through the ziplining, there is the chance to stop for a break which includes snacks and much needed hot chocolate or coffee. Then it is back to zipping through the canopy and back to the forest floor.
The Original Canopy Tour takes you deep into the ancient native forest in small groups, of up to 10 people. The experience includes six zip lines (a total 600m of zip lining) and two swingbridges over a 3-hour adventure experience.
For those who want more, there is the Ultimate Canopy Tour, which is higher, longer and more spectacular than the award-winning Original Canopy Tour. Not for the faint of heart, this Rotorua ziplining experience is a step up in adventure level and incorporates some incredible new features that will blow you away. The added adventure takes 3.5-hours to complete the 400 metre tandem zipline, six zip lines (a total 1200m of zip lines), a 50-metre-high cliff walkway, three suspended swing bridges and an 18-metre-high controlled descent.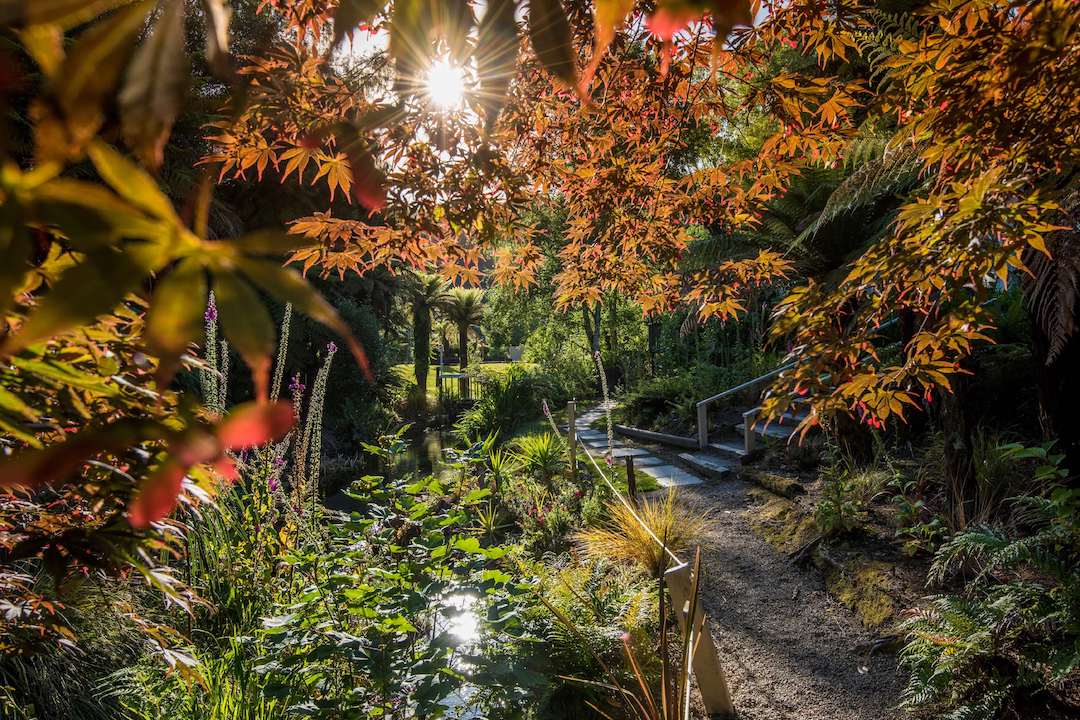 Where to stay in Rotorua
Braeside Rotorua is a tranquil retreat on New Zealand's North Island. This intimate resort is tucked away on a leafy street, with a wealth of activities within easy walking distance.
The charming accommodation comprises a spacious kitchenette, guest rooms and suites, each equipped with cable TV and free high-speed Wi-Fi. There is also plenty to keep you occupied in the resort, with a heated outdoor swimming pool, spa area, minigolf, a playground for children, games room and their very own trout stream. Be sure to check out the onsite restaurant, The Brook Bar & Bistro, which is open daily for dinner.
Stretching some 34km long, Farewell Spit is one of the longest natural sandpits in the world. Read about the moving sands of farewell spit here.