Vanuatu is only a three-hour plane journey from Australia, and yet it feels completely off the grid.
The sun is high, and I'm surrounded by dazzling shades of blue — an endless sky above a brilliant azure sea. I'm making gentle strokes with my oar as below my paddleboard a giant sea turtle glides effortlessly along, its golden-brown patchwork back glinting in the sun. I'm mesmerised by its enormous checked flippers gracefully sweeping through the blue, propelling it faster than I can go without ruining my perfect view of him. Old mate is half the length of my paddleboard, meaning he must be at least 80. Locals have told me that the giant sea turtles often outlive humans, sometimes reaching 100 years. The turtle dips down into what looks like a bed of lush seagrass — the perfect lunch — and disappears from my view.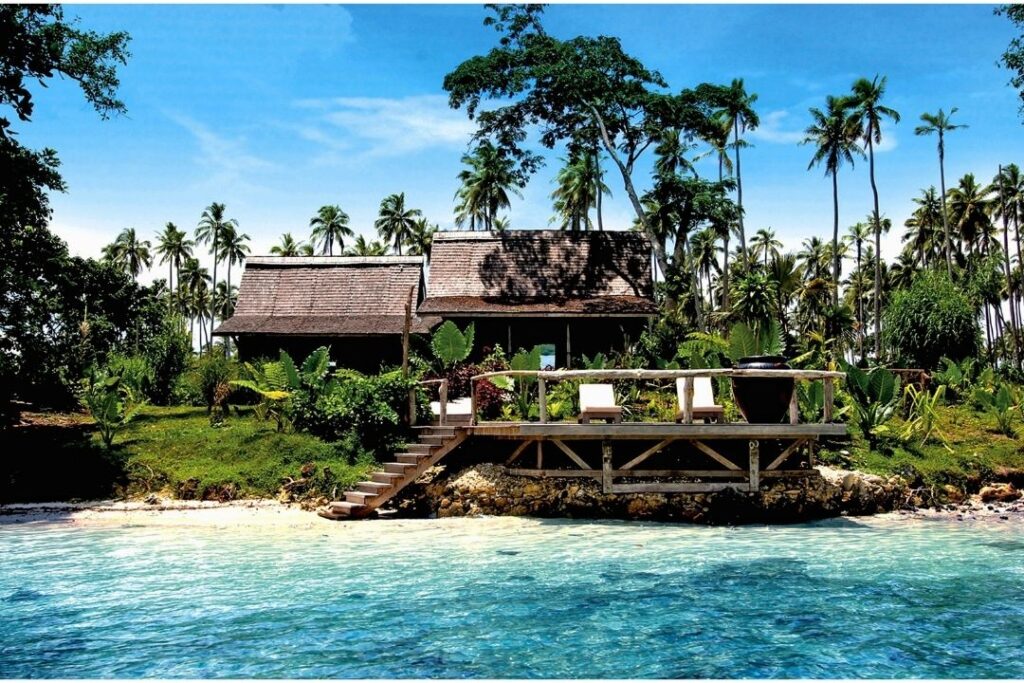 I hear shouting and look up to one of the guys from the resort, Sam, waving at me from a speedboat. He heads towards me, yelling out, "Are you okay?" I laugh and point into the water: "A huge turtle!" He's smiling and shaking his head as he gets closer, and I realise how far out to sea I've gone, following my turtle and forgetting everything else. He pulls up beside me and I climb into the boat, then lift my paddleboard and oar in after me. "Oops, didn't realise how far I'd gone." He laughs and we head back to Ratua Island Resort & Spa which, from this distance, looks like a village from hundreds of years ago.
Ratua Island is a dot on the map off Espiritu Santo, Vanuatu's largest island, and finding it is like hitting the jackpot for marine life lovers. Not only are there hundreds of turtles in the surrounding waters, the place is teeming with all sorts of wonderful fish — dogtooth, yellow and striped tuna; giant trevally; coral sea bass; rainbow runners; mahi-mahi; wahoo; mullet; sailfish; striped, black and blue marlin, and the list goes on and on and on. You can sit on any one of the resort's many wooden decks and watch an epic show of fabulous fish antics; big ones rounding up little ones, fish leaping into the air as they attempt to escape their fate, and endless parades of massive schools — sometimes thousands swirling around right in front of the bungalows, all of the tiny details visible in the crystal-clear water.
Fish aside, water babies can spend the long, balmy days paddleboarding, kayaking, snorkelling, diving or, wait for it… riding horses in the water. Ratua is one of the few places in the world where you can ride a horse bareback through coconut plantations and then go for a swim in the ocean — still on the horse's back.
A ten-minute boat ride away across to the neighbouring island of Malo, you can take a dip in the calm, azure waters of the local blue hole. Canoe or kayak down the wide and wonder-filled waterways, jungle and coconut plantations sprawling in every direction, or be chauffeured in a tinny right down to where the river opens into a stunning blue lagoon so astonishingly clear you can see right to the bottom. There's nothing dangerous in the waters of Vanuatu (except for stonefish, so always wear reef shoes) so it's a liberating experience being able to swim as far offshore as you like or into a blue hole, with no fear of anything larger than a person sharing the waters with you. Reef sharks sometimes make an elegant appearance, but they're harmless.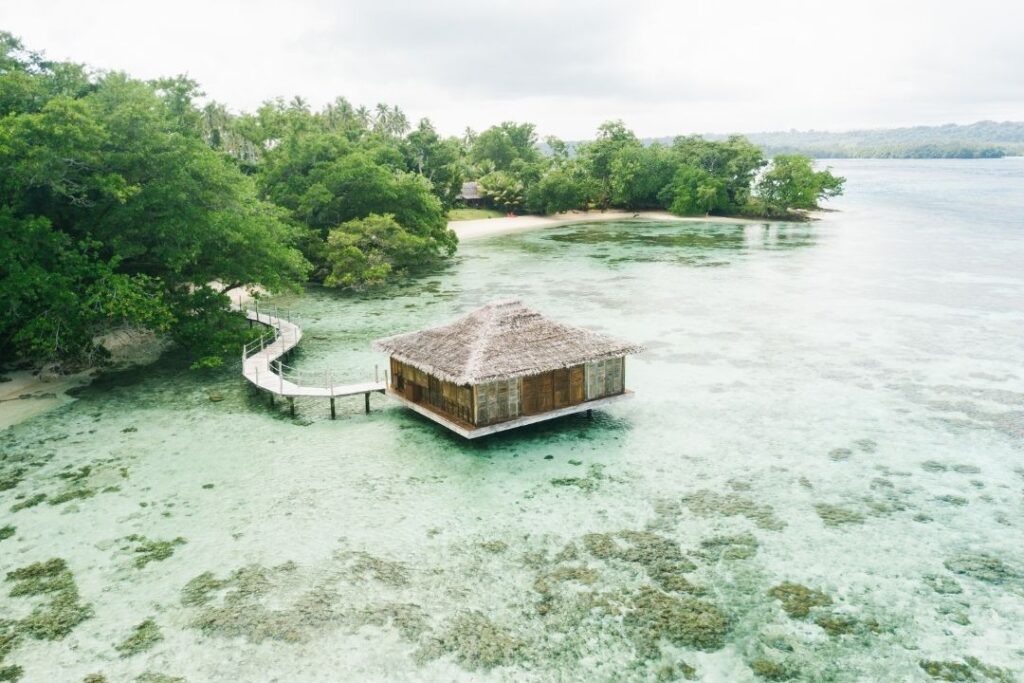 Ratua Island Resort & Spa is the creation of French billionaire, philanthropist and winemaker Marc Henon who, back in 2005, decided to turn the former 59-acre coconut plantation into an eco-resort that celebrates barefoot luxury. Henon dubbed it "primitive luxury", and established the Ratua Foundation, a not-for-profit organisation that supports the local community. All profits made at Ratua are funnelled into improving the education and conditions of Vanuatu's children, supplying them with books and clothes, and infrastructure, water and electricity for villages.
What makes Ratua truly different is the accommodation itself. Henon purchased dozens of 200-year-old handcrafted teak Indonesian bungalows in Java and shipped them to Espiritu Santo. A barge transported the homes to the island, where they were reassembled as three villages.
The bungalows are meticulously decorated, and our villa for a family of five was more like a house than a resort suite. There's a separate bungalow for the bathroom, with a shower, enormous stone bath and his-and-hers sinks crated from petrified wood; a front deck that overlooks the lagoon; verandas down the side decked out with lounge settings; and a master suite that comes with its own study and lounge room, a grand four-poster bed and wonderful finer details such as handmade silk cushions, a well-stocked minibar and all-important mosquito curtains for all beds. Overall, the resort has a rustic, Robinson Crusoe feel to it, and the three largest villas reside in Fish Village, which has its own bar and restaurant with an enormous deck for fish- and lagoon-viewing.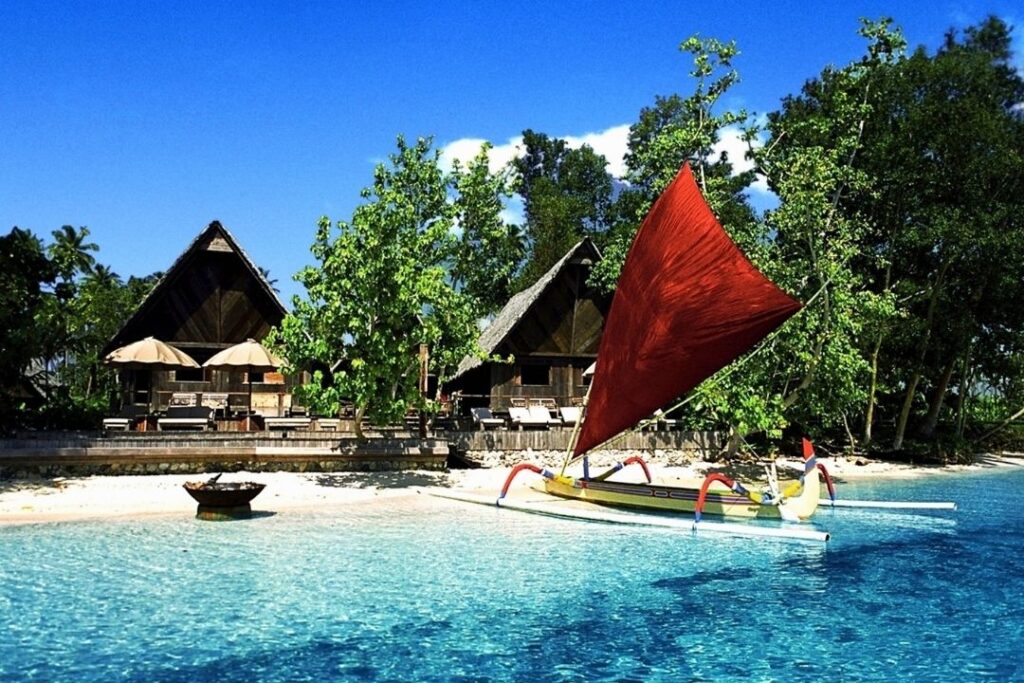 The shared areas of the resort are equally luxurious. There's a living space filled with lounges, cowhide rugs, countless antiques and memorabilia mixed in with jam-packed bookshelves; a sweet little bungalow on stilts that houses a movie theatre filled with six rows of old-fashioned red cinema seats and a choice of DVDs; and a games room with a pool table, large marble chessboard and a library of books and magazines. There's a formal dining room, a picture-perfect pond loaded with goldfish and trimmed with beautiful wooden bridges, and seemingly endless ensembles of tables and chairs for dining along the beach, on the decks, under the trees and on the sand. Our favourite space from day one is a dining room in a treehouse perched above the ocean.
One of the many highlights of Ratua, especially for little ones, is its resident goat. Sonny trots around like a happy dog, looking for pats and cuddles, greeting and farewelling guests, even jumping aboard the boats to head out for a cruise.
The food at Ratua is organic and locally sourced, and every day the staff created a different menu of delicious meals for us. Some days we dined on fish and chicken curries, others on barbecued meat and freshly caught fish with abundant garden salads, and platters of pawpaw, apples, passionfruit and super-sweet pink and yellow grapefruit came standard. One night we were even treated to lobster caught from the sea around us. Sitting at a table by the ocean, sand beneath our feet and the sea breeze keeping us cool, it was enough to get anyone into the gentle rhythm of island life. No one in our party wanted to leave Ratua, but our last day arrived and we said our goodbyes to the staff who had become more like friends.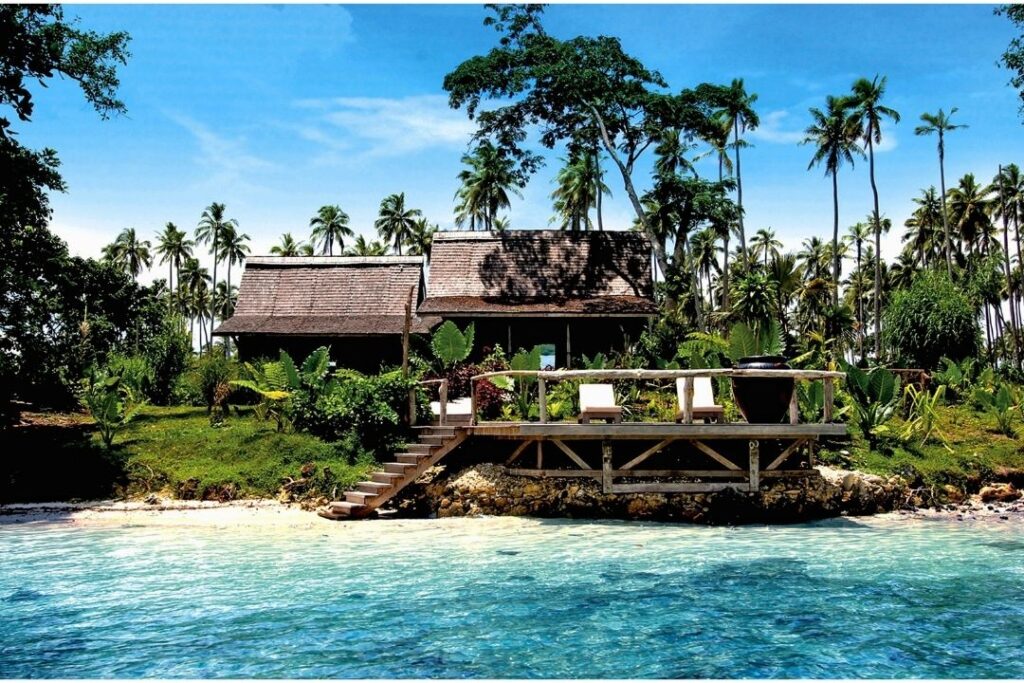 Luckily, we had another few days on Efate, home to Vanuatu's capital, Port Vila. A 30-minute bus ride through villages, paddocks and forests, passing by markets bustling with women selling fruit and vegetables and local art and craft, and we arrived at Tamanu on the Beach. It's a recently renovated resort that is absolute waterfront, with a white-sand private beach, a beachfront chapel and Caribbean-style white-washed villas, the family ones fitted out with their own plunge pool and tropical gardens offering complete privacy and seclusion.
The opposite of beautifully rustic Ratua, everything about Tamanu is five-star, including the food. It's one of the best dining experiences in the Pacific Islands and the staff pride themselves on polished service. The wine and beer list is extensive and the panoramic views from the restaurant — through floor-to-ceiling glass cantina doors — are spectacular. Even breakfast is a decadent affair and the mixed juices are every bit as exciting as the cocktails of the day. Every evening for happy hour we plonked ourselves on beanbags to watch the sun go down, the last of the light shimmering on the reef break before us.
When our final night rolled around, we dined at the restaurant and requested one of the resort's signature experiences: a beach bonfire. With cocktails in hand, and the kids shouting out "Cheers!" as they clinked their coconuts, we saluted Vanuatu for its wildlife, weather, food and friendly locals. We shared our favourite memories of its beaches, lagoons, blue holes and forests. Some other travellers joined us and we swapped stories of turtles and fishing, riding horses in the ocean and Sonny the goat's antics. As the night sky filled up with stars, as if a child had thrown glitter out into the universe, something we all agreed on is that Vanuatu is one of the most spellbinding places on the planet.
Thanks to its multi-cultural Melanesian, French, Spanish, Polynesian, and Asian heritage, Vanuatu is a foodie paradise. Read more about it here.