A few hours on a plane and you can touchdown in a paradise where the 'Blue Holes', white-sanded beaches and abundant dive sites are as unaffected as the beautiful people who call Vanuatu home.
The spirit of Santo
At 6am, and rather than my iphone emitting a pan-pipe melody chosen to gently ease me into another day at the office, I hear the flap of wings, a splash of water and then a rustling sound. It repeats, rhythmically, so I peer out the screen door of our jungle-based villa to see the Vanuatu kingfisher — aka the chestnut-bellied kingfisher — having a bath in our plunge pool.
The fun-loving kingfisher – that's only found on the islands of Espiritu Santo, Malo and Malakula – is having a grand old time, diving from the fence into the pool, having a splash about and then flying back up to the fence to ruffle up its feathers in preparation for another dive and dip. I quietly tiptoe away from the door so as not to disturb its playtime. What a lovely way to greet the day.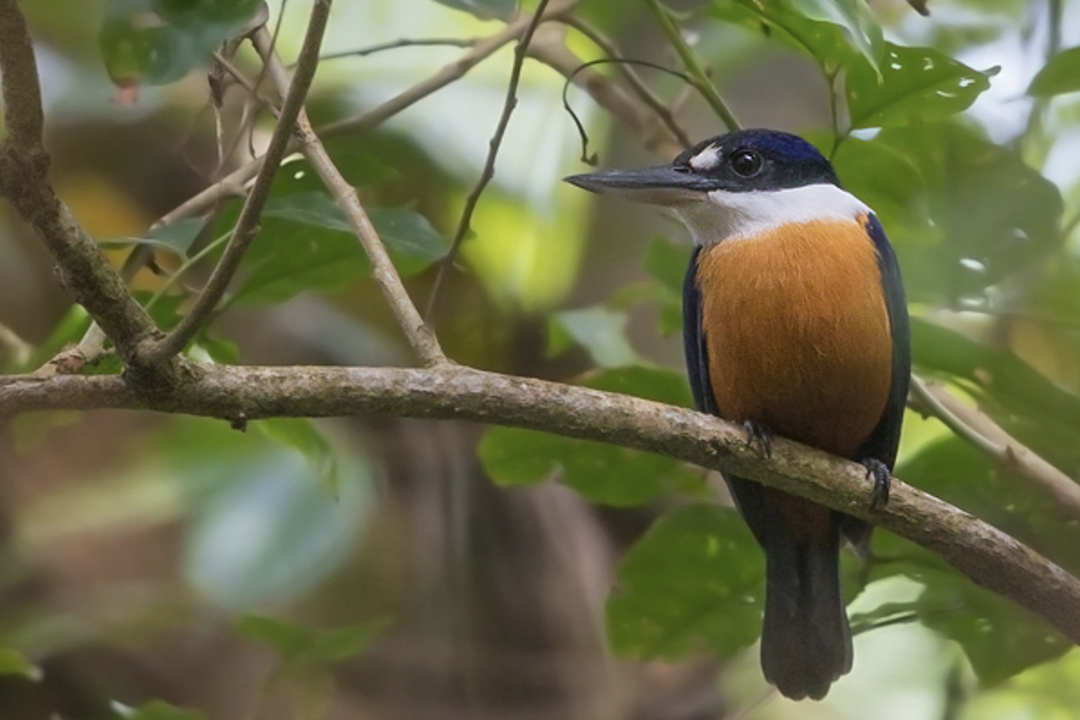 We're staying at Barrier Beach Resort on the island of Espiritu Santo (more simply known as Santo), which is under three hours' flight from Brisbane. It's a place where technology takes a backseat and the abundance of wildlife, the thick jungle enclaves and the many intoxicating water worlds on the island are at the core of memories made here.
The architect-designed Barrier Beach Resort is managed by Australian couple, Calvin and Julie. In this quiet beachfront niche of Santo, they have created a haven of luxurious, spacious farés – all with their own tropical gardens. The couple relish in the details and strive to continually maintain a peaceful place for guests where they can breathe deeply, sleep, wander, swim and explore at their own pace.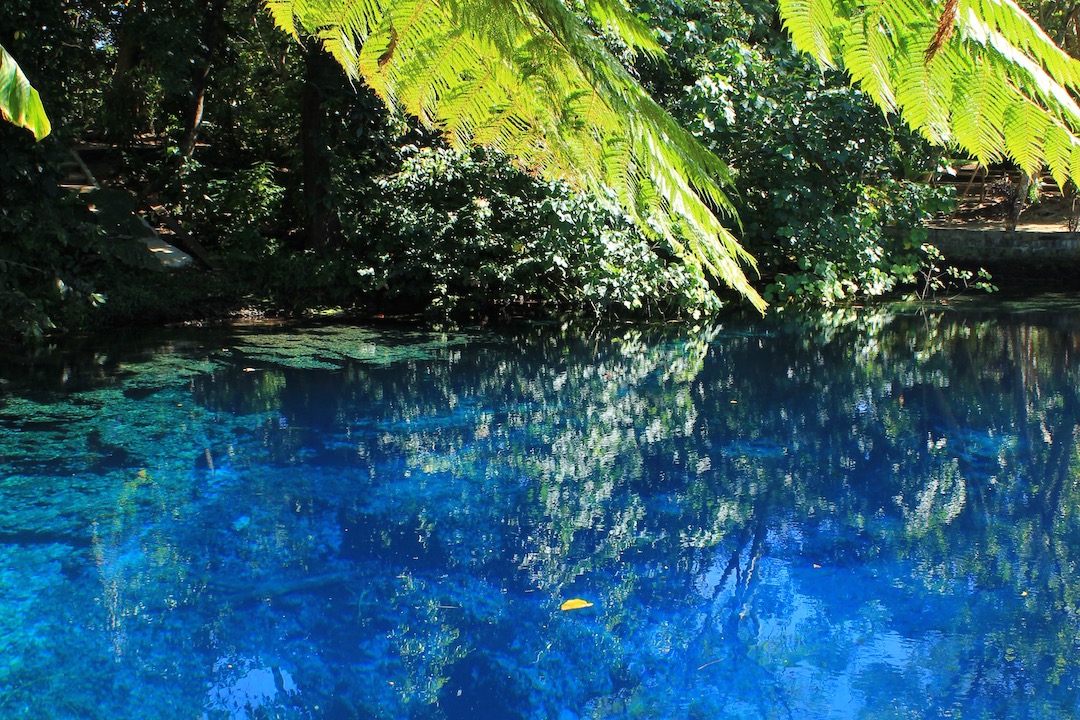 Blue holes calling
The first day disappears in a balmy, slow and inspiring haze of snorkelling, kayaking just out from our beachfront, wandering along the sandy shores and lying under the enormous tree that the Barrier Beach Resort is renowned for.
On the second day, we borrow the resort's mountain bikes, and hit the road for a 4-kilometre ride to the famous Riri Blue Hole, where local man Roy awaits with his hand-carved traditional outrigger canoe and a big smile.
We hand over $1000 Vatu each — about $10 — and that buys us a calming cruise through the wild jungle on Roy's family's land. The canoe glides silently across water that is so blue and clear, the fish and rocks can be seen clearly beneath us. The forest's thick canopies that span over us like bridges, are filled with the twittering chatter, songs and calls of birds. There's no traffic, no other people, nothing except an almost inaudible swish of water on our canoe's side.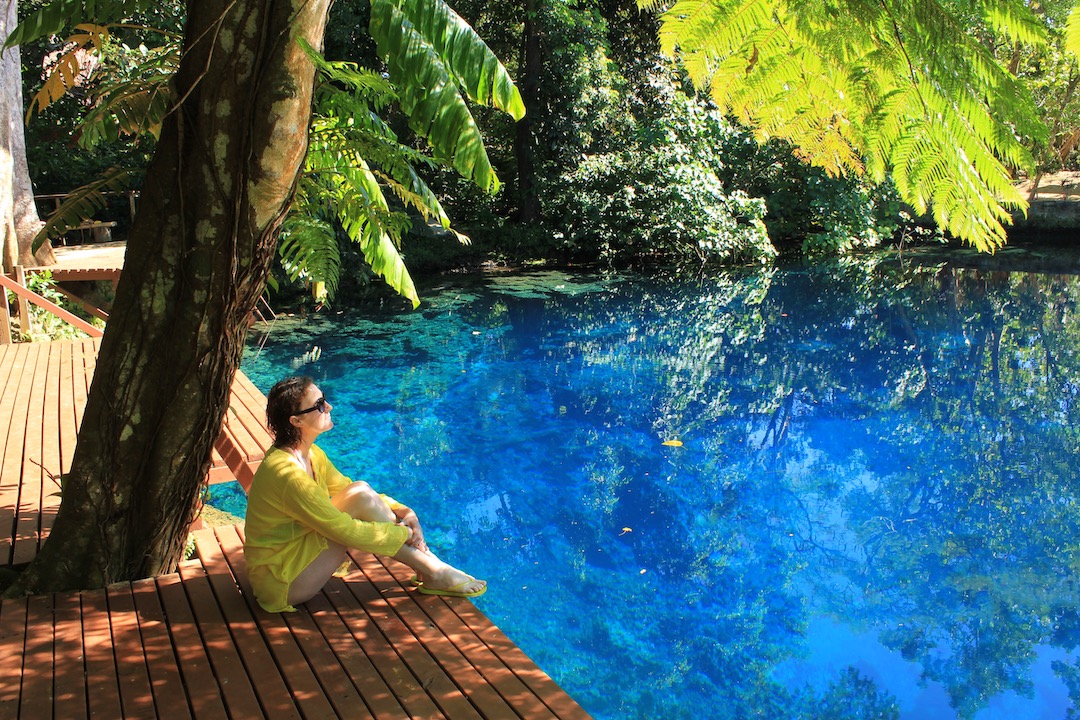 We're already thinking that it's one of the most untouched places we've had the pleasure of gliding through, when we sweep around a river bend to find ourselves at the Riri Blue Hole. There's no wondering about its name, as it's the bluest lagoon we've ever laid our eyes on. There's a wall of thick jungle rising majestically around its perimeter, and  a wooden raft floats at its centre, above which a rope swing enticingly hangs.
Roy comes to a gentle stop at the base of a simple wooden hut-like structure on stilts, and we ascend the stairs to stand above the blue lagoon, where we can clearly see schools of fish swimming through the rocky outcrops on the bottom. We're the only ones there.
We spend hours swimming, balancing on the raft, swinging on the rope and dropping ourselves gracelessly into the brilliant blue hole. Every now and then a child's delighted laughter or a shout-out to a friend emerges from the jungle.
When we reluctantly leave, we're silently rowed back through the jungle, and after saying our goodbyes, we head off down the road on our bikes, passing some roadside stalls where we buy some banana chips and fresh papaya.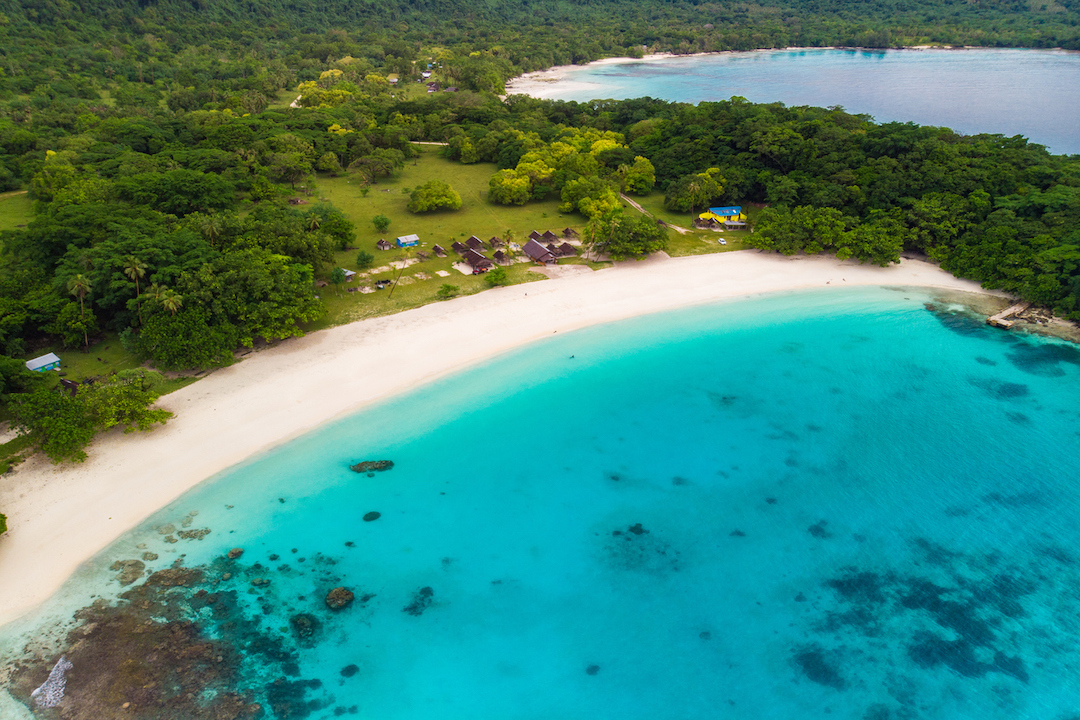 More blue holes and Champagne Beach
The following day we visit Dual Blue Hole Eco Attraction, which is co-owned by a lovely local named Susie, and our notion of a Blue Hole leaps into another dimension. The Nanda Blue Hole is a deep waterhole in the middle of a jungle, surrounded by lush, flower-filled gardens with bark-chip paths meandering through them. There's a café by its edge, and many seating areas and viewing platforms to take in this astounding natural spectacle.
Donning snorkelling masks (provided by hosts Calvin and Julie) we begin our exploration of the Blue Hole, and we're immediately surrounded by thousands of fish, many of them swimming right up to our faces to check us out. We swim above underwater hillsides of soft-as-silk, gently undulating moss that look like enchanted grasslands; dive down to peer into craggy cave entrances, where the locals say the really big fish are; and snorkel above artfully eroded rock faces where thousands of fish nibble at mineral snacks and other miniscule underwater creatures.
Floating around in Nanda Blue Hole, feeling weightless and looking up through prehistoric-looking bright yellow fern fronds, we decide that Santo's Blue Holes have to be some of the Pacific Ocean's best-kept secrets.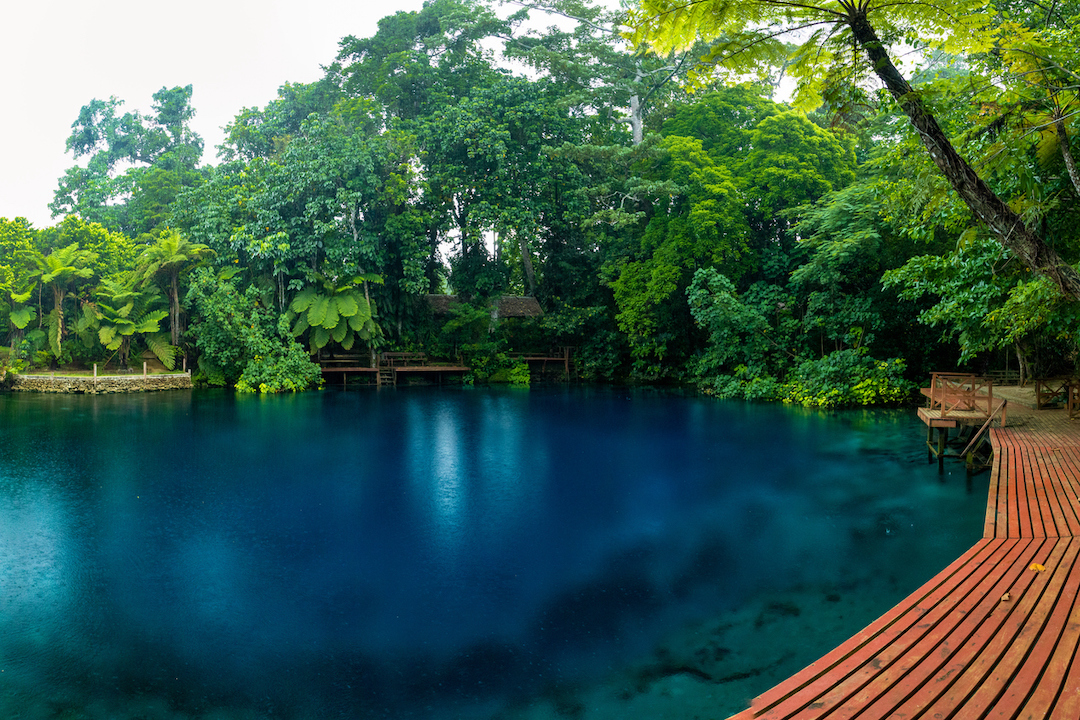 The Blue Holes of Santo are not the only places where the water colour needs a new word to trump azure. Champagne Beach, on the east coast of Santo, is a bay where the eye-achingly turquoise water meets sand so white that it's hard to look at it without sunglasses on. The shape of the coastline resembles the old-fashioned squat champagne glass, with the gentle lapping of waves at low tide emulating bubbles.
It's not uncommon to be the only people on the beach, and you can snorkel right off the shoreline above a world of rocks and coral where multitudes of fish frolic. And it's a cinch finding Nemo — there are plenty of the lovable orange and white striped bug-eyed cuties peeping out from their anemone homes.
Just up the road is the equally stunning Port Olry Harbour, where a local Ni-Vanuatu family has established their Little Paradise Restaurant — which has some of the best views in Santo. Here you can sit at log seat tables on the white-sanded beach, or lie in a hammock hooked between palm trees while sipping on a cold wine or beer. Then sit in the shade and tuck into one of the biggest, most sensational servings of Lobster Thermidor you'll ever be offered, for around $40.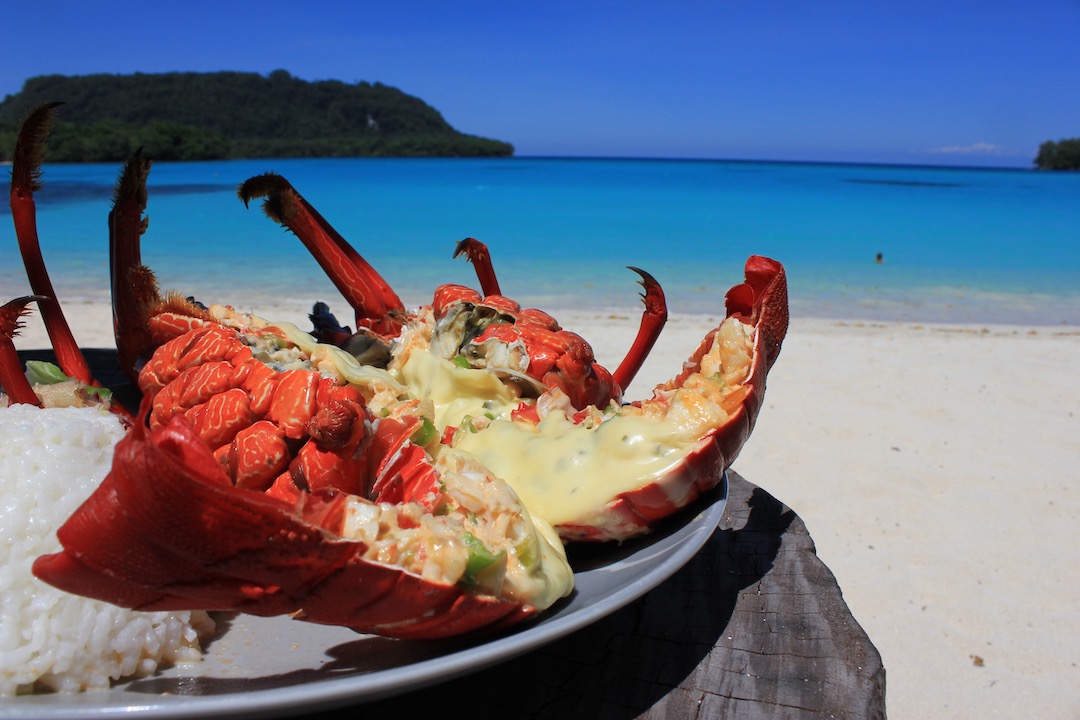 After returning back to our beautiful Barrier Beach Resort, we spend another day and night in a place that already feels like home, Calvin and Julie spending time with us on their sprawling verandah on the beach. After nightfall, we lay back on the air beds, under the trees by the ocean, sipping on a glass of wine while the moon shines through the jungle and silhouettes the islands before us. The gentle lapping of the ocean is the only music we need.
Explore more of Vanuatu with these amazing dive sites.