Sublime snorkelling, rain-forested tropical islands and a rich tapestry of cultures await travellers on Coral Expeditions looking for new insights into an ancient land.
Although it is our closest neighbour, most of us know precious little about Papua New Guinea. Diving enthusiasts have been raving for years about the extraordinary diversity of marine life in the surrounding Coral Triangle seas and anthropologists have long reported on the country's richly varied cultures, but PNG has often been perceived as a "difficult" destination only open to intrepid explorers.
Opening image courtesy of Coral Expeditions.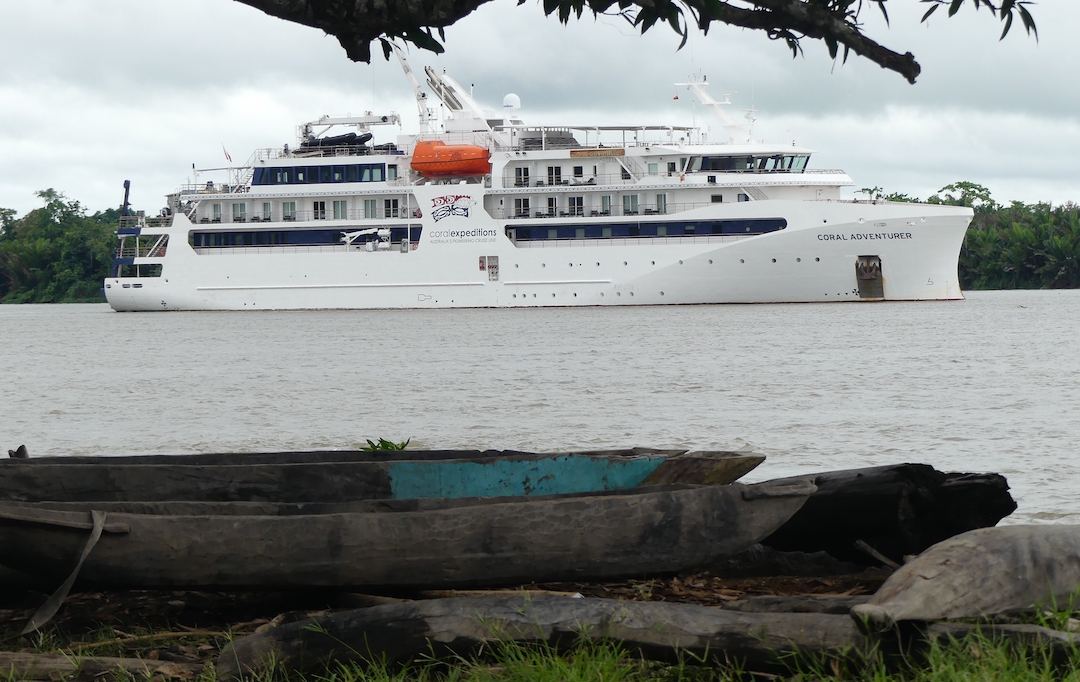 Cruise to PNG
Perceptions are changing. Many Australians attempt the forbidding Kokoda Trail and some mainstream cruise lines have added a couple of stops in PNG to their itineraries in recent years. But there's so much more to discover and only a handful of boutique lines venture as far north as Coral Expeditions. Our 12-night voyage from Cairns to Wewak weaves its way between wildly diverse island groups and along the coast, taking us on an eye-opening voyage to tiny villages, astounding dive spots, historic war World War II sites and into the mighty Sepik River.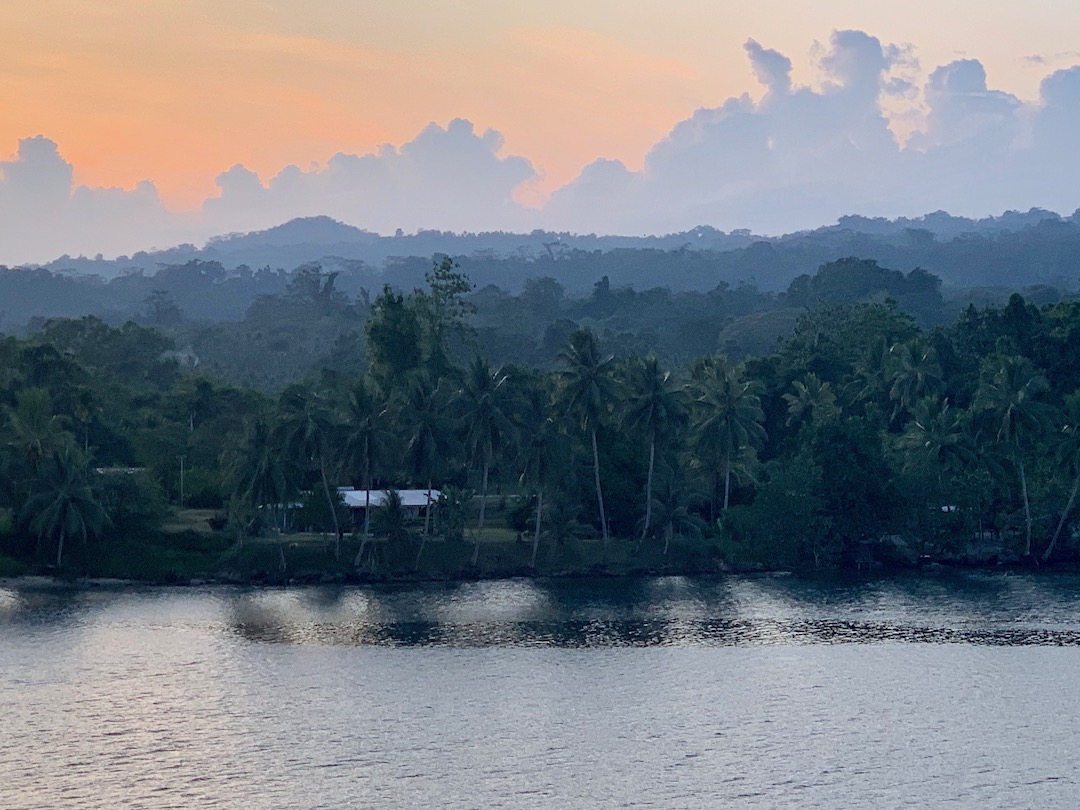 Between leaving Cairns and our first landfall at Samarai Island nearly two days later, Coral Adventurer's passengers, crew and expedition team get to know each other, and our guest lecturers start preparing us for the cultural and scenic extravaganza that lies ahead. As if the combined knowledge of anthropologist Maureen Faury, marine biologist Mike Sugden and cultural commentator Carol Kidu (who we later learn is actually Dame Carol Kidu) isn't impressive enough, over the course of the cruise several passengers tell fascinating personal stories about their connections to this complex country.
Samarai is a tiny speck at the southern tip of the Milne Bay mainland. Once local immigration officers have cleared the ship, we head to shore on the Xplorer vessel. It's worth mentioning that Coral Expeditions invented the Xplorer, which is boarded on the ship and is then lowered to the water on a hydraulic platform; Coral Adventurer has two that each seats 60 passengers. The ship is also equipped with six zodiacs, a glass-bottomed viewing boat, scuba-diving and snorkelling gear, and single and double kayaks.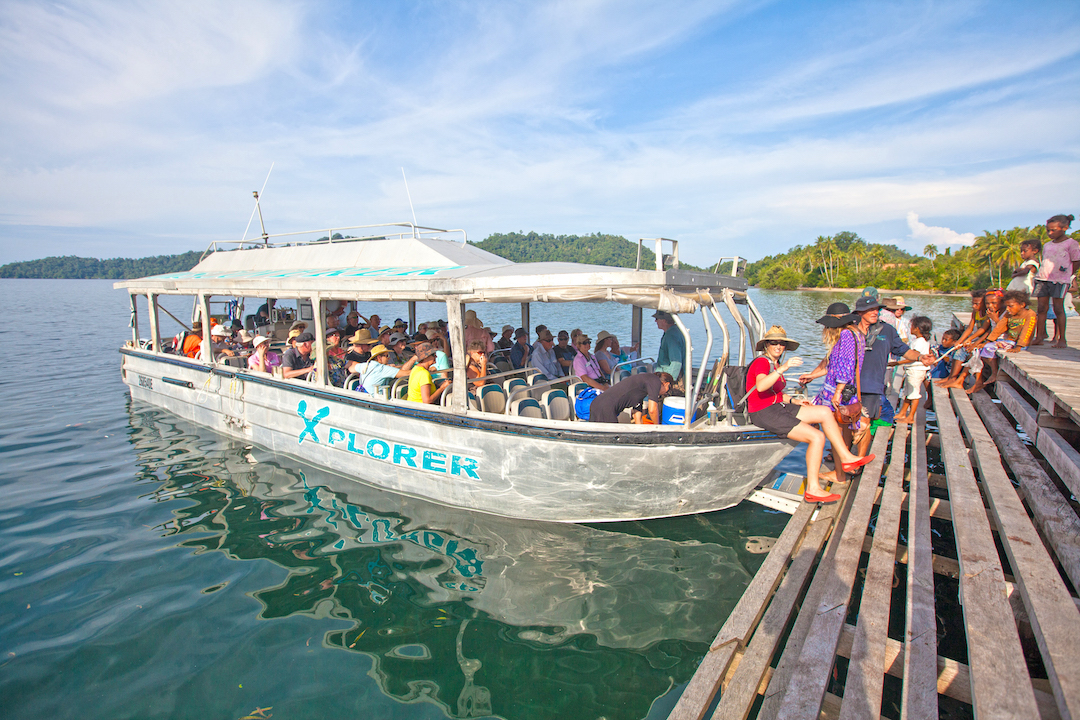 A cultural feast
Our first day's activities sets a pattern that's more or less the same every day, although what we see and do couldn't be more different. The tropical heat makes early-morning snorkelling at a nearby island irresistible, although the little town's pearl shop is highly rated by expedition leader Mark. By 9.30 we're back on the ship in time for morning tea – a delicious indulgence that's quite unnecessary after the lavish breakfast provided at 7am – and a lecture.
After lunch we set off for Sewa Bay, where we are greeted by spirited dancers and drummers clad in grass skirts. At the village school, we watch enthralled as children tell stories in dances about local fish and birds, followed by traditional festival dances and songs performed by tribal groups. It is humbling to realise that these men and women have walked three hours from the hills to share something of their culture with us; later the women hand out food they have cooked on hot stones.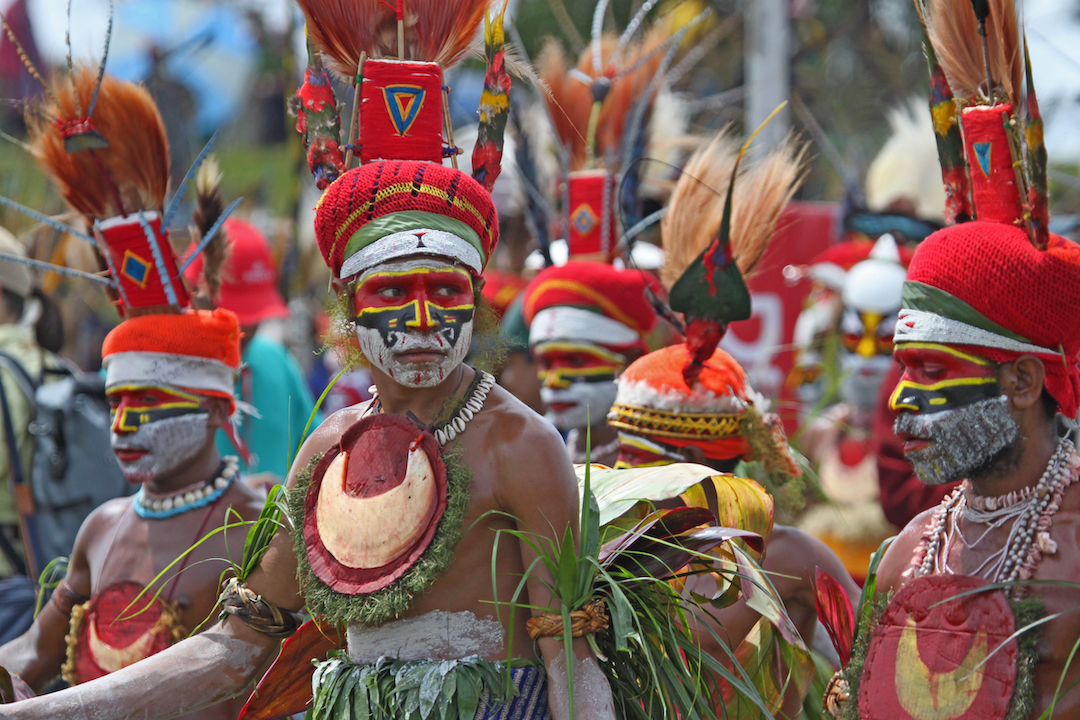 Carol Kudu explains that Coral Expeditions' visits to these remote communities help keep ancient customs alive. The spectacular ceremonies we witness throughout the voyage are facilitated by fellow passenger Alex Paira from Madang-based Melanesian Tourist Services. They can take months to organise and he has many years' experience of liaising with village chiefs – it's not like you can rock up to an island on a private yacht and expect the full tribal sing-sing welcome.
At Sewa Bay, as at every village we visit, the crew presents gifts to the chief spokesperson. Children wave us off at the shore and then it's back to the ship for pre-dinner drinks – my Aperol spritz matches the blazing sunset – and a preview of tomorrow's activities.
Mark's briefings always end with a reminder to take our ship-issued refillable water bottles on every trip ashore; dehydration is a very real hazard. As it turns out, two doctors who are passengers onboard are called upon to help a woman who collapses from heatstroke, in a village that's a long walk from our pick-up point. Dinner is followed every evening by a destination-specific movie or documentary screened in the spacious lounge, which is also used for lectures and has a small but well-stocked library.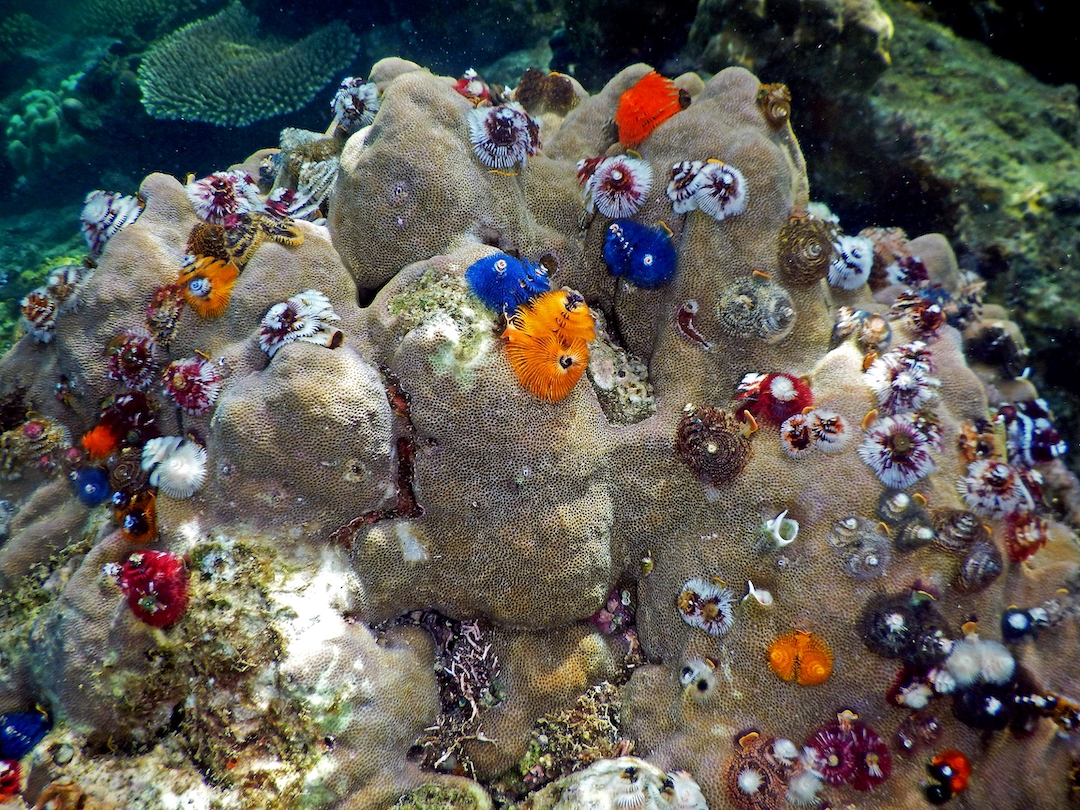 Stunning sites
From Sewa Bay, Coral Adventurer heads northwest, calling at extraordinarily beautiful isolated bays and tropical islands. Madang, population about 27,500, is the biggest town we visit; Tufi, on the tip of Cape Nelson, is the only place we come across other tourists, a few divers who have flown in from Port Moresby to stay at the stunningly located Tufi Resort.
Talking of diving, American passenger Nancy McWilliams, who has been diving for some 40 years, is blown away by what she experiences on this voyage – her third with Coral Expeditions. "The diversity here is awesome," she tells me. "On one dive alone, we saw six different varieties of anemone fish. I've seen amazing nudibranchs and spotted my first scorpion fish; this is possibly the best place in the world for recreational diving.
On Fergusson Island, we walk among Dei Dei's steaming, bubbling hot springs and mud pools that make Rotorua look like a tame theme park; snorkelling off the coast through volcanic bubbles streaming up from the bottom of the reef is absolutely magical. At Kuiawa, in the Trobriand Islands, villagers of all ages perform the sensual, hip-thrusting yam festival dance; in Tuam, four locally renowned groups carry on dancing for themselves and the villagers long after the "official" show is over.
We visit several WWII sites – overgrown graves and minuscule museums on Buna and Sanananda Islands, and the moving memorial to soldiers from New Guinea (as it was then known), Japan and Australia at Cape Wom near Wewak. This is where the Japanese surrendered in September 1945, marking the end of WWII in PNG. The plaque reads, in part: "We sincerely hope that our men will never again engage in war but that a deep spirit of friendship may exist between all."
Everywhere we go, we are greeted by locals who garland us with leis, welcome us to their villages, perform sing-sings and display hand-made artefacts that range from bilums (colourful woven string bags) and tapa (bark) cloths to intricately carved tribal masks, figures, bowls and jewellery. There's no hard sell – maybe a spot of good-natured haggling – so leave room in your suitcase for tangible reminders of your expedition cruise.
The intangible memories are harder to describe. It's an extraordinary privilege to meet people whose customs date back thousands of years and to glean insights into PNG's political, historical and cultural background from the experts and fellow passengers onboard Coral Adventurer. But the jokes and laughter shared with a bunch of teenage girls under the shade of a tree in Tuam struck a chord that will resonate for a very long time.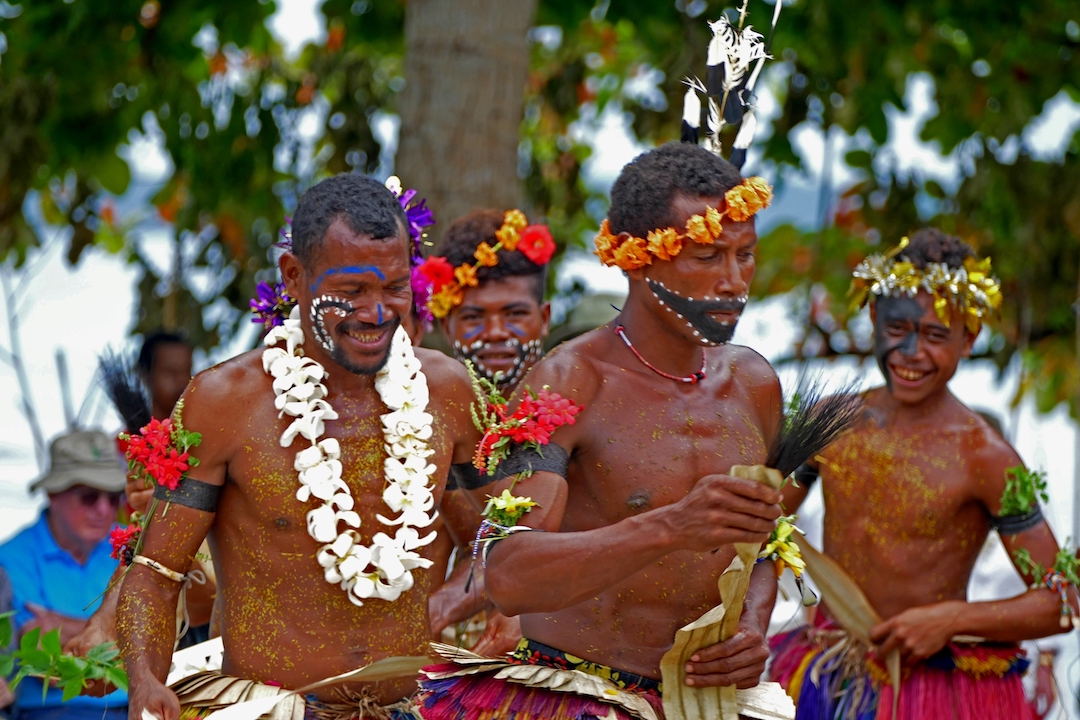 Packing essentials
The weather is hot and humid, so pack sunscreen, sun hat, socks for walking shoes, lightweight, long-sleeve shirts and long pants for going ashore, and swimmers for frequent snorkelling opportunities. Insect repellent is a must. Laundry facilities onboard are limited so pack clothes you can wash as you go.
HEALTH CHECK 
See your local GP at least six weeks before departure to ensure your vaccinations are up to date and to check whether you need anti-malarial medication. Travel insurance that covers remote area evacuation is essential. On some international cruises Coral Adventurer and Coral Geographer will have a guest doctor and first aid room but these are for emergencies only.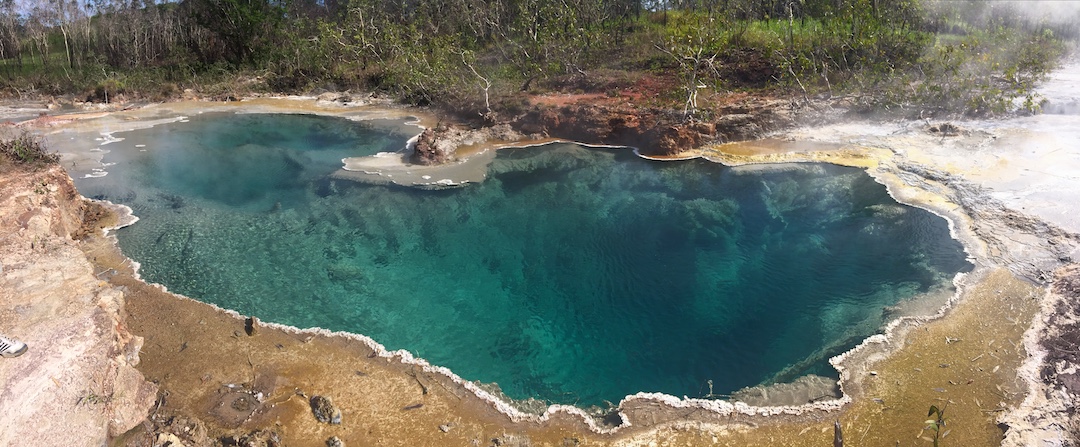 RED TAPE 
Australians and New Zealanders need a visa to enter PNG and you should apply for a visa before you go. eVisas are available through the PNG eVisa portal, evisa.ica.gov.pg/evisa [https://evisa.ica.gov.pg/evisa/account/Apply]. Your passport should have six months validity from the time your PNG trip ends. If you're planning to scuba dive, complete the Divers Medical Questionnaire on Coral Expeditions' website.
BRING LOCAL CURRENCY
Exchange dollars for PNG kina in Australia and if possible get small denominations – notes come in K2, K5, K10, K50 and K100. Remote islands do not have banks and local traders often can't change big notes. Coral Expeditions' ships carry some kina but you'll need plenty to spend on amazing local handicrafts.

BACKGROUND READING
First published more than 20 years ago, Throwim Way Leg: Tree-Kangaroos, Possums, and Penis Gourds by popular explorer/scientist/conservationist Tim Flannery is a hugely engaging travelogue packed with adventures and fascinating research. Other recommendations include Peter FitzSimons' Kokoda; Four Corners: A Journey into the Heart of Papua New Guinea by Kira Salak; and In Papua New Guinea by Christina Dodwell.
Visit coralexpeditions.com to plan your next voyage! For more exciting adventures in Papua New Guina, explore Port Moresby in 48 hours, or challenge yourself by trekking the Kokoda Track. 
Sally Macmillan travelled as a guest of Coral Expeditions.