Dubbed the 'Coolest Little Capital' by Lonely Planet, New Zealand's capital Wellington is also its cultural capital for its lively, creative and colourful arts scene, inspiring architecture and leading galleries and museums.
There's nothing stuffy here. Learn about its young history, diverse Maori culture, find quirky creators producing masterpieces and discover small boutique galleries and stores spread around the city's naturally beautiful hills and valleys, adding to its casual cosmopolitan atmosphere.
At the southern tip of the north island, Wellington's position makes it central and easily accessible. Hugging the surrounding hills that rise shapely from the deep cobalt sheltered harbour, it's reminiscent of a miniature, but walkable San Francisco without the traffic, pollution or sprawl, like most world capitals.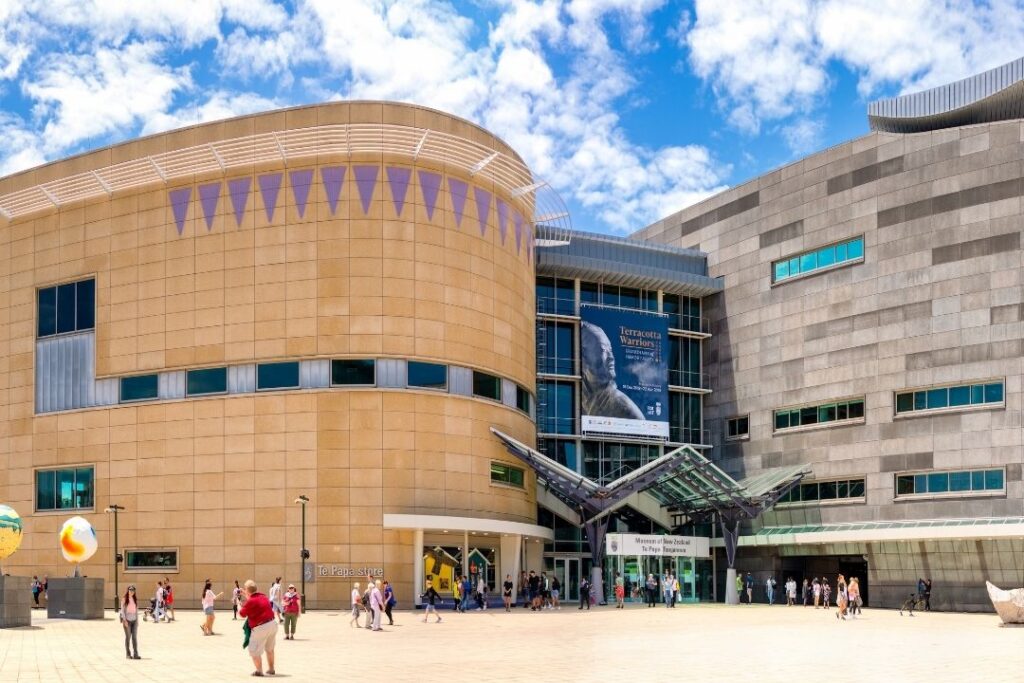 Where It Began
Gain a perspective of New Zealand's rich cultural history, its natural environment and Pacific and Maori people's lives at Te Papa Tongarewa, the national museum. Its vision, 'Changing hearts. Changing minds. Changing lives.' will undoubtedly have your mind working overtime with its interactive, creative, educational, engaging and fun displays. Check out the free weekly talks and events, or take a back of house art tour with an art curator.
In the refurbished 1892 Bond Store on the waterfront amble the four floors of the Museum of Wellington & Sea. Voted one of the world's top 50 museums, it tells of Wellington's evolvement since becoming the capital in 1865 from its settlement, growth, and people past and present. Don't miss the room with 100 tales of the city's escapades from the 1900s.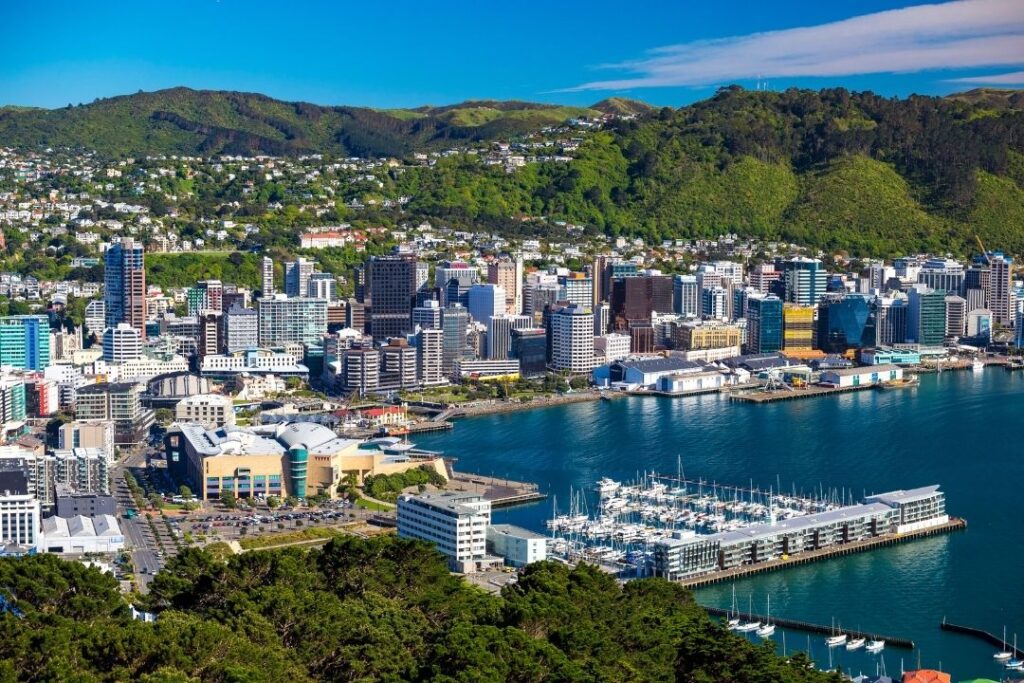 Making Old New Again
 One of its coolest makeovers is the restoration of Wellington's waterfront buildings. Here its magnificent architecture and art shine, whether it's cold, wet, windy or not. It fuses industrial and maritime heritage with innovative contemporary projects. Many regenerated buildings also house funky culinary restaurants and bars overflowing with fresh seafood dishes and crisp Marlborough wines. It's a favourite area for locals and visitors.
In the stunning late Victorian architecture, cream and red brick old wharf offices, and former wool store building, find the New Zealand Academy of Fine Arts. A nearby Edwardian heritage building houses the Portrait Gallery.
For a vibrant array of artisan pieces, crafts, and homemade wares, head under the wharves every Saturday at Jervois Quay carpark. Similar stallholders also operate at Cuba Street night markets, along with musicians and entertaining buskers.
Weaving its way between these exciting spots along the waterfront is Writers' Walk — a series of harbour related quotes by New Zealand authors. Grab a free trail booklet from Wellington libraries and information centres.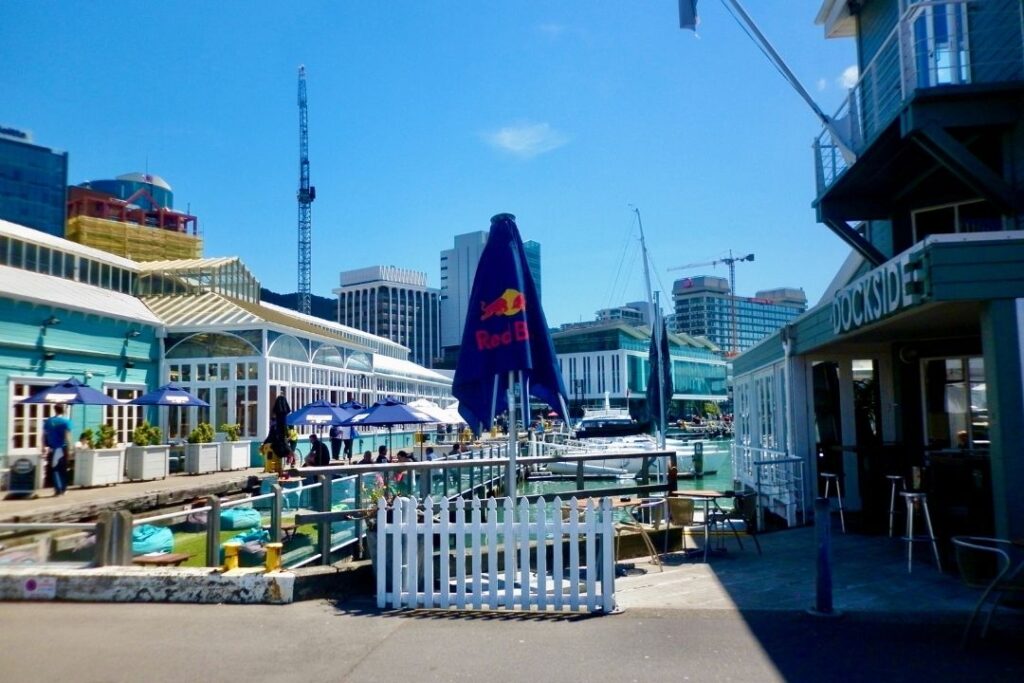 More Than a Room
Wellington is renowned for its juxtaposing past and present styles and cool places to rest and revive.
Check out the old St Paul's native timber Gothic church sitting right beside the new St Paul's yellow stone church and next to the imposing refurbished grey Parliament Buildings. Take a tour around the Victorian Gothic Parliamentary Library, home to the original Treaty of Waitangi (Te Tiriti o Waitangi), the Edwardian neo-classical Parliament House and the 1970s unique Beehive building. Dine at the Beehive in Bellamys by Logan Brown, and you may even see a Kiwi politician.
Your coffee will be more relaxing in the world's most stylish Starbucks — a 1901 New Zealand National Bank complete with an animated musical clock, elegant ceilings, cornices and columns.
You can browse or stay at QT Wellington boutique hotel amongst its vast and eclectic art collection. Owned by Chris Parkin, its Wellington's largest on-display private art collection. The hotel is another work of art, from lush crushed velvets to deep mahogany wood and rich gold. Drop into the Lobby Lounge for cocktails, stop at Hippopotamus for breakfast or dinner, and soak up this dreamy buzz.
More incredible contemporary art displays to encompass you while dining is found at the City Gallery Wellington.
But for an out-of-this-world dining experience, head to Space Place. Gaze at the historic Thomas Cooke telescope and new digital full-dome planetarium and immerse yourself in the interactive star and planet exhibits.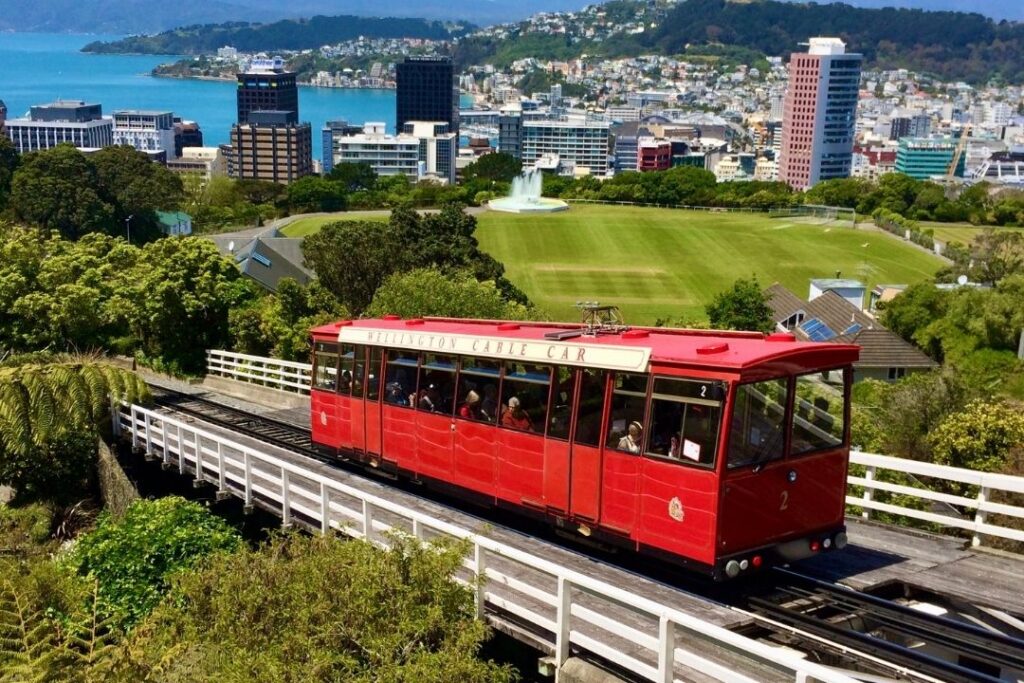 Top Talents
While Wellington is considered walkable, you can't visit the coolest capital and not take a ride on the hot red Cable Car to Kelburn Lookout. Take in the expansive city and harbour views, then stay and absorb the historic Cable Car Museum, Space Place and Zealandia eco-sanctuary before walking back down the picturesque pathway through the Botanical Gardens.
For more stories about our amazing pacific islands, read about Ziplining and adventures for conservation in Rotorua.