Eating out is big on Maui, with everything from lavish seafood dishes at oceanfront restaurants to simple but scrumptious plate lunches served out of trucks.
The cuisine is American meets islander, with a well-balanced mix of healthy and indulgent. Here is what you can expect:
Hawaiian cuisine
You can't visit Maui without trying poke at least once. This traditional raw fish meal is a staple across the island and you'll find plenty of versions. Tobi's Shave Ice in the trendy tourist town of Pa'ia is a popular spot, as service is casual and quick. Grab a poke plate of fresh ahi served with a side of rice. You can also get seared ahi dressed in a miso mayo sauce as well as a poke salad with crispy chips. Tobi's has a handful of patio tables but essentially this is a takeaway option.
Not far up the road, you'll find Mama's Fish House Restaurant, where you can order a more finessed poke bowl: ahi poke with Hawaiian chilli. Pair it with "diver-caught" Maui octopus or oysters with a mango-lilikoi (passionfruit) sauce. If you're keen to dine here (and you should be), book at least a few months' prior to your arrival on Maui.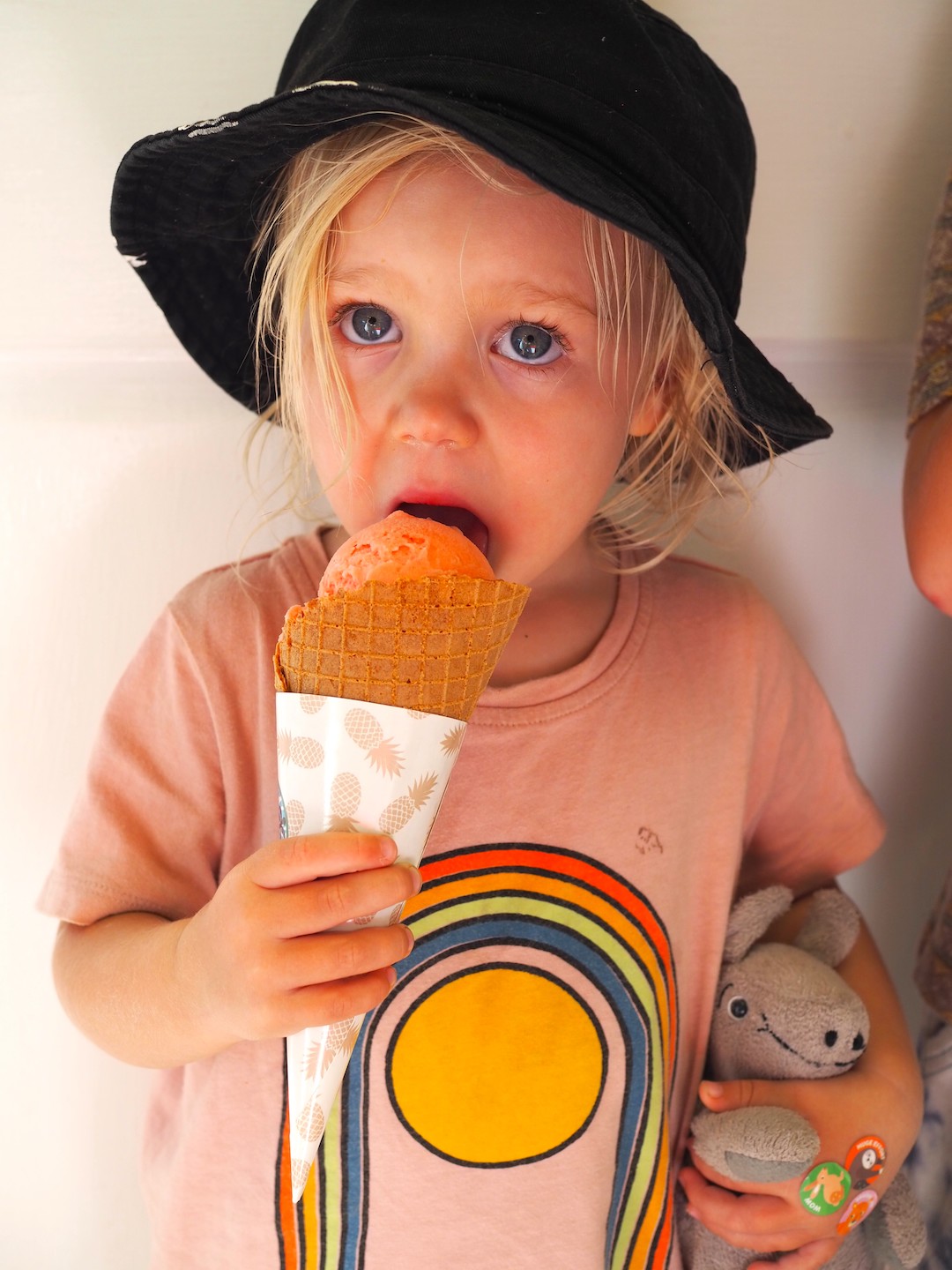 Maui treats
Chilled sweets are huge across the island and you'll find plenty of gelato bars and shave ice shops. Shave ice is similar to a snow cone but instead of granular ice, it's smooth. An overflowing cup of ice is drizzled in syrups in flavours that range from pineapple and mango to root beer and tamarind. It's then topped with ingredients including toasted coconut, haupia cream (coconut) and mochi (a rice confectionary). Ululani's Hawaiian Shave Ice is a tourist favourite.
As for ice-cream, Lahaina and Pa'ia have numerous stores, with Artisan Ice Cream, attached to Café des Amis, possibly the best. Flavours include the slightly odd – lilikoi butter and earl grey tea – to the not so odd – coconut macadamia and Tahitian vanilla. In Lahaina, you'll also find dole whip, a super sweet pineapple soft-serve kids will love.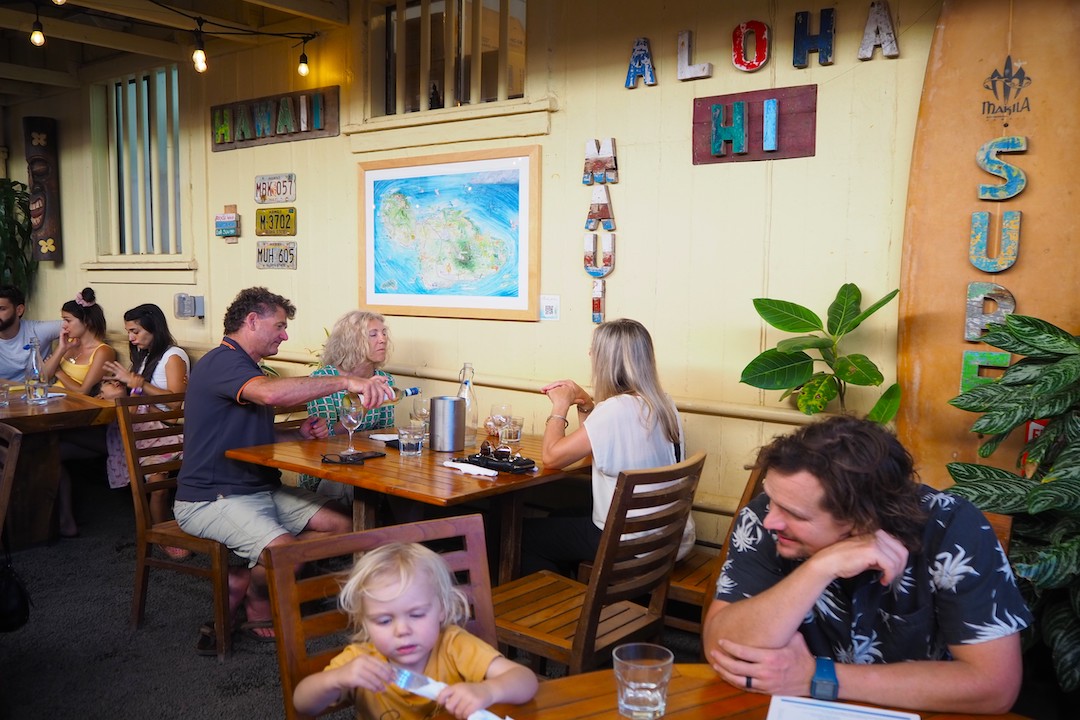 Maui restaurants
Speaking of Café des Amis, it's a great family-friendly restaurant on the main street of Pa'ia. It's always busy but if you arrive around 6pm you shouldn't have to wait for a table. I love this place because it has courtyard dining, the staff and other patrons are friendly, and the food is fun. I recommend the giant sweet and savoury pancakes topped with ingredients such as strawberries and cream, and pork and pineapple. If pancakes aren't your jam, there are plenty of Indian-style curries and salads to choose from.
Down the street and around the bend you'll find the chilled-out SURFCLUB Tacos. This is a fab spot for lunch pre- or post-beach swim, with a modern menu and fresh ingredients. Taco fillings include lobster with a chilli-lime butter, garlic and chipotle shrimp, and (my favourite) slow-roasted Maui beef. Arrive just prior to lunch so you can nab one of the indoor booth tables.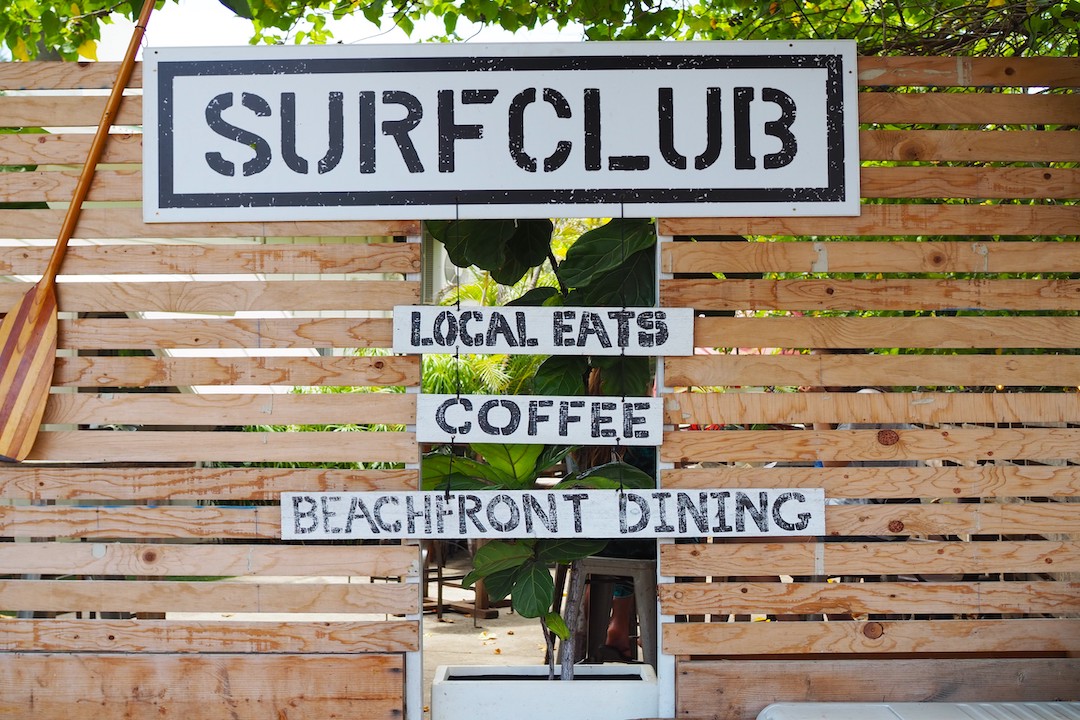 Food trucks
The food-truck scene is big on Maui and you'll find them everywhere, from street corners to parking lots. One of my favourites is Honoapiilani Food Truck Park, next door to Aston Kaanapali Shores resort, Lahaina. There's a large car park brimming with trucks serving tacos, shrimp plates, Thai noodles, Hawaiian-style smoked meat and more. The park is open at night and make sure you have cash on you.
There's also Food Truck Park, Kahului, on the North Shore, where you can buy seafood, burgers, shrimp, Thai cuisine, vegan dishes and fresh coconuts. It's all simple food but a fun, easy dinner, especially for families.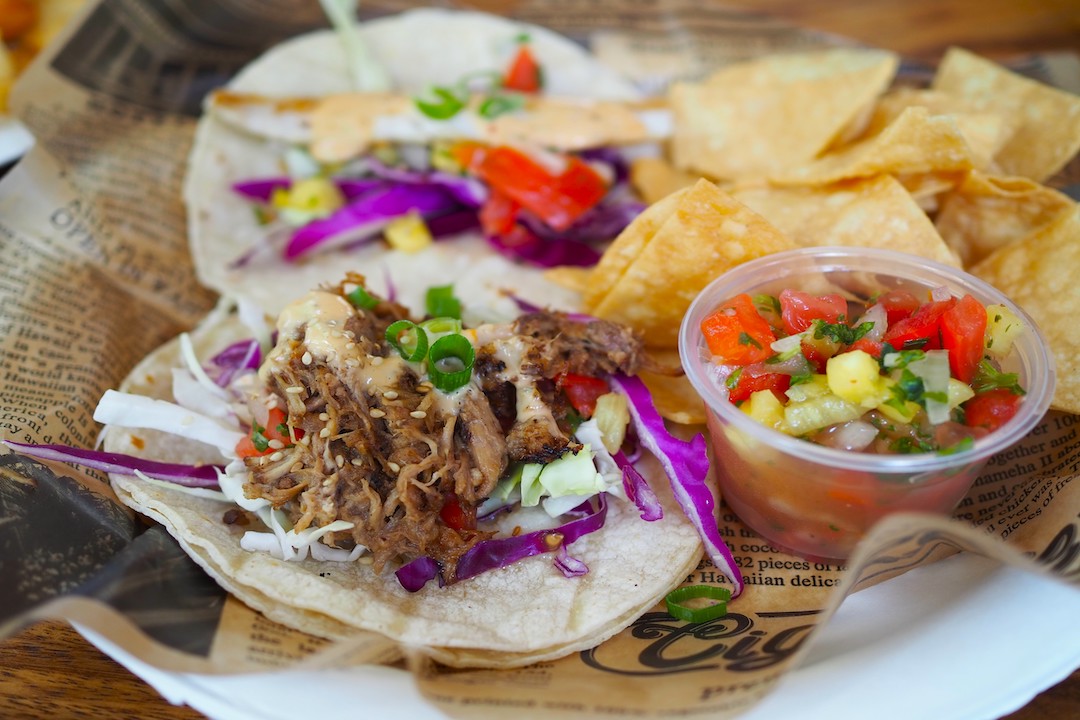 Favourite finds
Leave plenty of time for spontaneous foodie finds as some of the best places are away from the tourist centres. A top spot to grab coffee is Maui Coffee Attic in Wailuku. There's nothing pretty about this café but the drinks menu is large, and they have a great range of home-cooked baked goods lining the counter. The staff is also really friendly and there's a relaxed live music scene. Ask the owner about it.
Also on the North Shore is the hidden gem Broth restaurant, inside Alive & Well, a health-food and eco living grocer. Broth's small kitchen serves up a fabulous range of vege bowls and ramen, plus beetroot juice and berry smoothies.
One last place you can't ignore as you're driving to the West Coast is Leoda's Kitchen and Pie Shop. Every time I drove along Honoapiilani Highway there was a line out the door of this bakery, so I finally called in to see what the fuss was about. I ended up leaving with a box of scrumptious sweet pies for dessert that night. The bakery's tag-line is "glorified grandma comfort food" and it's worth indulging in coconut cream, banana and apple pies, although one pie is plenty for two people.
Can't get enough of Maui? Check out the best places to travel with kids.