When you think of French Polynesia, you would normally imagine a flop-and-drop vacation that involves lazy beach days, overwater bungalows, turquoise lagoons, swaying palms and overindulging.
However, given that many of the islands feature jungle-covered mountainous interiors with epic summit views and a sparkling lagoon to cool off in afterwards, is it really such a surprise that people are catching on that it's an amazing hiking destination too?
Hiking in the Society Islands
The Society Islands are the most easily accessed for any hiking adventures in French Polynesia and there's something incredibly enticing about the thought of hitting your daily steps threefold, cooling off in a lagoon and indulging in one of the many restaurant's guilt free that same evening.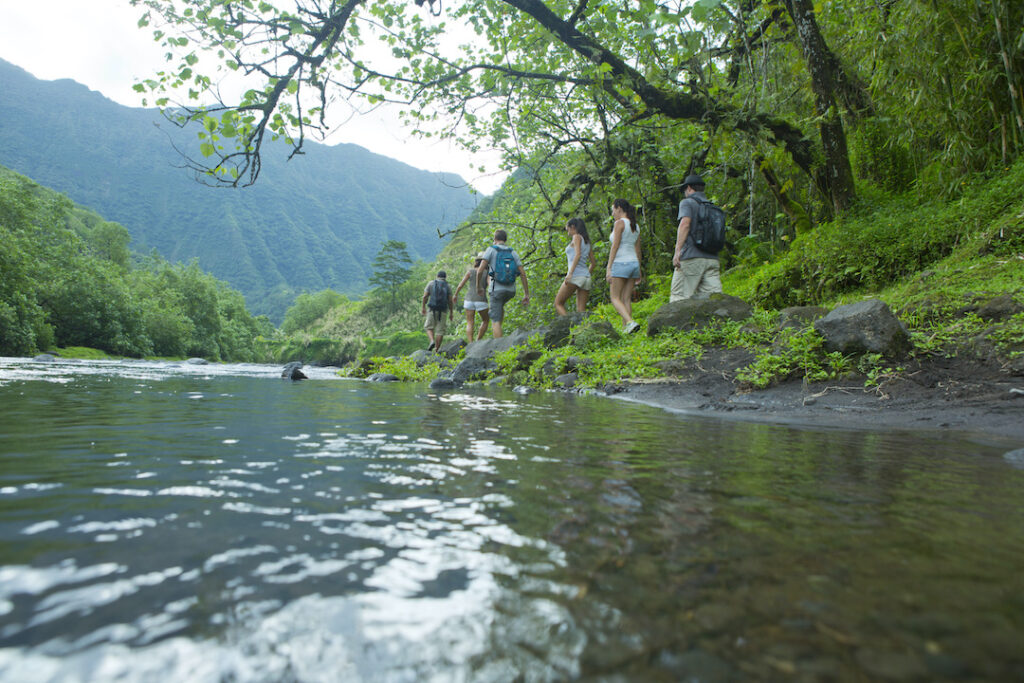 Tahiti
Tahiti is the clear winner in terms of DIY hikes. Many of the hikes in French Polynesia require a guide due to the jungle nature of the island's interior and lack of maintained trails. Fortunately, Tahiti has a number of trails you will be able to tackle on your own. For those seeking a guide-free experience in Tahiti, choose between the Fautaua Valley Trail, Faarumai Waterfalls or Mt Aorai.
The Mount Fautaua Valley is well known and you are supposed to get an access permit from the City Hall, or Mairie de Papeete, for this five-hour return hike. This is your opportunity to see Tahiti's largest waterfall, Fautaua Waterfall, which stands at around 135 metres. For a much shorter hike, head to Faarumai Waterfalls. It's only a couple of hundred metres through a forest to Vaimahutu, the first in a series of three waterfalls. The remaining two waterfalls, Haamarere Iti and Haamarere Rahi, can be found after a further 20-minute hike.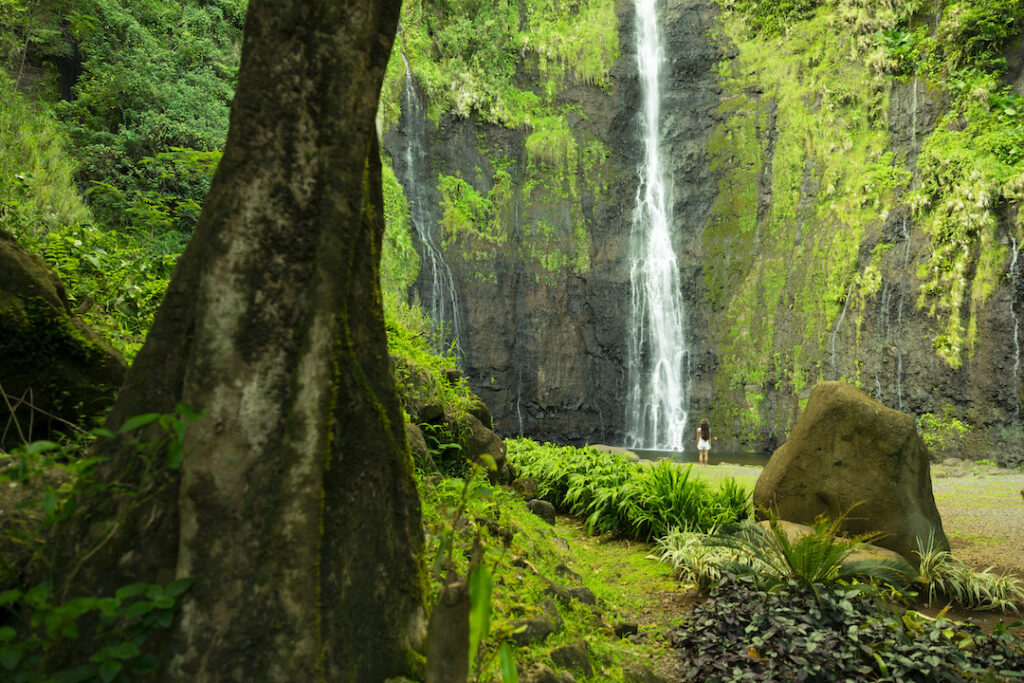 For those looking for an overnight adventure, head to the third highest peak on Tahiti, Mt Aorai (2066m). The track is well maintained and it takes around five hours of sweaty and calf-burning incline to reach the top, where you can spend the night in a simple hikers' shelter. For those who are really serious about conquering Tahiti, ascend the island's highest peak of Mt Orohena (2241m). This trek takes two long and tough days and you will need a guide. 
Although you can technically get there by boat, many keen hikers tread an 8km coastal path to Vaipoiri Cave and another 1.5km further to the Te Pari Cliffs.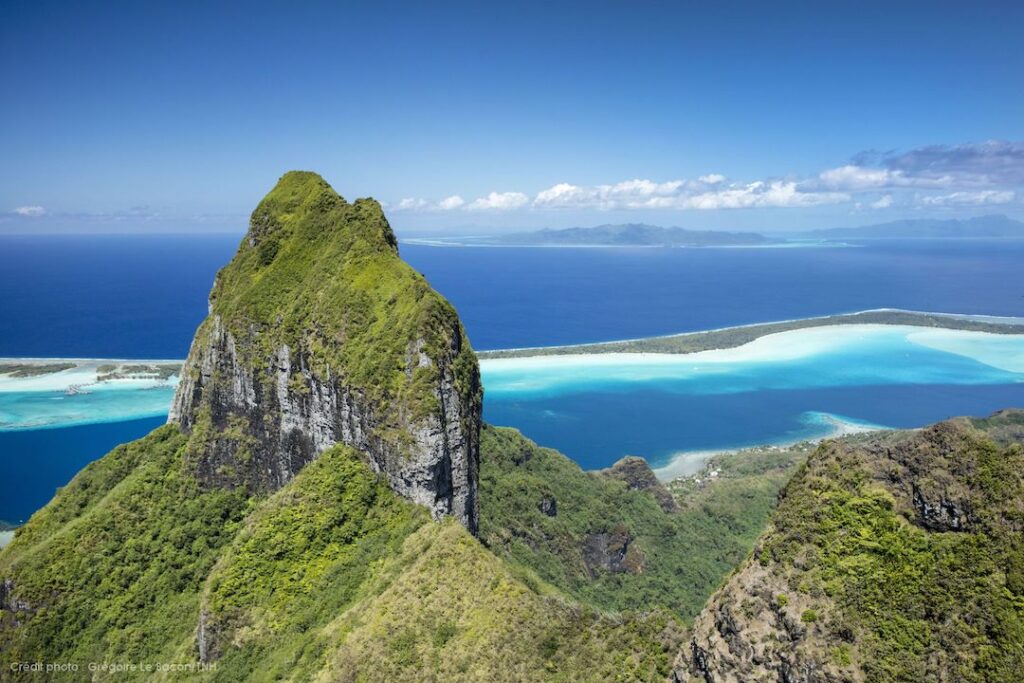 Bora Bora
Hiking paths are known to be difficult to find and follow in Bora Bora but I promise you that you will have never seen the stunning lagoon from these angles before. All hikes on Bora Bora include leg-burning inclines but perhaps the easiest to tackle are the shorter hikes into the WWII cannons.
Bora Bora was chosen as a strategic military supply base during WWII and the USA left relics behind with eight giant cannons found high on the hills, spread over the four points of the island. The Faanui Cannons take around 10-minutes to reach from the trailhead, Farepiti is reached in around 20 minutes and Point Fitiuu Cannons take around 15 minutes. All offer exceptional views of the lagoon from different points of the island.
The most popular hike on Bora Bora takes around three hours and is known as the Valley of the Kings. Rumours abound that the giant banyan tree featured on this hike inspired the "Tree of Souls" in the Avatar movie. What I do know for sure is that the tree has great significance, serving as a final rating place for ancient kings of Bora Bora. 
Those with the urge to conquer mountains will want to attempt Mount Otemanu, taking a difficult six-hour return track but providing breathtaking views all the way over to the islands of Tahaa and Raiatea. Mount Pahia is Otemanu's short twin-peaked sibling and this one is no walk in the park either.  Hire a guide for both of these treks.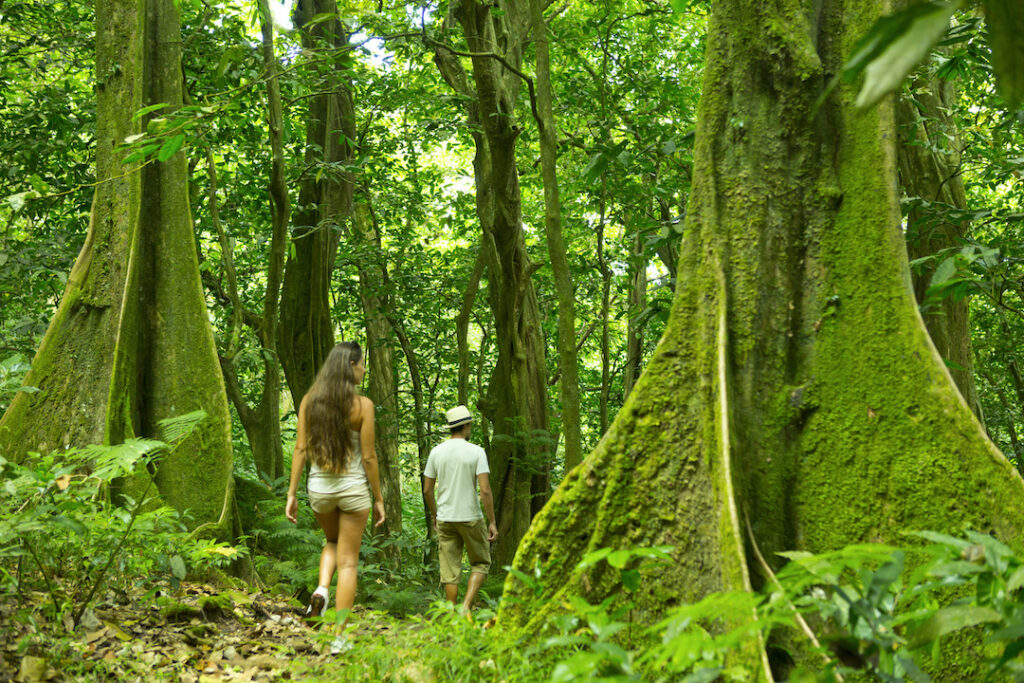 Moorea
Moorea offers up ample hiking opportunities but many of the trails are poorly marked so you definitely need to organise a guide.  Three Coconut Trees Pass is a well-known but hard-going hike with amazing views from the ridge between Mount Tohiea and Mount Mouaroa. Funnily enough, there haven't been three coconut trees up here since the early 1980s but it seems the name has stuck. 
But wait, there's more
In the society islands, Huahine, Maupiti and Raiatea all offer hiking through the tropical jungle although finding them without a guide is like finding a needle in a haystack. For those visiting Maupiti, if you make it to the top of Mount Teurafaatiu (380m), you will be rewarded with 360-degree views that stretch all the way across to Bora Bora in the distance. 
In the Marquesas, Fatu Hiva and Nuku Hiva offer memorable treks, as does Mangareva in the Gambier Archipelago. Sadly, these islands are more expensive and difficult to reach. But for those that are lucky enough to visit, you can proudly lay claim to panoramas seen by few people in this world.
Want to check out some other ways to expore the islands of French Polynesia? Try swimming with stingrays!