French Polynesia is infinite shades of blue lagoons, lush jungle fringed by swaying palms and a blend of cultures on your plate that makes it hard to say no to a second helping. To put it simply, it's paradise on earth.
Despite its reputation as a honeymoon destination, French Polynesia with kids is actually a paradise for families as well. In a culture where children are welcome everywhere and nature is the playground, you can choose between doing something really fun or doing nothing at all here. Either way, you're guaranteed a good time. 
The hardest choice to make in French Polynesia is which of the stunning islands to base yourself on your family holiday.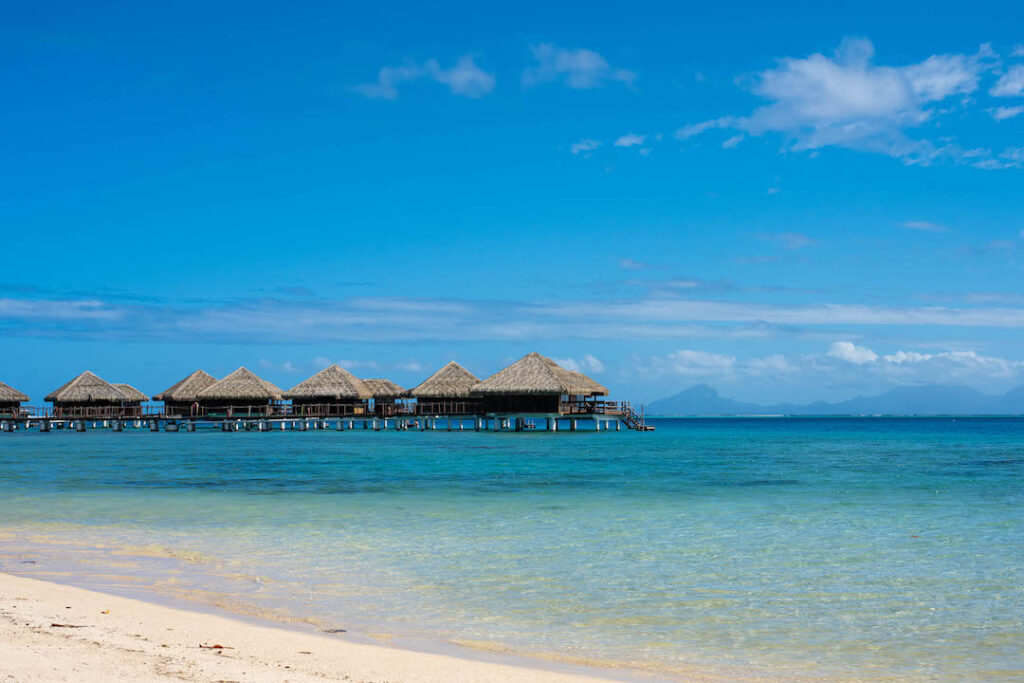 Take the time to explore Tahiti
Tahiti is your wonderful introduction to French Polynesia with kids, being the island on which all international flights land. Although it's probably not the island whose photograph inspired you to visit, Tahiti has a lot to offer families. Home to the capital, Papeete, it's here you will find colourful markets, a bustling waterfront, a never-ending supply of sweetly perfumed Monoi oil and knick-knacks for the trip home.
Hire a car and follow the coastal road around its figure-eight shape. Tahiti is actually two circles connected by an isthmus, with the larger circle known as Tahiti Nui (Big Tahiti) and Tahiti Iti (Little Tahiti) for the little circle.  When exploring Tahiti Nui, make sure to seek out Faarumai Waterfalls and Arahoho Blowhole, which makes a loud woosh sound before it blows.
Keen surfing families can visit Teahupoo on Tahiti Iti, famous for its surf break and the Tahiti Billabong Pro surfing competition held every May. Here you can jump on a half-day boat excursion to see Vaipoiri Cave and venture out to the big waves to watch the pros in action.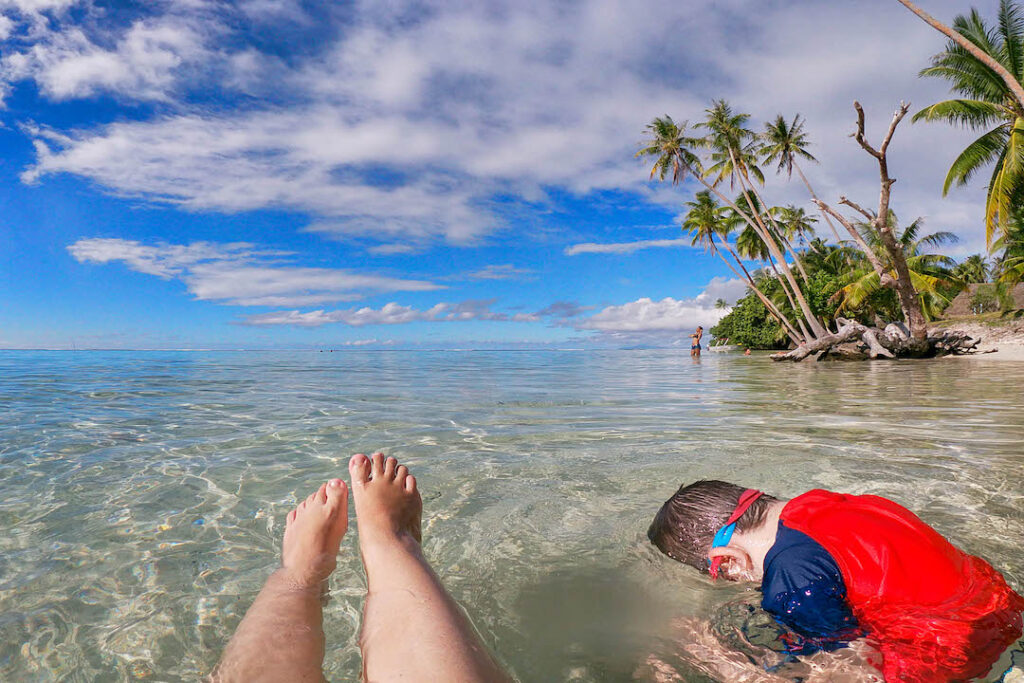 Head to Raiatea to feel like a local
Raiatea is home to the second-largest town in French Polynesia (spoiler alert, it's small and charming) and is considered the spiritual centre of all the islands. It shares its lagoon with a smaller island, Tahaa.
Tourists are few and herein lies its charm, making for an awesome family holiday without the tourist hype. Raiatea doesn't boast stunning beaches but the white sand Motus in its lagoon make up for it.  Don't miss Motu Ofetaru, a picture-perfect tiny island with turquoise water, coconut trees and shallow water snorkelling. Although you will need to hang your lunch bag from the trees to avoid it getting stolen by the resident chickens and cats here.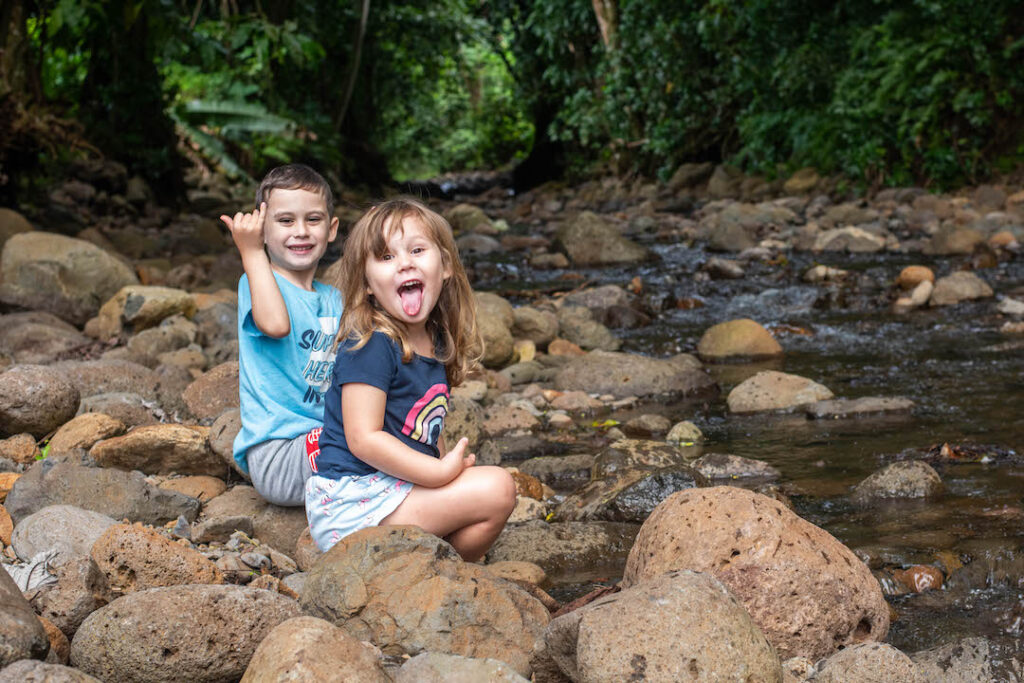 Hire a car to drive the 98km sealed circle island road for a laid-back family adventure. With mountains on one side and the lagoon on the other, it's hard not to imagine what life would be like if you moved here.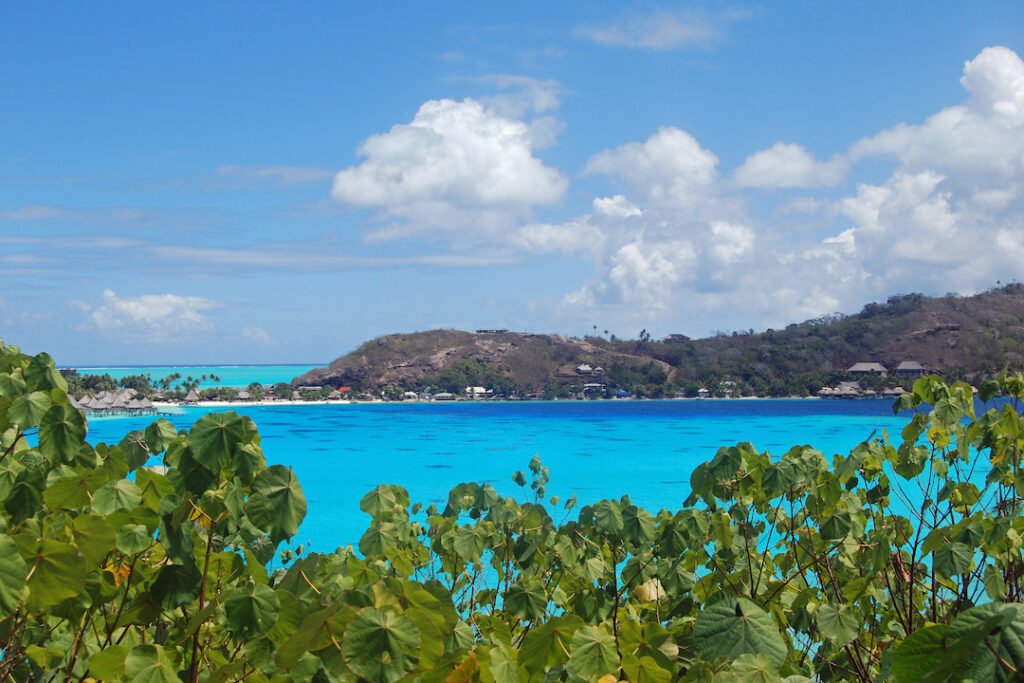 Live it up in luxury on Bora Bora
Bora Bora's lagoon is the inspiration behind most holidays to French Polynesia.  It's one of the few destinations in the world that lives up to visual hype and although it's popular with honeymooners, it's also family-friendly with a natural water playground and multitudes of accommodation and restaurant choices.
The lagoon supplies plenty of entertainment for families with snorkelling, swimming, sailing and diving but there are also fantastic dry land activities. Adventure out on a 4WD excursion into the jungle interior to visit important historical sites and snap Insta-worthy shots from lookouts. 
If you have an extra day up your sleeve, take in a Polynesian dance show or hire push bikes, making sure to stop at Bora Bora's stunning public beach, Matira Beach.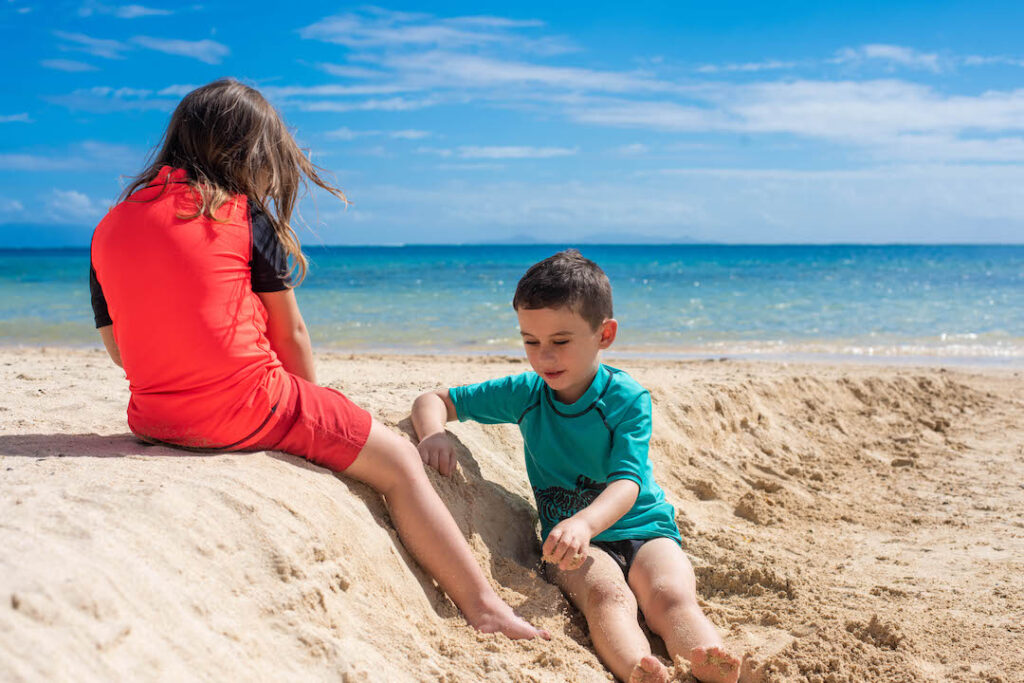 Head to Huahine to avoid resort domination
Huahine is the island to visit when you need a break from brand-name resort domination. Like Tahiti, Huahine consists of two islands, Huahine Nui and Huahine Iti. However, these two islands are connected by a man-made bridge and not land.
Given that tourists are minimal and there is barely any traffic, hiring a car to cruise the coastal road is a laid-back way for families to experience Huahine. Don't miss the centuries-old fish traps, archaeological museum and the sacred blue-eyed eels on your road trip.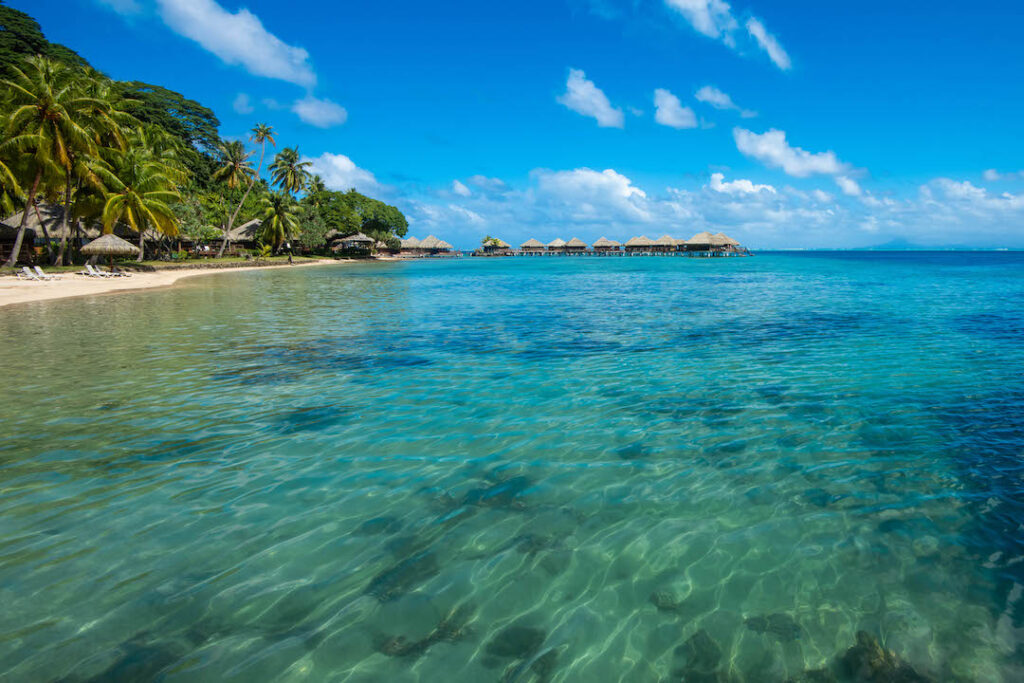 The sparkling lagoon is best experienced on an organised tour where you will snorkel colourful coral gardens, visit untouched Motus and see some of the most consistent surf breaks in the whole of French Polynesia. For those who are comfortable going deeper, diving here is epic.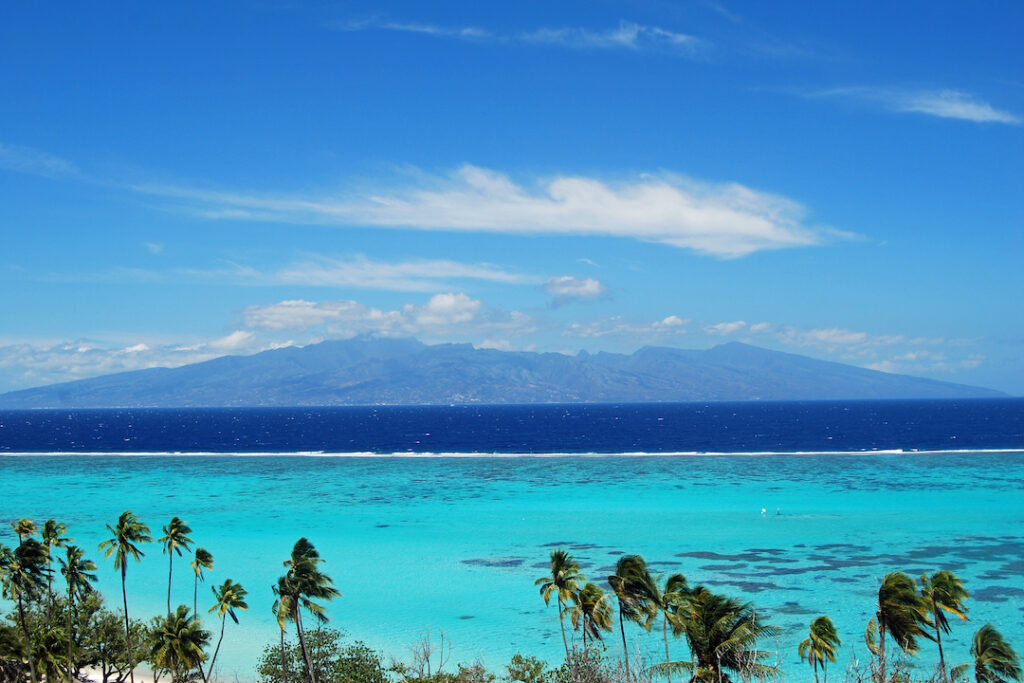 Flop and drop in Moorea
Moorea is a top choice for families whose budgets don't quite stretch to Bora Bora. The lagoon and mountainous peaks are just as out of this world but in addition to brand-name resorts, there are a few pensions (private guest houses) that are easier on the wallet. The biggest saver is getting here though. While the other islands involve a plane trip, Moorea can be reached via a fast cat in 45 minutes.
The easiest way to experience the lagoon and mountainous interior is on a day trip. A land tour will see you visiting two beautiful waterfalls in Afareaitu, vanilla and pineapple farms, archaeological sites and Oponohu Bay. A typical lagoon tour will include shark or fish feeding, swimming with stingrays, a picnic lunch and a stop at two bays.
Don't miss Lagoonarium Village for family-friendly swimming and snorkelling and Hauru Point for one of the best beaches on the Island.
Loved hearing about French Polynesia with kids? For other awesome family holiday ideas check out the top five things to do in Fiji with kids.