Unless you've been living under a rock for a very long time, at some stage you'll have clapped your eyes on iconic images of Pacific Islands so perfect that they're almost cliché. Congo lines of thatched-rooved huts perched on poles over eye-popping sapphire waters. Coconut-laden palm trees sprouting from dreamscape expanses of startlingly white sands.
A widescreen Pacific Ocean painted in shades of blue so dazzling that the word 'blue' feels inadequate. 'French Polynesia' brings to mind a dreamlike paradise so iridescent that it could only be CGI. Or, if not CGI, then certainly not for normal people. Perhaps a place for coddled royalty or blonde heiresses on white-sailed yachts.
The first thing you notice about French Polynesia is that those images are replicated a hundred times over when you're there. It's a place that has besotted explorers, missionaries and travellers from all walks of life for 300 years. Today it's a peaceful haven and a country that is particularly suited to romance and adventure.
So whether you're jetting off with your partner or plotting a fun trip with friends, this is one tropical destination that will not only impress, but also blow your mind with its beauty and indulgent offerings. You will end up quite sore, though. That's what happens when you are constantly pinching yourself.
Romancing your partner
When it comes to raising the bar on spoiling your better half, it's simple: get yourselves on a plane headed for Bora Bora. It's a 45-minute trip from Tahiti's capital, Papeete, with a stop at another island, Moorea, en route.
As the plane begins its descent towards the magical islands that make up Bora Bora, paradise shines brightly below – there are few places in the world where Mother Nature shows off so shamelessly that you could almost blush.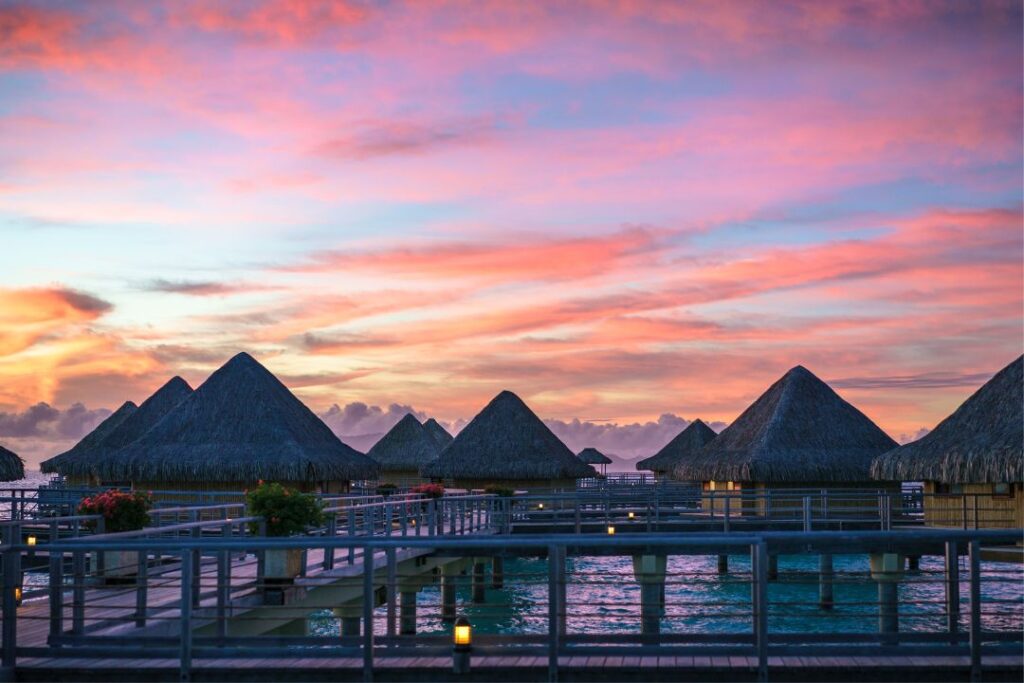 The St Regis hotel in Bora Bora is a stunner – each overwater thatched-roof bungalow has its own timber deck with an undercover dining hut from which you can dive straight into the ocean. The dreamy bedrooms, deep bathtubs and open-plan showers will have even the most controlled person squealing with excitement. and that's before they've clocked the coffee tables above glass floors that look directly into the water below. You can dive down and swish about like the world's sexiest dugong in the water beneath your partner as they sip champers and relishes in some 'Tahitian TV'.
Once you've settled in and enjoyed everything the room has to offer, remember that while you're in French Polynesia, you're on 'island time' – which means no-one's in a rush to do anything.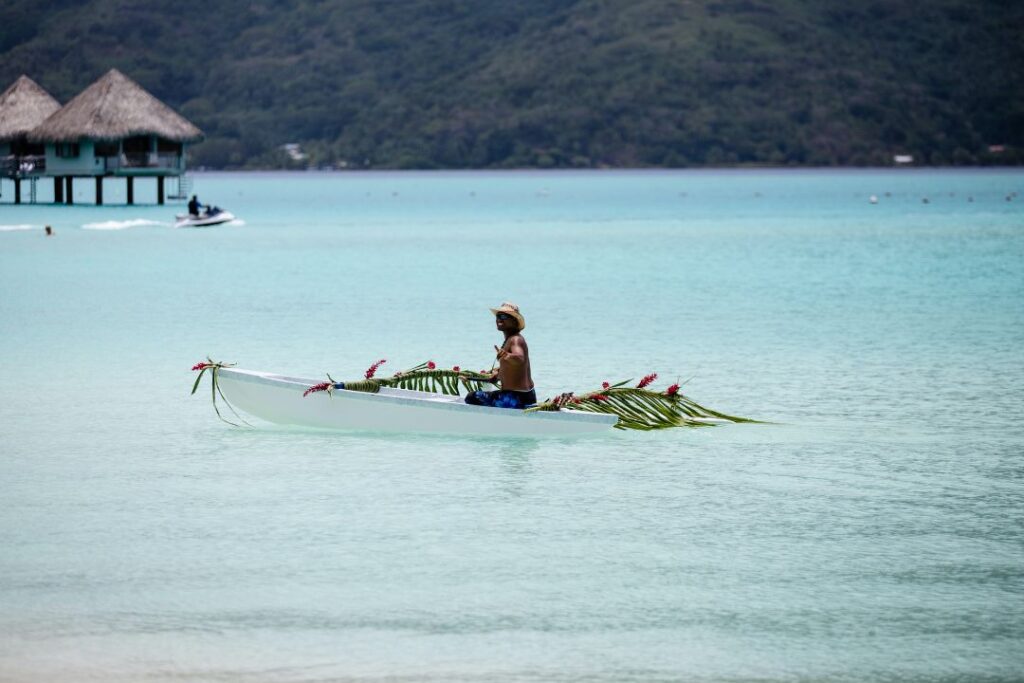 Get out into some of the most beautiful lagoons on earth for a retina-searing gape at nature. And what better way to do that than by cruising out to some far-flung isles, getting your snorkelling kit on and leaping off the side of a boat into a world where thousands of fish flit about in rainbows of psychedelic luminosity? It's as close as you'll get to being Nemo: a newbie dumbstruck by a big, wild world in which everything is strange and bright.
After an island-style lunch of local Tahitian cuisine – poisson cru (Tahiti's signature dish, which is based on raw fish) with tropical fruits, barbecued chicken and rice with vegetables, set out by friendly guides on tables beneath the palm trees, visitors can get shimmying in a traditional dance lesson. If that's not your thing, you can learn how to crack open and enjoy one of paradise's best exports: fresh coconuts, straight from the palms.
When night falls, up the romance ante and spoil your other half at St Regis' famous Lagoon Restaurant and Bar. Created by world-renowned French chef Jean Georges, Lagoon is perfectly positioned above a reef-shark feeding sanctuary, with a sprawling lantern-lit deck, so guests can sit back and enjoy a classy cocktail while sharks and fish act like moths to the light, darting about in a non-stop dance under the moon. Ask for a table right above the marine life for the best show around – even as you sup on the entertainment's siblings.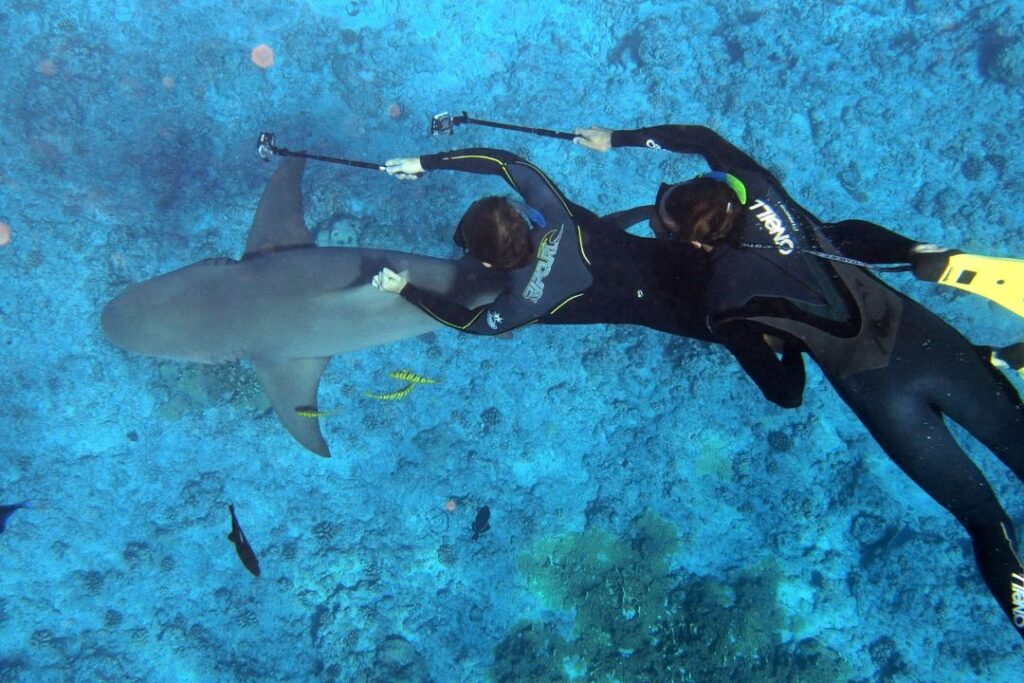 For adventure lovers
Snorkelling, champagne, dancing and fine dining is all very well – but if you've landed in French Polynesia with friends, you might be after activities that'll awaken your competitive spirit and get your collective hearts pumping.
If you're not the type who wants to get out there on a paddleboard, windsurfer or kayak, why not rev up some jet skis and take off on a self-guided adventure? Jet skis can be hired from most of the resorts, and they give you the freedom to throw on a backpack with some supplies and head out to some of the smaller islands.
Feeding the stingrays is a wonderful introduction to the marine life in Bora Bora, but most of the boats venture out to deeper waters where you can meet some larger marine critters. Such as reef sharks – black pointers, thankfully with none of the ferocious, surfer-scoffing rep of their white pointer cousins. Guides take fish out to feed them, so you can get up close and personal while a shark as big as your body take fish from your guide's hand.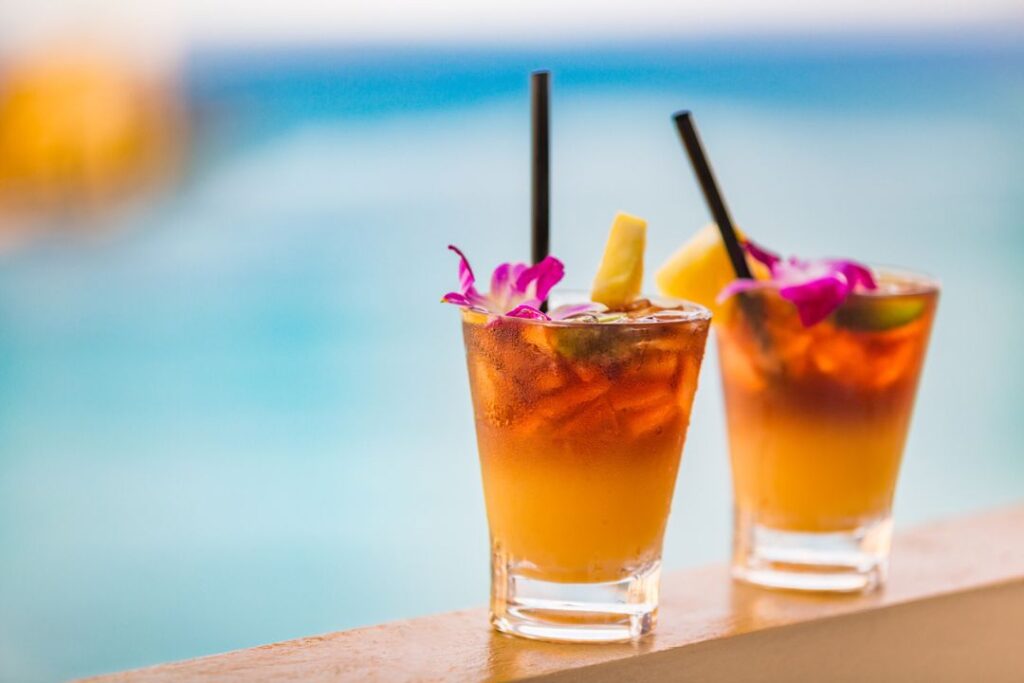 Let's face it: dinner with a bunch of mates on holiday can get loud. Well, there ain't no prob with that if you dig into some local fare at Bloody Marys on the Bora Bora mainland. If you're lucky enough to be staying at Bora Bora Pearl Beach Resort and Spa, it's a quick boat ride across the inlet to the spot where buses pick up guests for a ride to either Bloody Marys or the equally relaxed and friendly Lucky House.
Entering Bloody Marys is like stepping into a French Polynesian-inspired slice of Las Vegas – and the noticeboard out front proudly displays a huge list of celebrities who've dined there that includes Jack Nicholson and Pierce Brosnan. Guests get into the swing of island time with monstrous tropical cocktails in bright blue and hot-pink, and plates of meat and seafood.
Back on the mainland, you might want to get a better view of the hundreds of abounding, beautiful islands. And if you haven't jumped out of a plane and watched the world below come zooming at you at a thousand kilometres an hour, what better place to do it than in French Polynesia? Skydive Tahiti offer jumps from 3,658 metres, and, seriously, how often do you get the chance to barrel headfirst into a place that trumps its postcard-perfect image?
Find out why French Polynesian islands cast a spell on all who visit.