French Polynesia is a holiday destination that seduces travellers from the moment they kick off their shoes and feel the sand between their toes or dive into those stunning blue waters.
Divided into the Austral, Gambier, Marquesas, Society and Tuamotu archipelagos, the islands feature coral-fringed lagoons and white and black sandy beaches, lush vegetation and tumbling waterfalls.
Bustling, multi-cultural Papeete is the capital of French Polynesia, located on Tahiti Island – which is the largest island in French Polynesia. It's a great place to experience local life.
Some of Papeete's highlights include the vibrant Municipal Market where you will find brightly patterned shirts and flowery sarongs. There are also pearl and shell souvenirs and delicious fresh tropical fruit for sale.
Down the road, the Harrison Smith Botanical Garden features stunning flowers including bougainvillea, fragrant frangipani and other lush tropical plants. There is also a forest of mapés – the famous Tahitian chestnut. You will see these for sale along many of the roads, and they are a tasty local treat.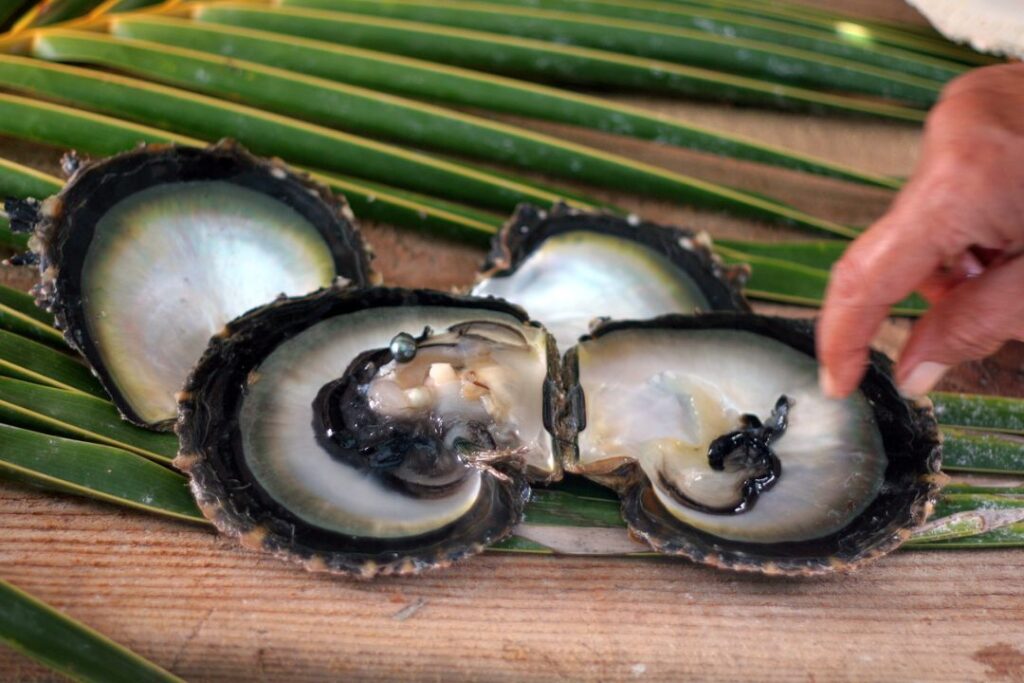 If you are a pearl lover then you came to the right spot, as French Polynesia is famous for them. The Robert Wan Pearl Museum near the Paofai Temple (also worth exploring) is the world's only museum dedicated to pearls. Here you can see some incredible pieces such as a pearl-encrusted prayer book that belonged to Charles II of France (AD 840–870) and a copy of the rosary beads presented to Pope John Paul II in 1987.
Island hopping in paradise
An island hop or boat charter is the best ways to fully appreciate the beauty of these magnificent islands. Most popular include Moorea that is known for its white sand, palm fringed beaches and tropical turquoise lagoon.
Swimming with reef sharks and stingrays is a popular experience and snorkelling is excellent with gin-clear water where you can spot rainbow coloured fish and turtles.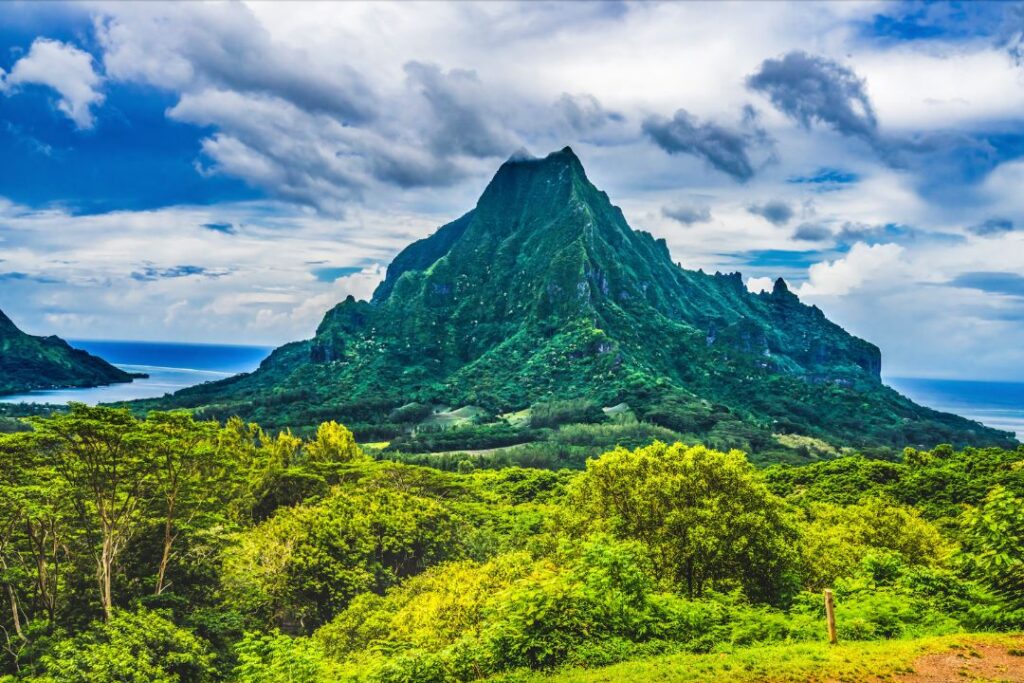 A windy road to Belvedere Lookout, rewards you with great panoramic views over Moorea including Cook's Bay, Opunohu Bay and iconic mountain peaks with waterfalls. There are plenty of water sport activities on offer including jet skiing, surfing, parasailing, kite surfing and scuba diving.
Beautiful Bora Bora
Bora Bora is a brief 50-minute flight from Papeete and Moorea and is one of nine islands in the Society Islands. It has long been world famous for its stunning scenery and crystal-clear blue waters and like most of the islands of French Polynesia, it is surrounded by a ring of coral reef, also known as an atoll.
Bora Bora is home to of many luxury resorts with popular over-water bungalows and thatched roof villas, where you can dive straight off your deck into the lagoon for some snorkelling. Scuba diving is popular in these warm clear waters teeming with tropical fish and giant mantra rays gliding through awe-inspiring coral gardens.
For great views, Mount Otemanu – a dormant volcano at Bora Bora's centre – overlooks the island and beyond. Matira Beach with its eye-smarting white sand, is one of the most popular yet secluded public beaches on the island and is excellent for swimming.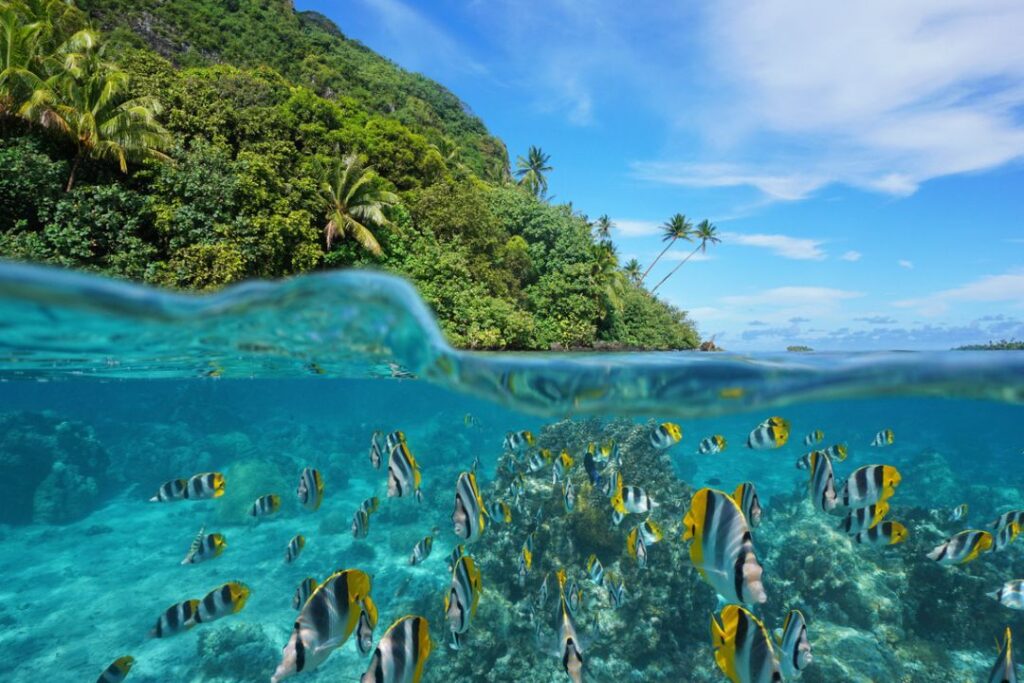 Enchanting Huahine
Huahine is made up of two islands that are surrounded by several motu – islets with magnificent bays and stunning white sandy beaches, and it is also a 50-minute flight from Papeete.
Huahine Nui (Big Huahine) lies to the north, and Huahine Iti (Little Huahine) is to the south, with Mareo Bay resting between the two islands. A bridge between the islands connects to eight villages scattered across the island.
Huahine has the tranquil pace of old French Polynesia and local farmers provide a bountiful harvest of vanilla, melons and bananas.
The village of Maeva – northeast of the town of Fare – is famous for its historic fish farming techniques that use V-shaped stone fish traps that are still in use today.
One of Huahine's most famous attractions can be seen from a bridge that crosses a stream in the village of Faie. From the bridge, you can see the sacred blue-eyed eels, deemed sacred according to local mythology.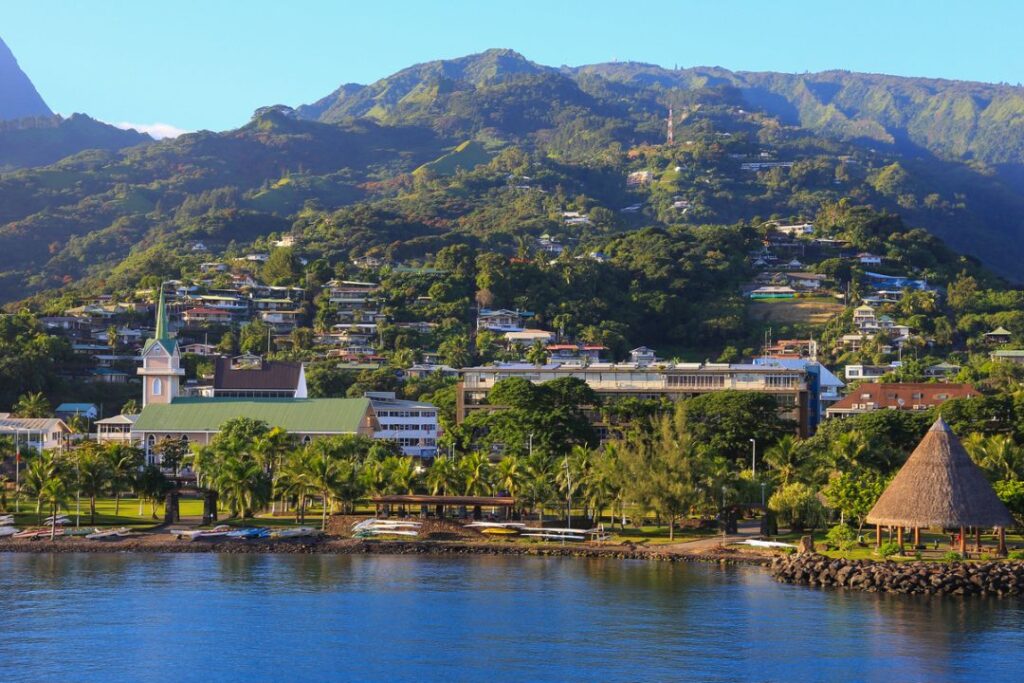 Remarkable Rangiroa
Another stunning island is Rangiroa – which is part of the Tuamotu Islands, and known for spectacular diving.
It is an atoll circling the second-largest lagoon in the world and known by the locals as Rangi.
The island consists of 240 tiny islets circling the massive lagoon like an exquisite pearl necklace and separated by passes or smaller passages (called hoas) which allows the water from the lagoon to ebb in and out.
Only two of the islets are inhabited – the airport and the town of Avatoru are based on one, while the town of Tiputa is on the island beside it.
Here's why you should add swimming with sting rays in Bora Bora to your bucket list.