Given Fiji's dramatic green volcanic landscape, it's not hard to imagine the diversity of terrain and marine life its waters might reveal. The country's 333 islands support over 300 species of hard corals, more than 1500 species of fish and many species of soft corals. Circled by three of the world's largest barrier reefs, diving in Fiji is the ultimate adventure playground for scuba divers, yet it's famous mainly for two things: shark dives and the Rainbow Reef.
Acknowledged as the soft coral capital of the world, there is spectacular diving in places like Vatu-I-Ra where colourful pinnacles rise from 40m to just below the surface, teeming with colourful anthias, swarms of fusiliers and schooling jacks and barracuda, and in the north, the world-famous Rainbow Reef, named for its vibrant mix of soft and hard corals, sea fans and anemones in every colour of the rainbow and every direction you look.
The Great Sea Reef and the Great Astrolabe Reef offer exhilarating drift dives along their magnificently coloured walls in the company of giant trevally, reef sharks and manta rays, and for thrill-seekers, Fiji's shark diving sites present the opportunity to get up close and personal with bull sharks.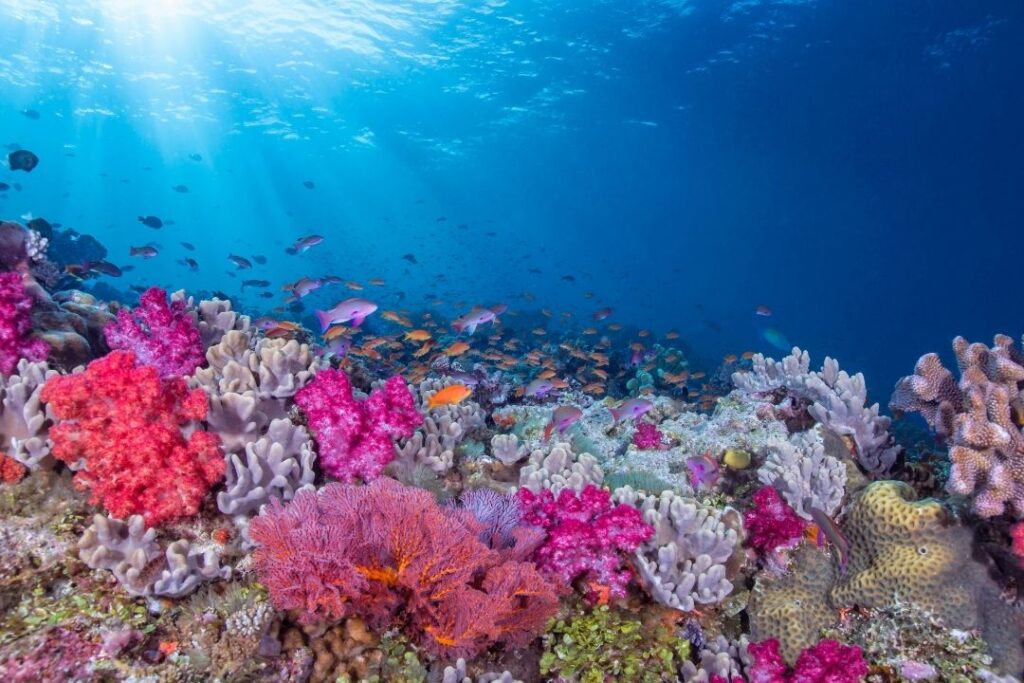 Suncoast – Rakiraki and Bligh Water
The main island jump-off point for Bligh Water and Vatu-I-Ra is located about two and a half hours' drive north of Nadi on the main island of Viti Levu. The reef here is a maze of barely submerged coral pinnacles, all festooned with brightly coloured soft corals in yellows, pinks and deep purples. The soft corals attract crowds of bright yellow damsels, purple and orange anthias, while swarms of fusiliers ply up and down the pinnacles and schools of eye-bar surgeons hang silently in the blue.
Vatu-I-Ra is a favourite hangout of Fiji liveaboard the Nai'a and also accessible from the resorts near Rakiraki, including Volivoli Beach Resort.
The Mamanucas and Yasawas
The Mamanuca chain of islands is the closest to Fiji's international hub of Nadi, a short ferry ride from the main island, a great place to try diving in Fiji for the first time, with the Malolo Sea Reef producing perfect calm conditions, with easy diving on sheltered bommies and pinnacles.
The Yasawa Islands stretch north from the Mamanucas, a chain of rugged looking volcanic islands. Being relatively remote, and close to deeper water, the Yasawas offer a good chance to encounter pelagic marine creatures like sharks and manta rays, indeed some of the resorts offer activities based around them.
From Mantaray Island you can snorkel with manta rays in season (May to October) as they come into the shallows to be cleaned. Further south at Kuata you can snorkel with sharks, and certified divers can enjoy the full shark dive experience on The Awakening shark dive.
A couple of good resort options for diving the Yasawas are Barefoot Manta and Barefoot Kuata Resorts. These dive sites are also accessible on a cruise with Captain Cook Cruises Fiji.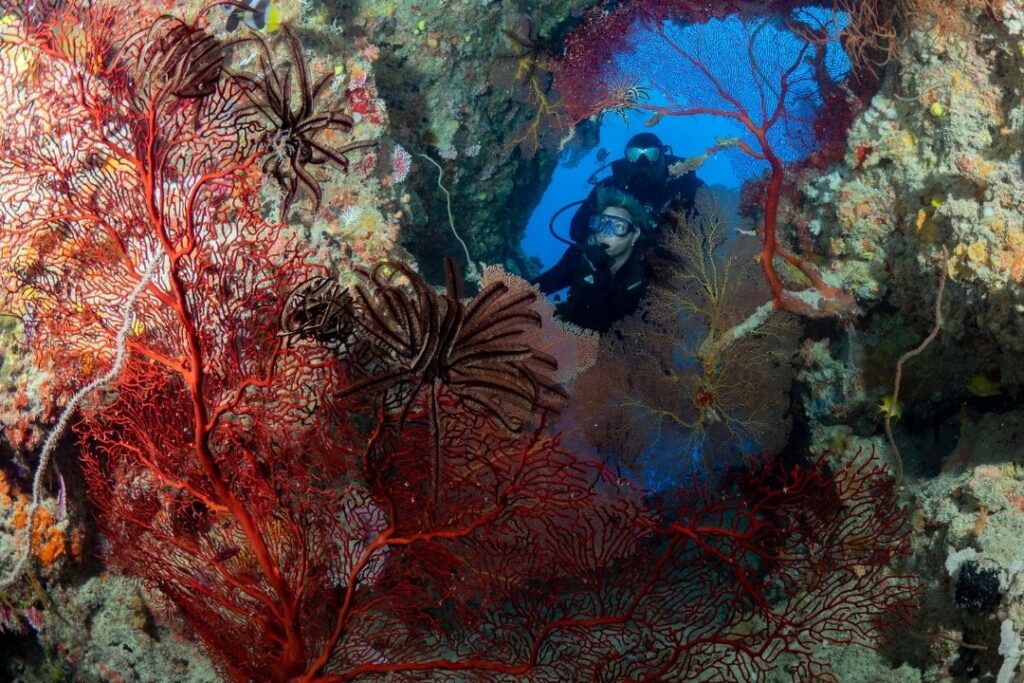 The Coral Coast
The Coral Coast is named for the fringing coral reefs that run along the southern coastline of Viti Levu – Fiji's main island. Though quite shallow and often out of the water at low tide, the edge of these reefs falls away hundreds of metres just a short distance offshore. Being very close to the drop-off produces chance encounters with bigger animals like turtles and dolphins.
Diveaway Fiji manage dive operations for several Coral Coast resorts including The Outrigger Fiji Resort and Hideaway Resort and further south, Waidroka Dive & Surf Resort also has access to Beqa Lagoon.
Pacific Harbour & Beqa Lagoon
Still on the main island of Viti Levu, Pacific Harbour, gateway to Beqa Lagoon, is a two-and-a-half-hour drive southeast of Nadi. The shark diving in Beqa Lagoon is one of Fiji's most famous marine experiences. On these well-managed shark diving experiences, you can expect to see large bull and tiger sharks, as well as silvertips, reef sharks, and even lemon and tawny nurse sharks.
There are three shark dives in Beqa Lagoon: 'The Arena' managed by Beqa Adventure Divers, 'The Bistro' managed by Aquatrek and 'The Cathedral' managed by Beqa Lagoon Resort. For conservation reasons, the shark dives don't happen every day – but that's not a problem as there are dozens of other sites to be dived on the 144km coral reef that surrounds Beqa Lagoon, including a fascinating swim-through at John's Tunnel and the wreck of Chinese trawler.
The shark dives are open to guests from several resorts in Pacific Harbour, including the Pearl South Pacific Resort and Uprising Resort, with the Cathedral dived only with Beqa Lagoon Resort on Beqa Island.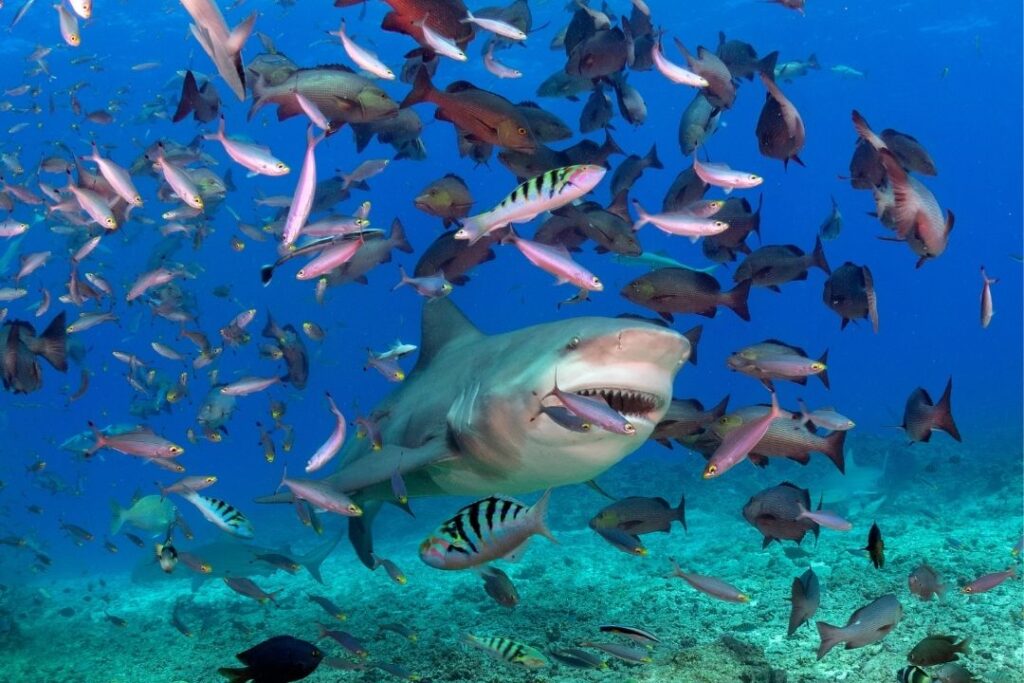 Vanua Levu, Savusavu and the Namena Marine Park
Fiji's second largest island, Vanua Levu, holds two of Fiji's best kept secrets as far as scuba diving is concerned: the Great Sea Reef and the Namena Marine Park.
Diving the Great Sea Reef, which arcs 300km from the top of Vanua Levu towards the tip of the Yasawa Islands, you likely see eagle rays, mantas, dolphins and turtles amid miles and miles of pristine coral. Namena Marine Reserve, an island surrounded by spectacular seamounts, is also on a migratory pathway for cetaceans. So, in addition to the 1000-plus species of reef fish, and 1000-plus species of invertebrates, you could see pelagic fish, dolphins and four species of whale.
Namena Marine Park is accessible from Savusavu resorts including the Jean Michel Cousteau Fiji Resort, and it is on the itinerary of Fiji liveaboard; the Nai'a.
Taveuni & the Somosomo Strait
World famous-Rainbow Reef is in Fiji's Somosomo Strait, a narrow channel between Vanua Levu and Taveuni. Here, nutrient rich waters from deeper areas are brought to the surface and over the reefs providing a constant food supply for the entire ecosystem of marine life that it supports.
There are about two dozen dive sites to explore throughout the Rainbow Reef, and all are a riot of colour, bar one – the Great White Wall, a near vertical wall which drops from 20m, blanketed with soft white corals down as far as the eye can see.
There are several dive resorts on Taveuni to suit all budgets, from Garden Island Resort at the budget end, to Taveuni Dive Resort and Paradise Taveuni, all offering fantastic diving in Fiji packages.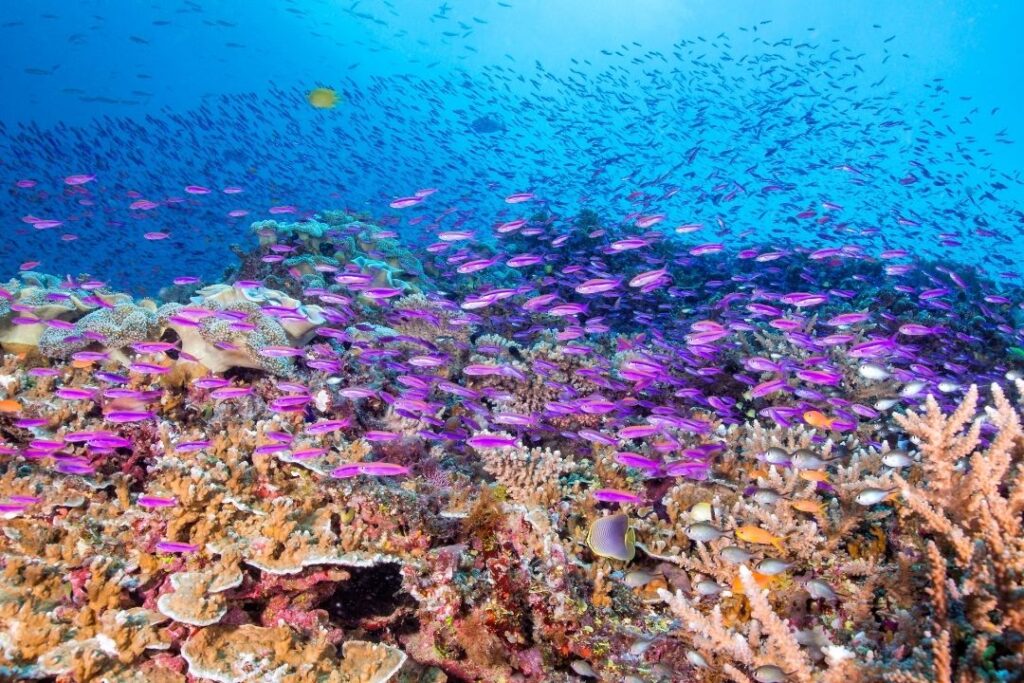 Kadavu and The Great Astrolabe Reef
Kadavu is best known for the Great Astrolabe Reef, which runs along the island's southern shore and arcs north-east passed Ono Island up to Buliya Island, famous for manta ray encounters.
This is a breeding ground for big fish like tuna, marlin, giant trevally and sharks. Gaps in the Reef can be subject to strong currents, which makes for adventurous and colourful diving.
Kadavu's remote location results in resorts that are sustainably run, with eco-friendly, yet comfortable (and sometimes luxurious) facilities; and expect that much of what's served on your plate has come from a local garden. For a wonderful experience on the lower end of the budget spectrum, Matava Eco Resort and for a luxury dive experience, Kokomo Private Island Resort offers valet diving.
When to dive…
The dive season is year-round with the winter months of April to October are the most popular times for diving in Fiji. The visibility tends to peak between the months of July and early December when the water is cooler. The water is warmest in March, between 28 ºC and 30 ºC, and coolest in July at around 23 ºC.
Have a read of why Tokoriki Island Resort is more than a barefoot luxury adults-only resort – it's a home away from home where love is always in the air.