In every way possible, Tokoriki Island Resort lives up to its accolade of being voted the number one hotel in Fiji by TripAdvisor travellers 2021, for the fifth consecutive year.
However, Tokoriki Island Resort is more than a barefoot luxury adults-only resort – it's a home away from home where love is always in the air.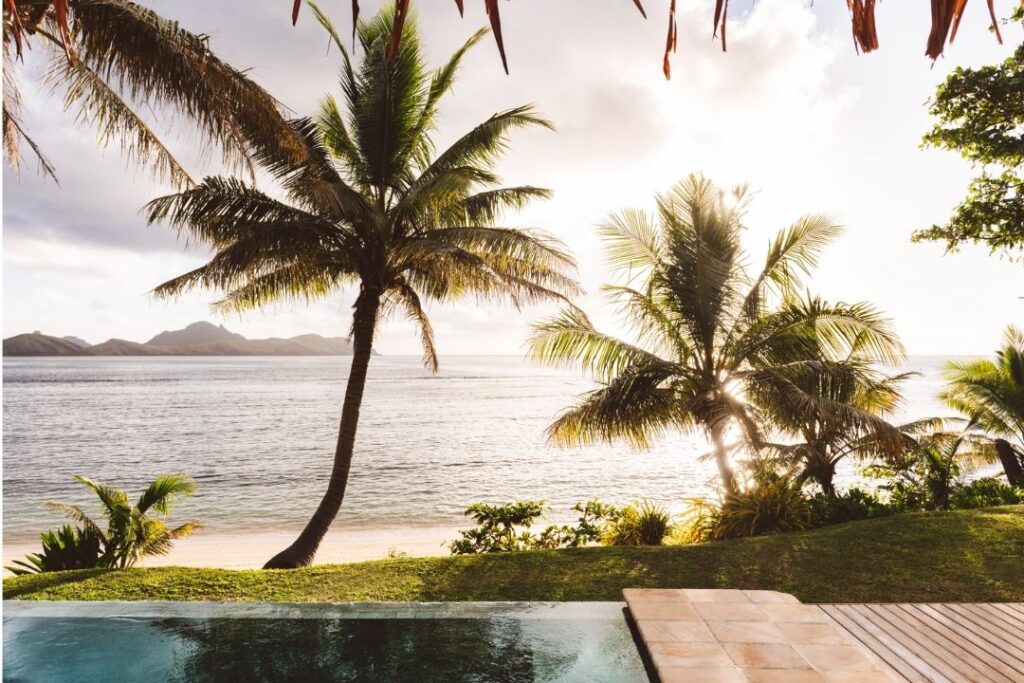 There is nothing quite like a Fijian embrace – whether that's in the pure physical form of a hug, in warm Fijian voices that welcome guests back 'home' or in the tear-jerking traditional songs of farewell. There's even a sense of embrace in the balmy air that envelops you upon arrival and the sound of waves softly lapping the shores at night, lulling you into the kind of sleep that you only ever have at home.
It's no wonder that before the pandemic, more than 400,000 Australians holidayed in Fiji every year. We still lay claim to the lion's share of tourist numbers, and Fiji is the number one overseas destination for Aussies in 2022.
Arriving in paradise
I'm seated beside the pilot as our chopper rises with the grace of a butterfly from the helipad outside Island Hopper's First Class Lounge. The tops of the palm trees quiver in our wake as we swoop gently sideways and then up and away, heading off into the postcard-perfect Mamanuca Islands – a group of 20 volcanic isles in Fiji's Nadroga-Navosa Province.
We fly high above the myriad inner reefs where the coral beds look like blended paints on an artist's palette – grey-green blues meeting bright turquoise lagoons that merge seamlessly into a beguiling deep blue. Then we're gliding above jungle-clad valleys peppered with resorts and villages of thatched huts, skirting above rugged wild mountaintops and strips of breathtaking white-sand beaches.
I gaze into the crystal-clear water and squeal with happiness when I catch the magical sight of a turtle swimming through the sea – its flippers and shell reflecting the morning sun that sends diamond-like ripples across the bay. The pilot smiles and says that's a sign of good luck, and then points out the sets being constructed for the next episode of Survivor. I'm sure that I am not alone in thinking, "Not a bad place to 'survive'."
Fifteen minutes later and our rockstar landing on the jetty of Tokoriki Island Resort has waves rising up from the otherwise still lagoon. A few snorkellers are popping in and out of the eye-startling blue waters and a couple paddleboard out to a floating pontoon. Through the palm trees I can see guests basking in the sun around the infinity pool, champagne glasses and cocktails an arm's reach away.
My bags are placed on the jetty and as the chopper lifts off behind me, I'm engulfed in a gloriously warm Bula-filled welcome from a huddle of beaming Fijians – one of whom gently places a necklace crafted from local nuts and polished wood around my neck. I've just stepped into a bonafide piece of paradise on Earth, and after the last couple of years, that's enough to have anyone's heart racing.
In a cosy lounging area oozing with Pacific Island style, I'm presented with a cool face towel and a freshly made watermelon juice. Then the traditional Fijian serenading begins, and it's hard to not shed a tear of happiness at the joy of being back in such a special place.
All of Fiji was closed to tourists for 20 months after the pandemic hit, and its people have quite literally mourned the departure of tourists who they treat like family. They are ecstatic to see everyone back on their beautiful islands. "Welcome home Michelle," they sing, arms wide open, hips rhythmically swaying, faces bright with so much love, I just can't stop smiling.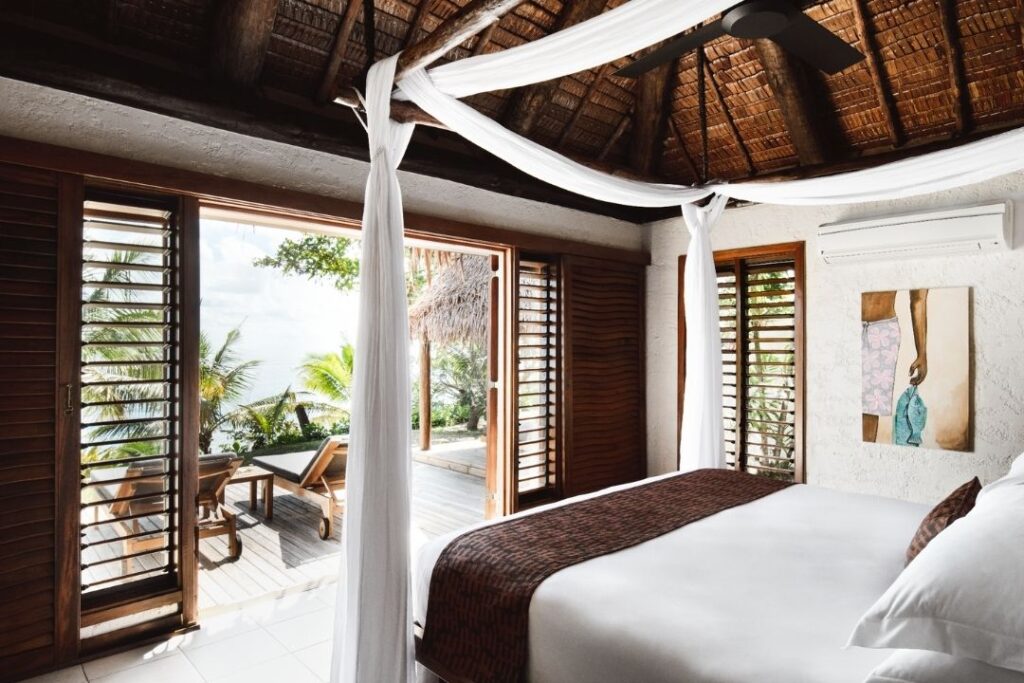 All in the details
Tokoriki Island Resort is home to eight beachfront bures, 18 beachfront pool bures and ten beachfront pool villas, with a maximum of 72 guests at any one time. I have a beachfront pool bure that has spectacular views across the lagoon to Yanuya Island, where many of the staff live and where some of the local produce is grown.
My bure epitomises laidback luxury and it's the beautifully considered details of every single element of Tokoriki Island Resort that adds to its appeal. With high thatched ceilings held up by hefty, exposed beams and dark shuttered windows on both sides that offer privacy while allowing the South Pacific Ocean breezes to flow evenly through, the bures are peaceful havens that are meticulously adorned with traditional, locally made artworks and sculptures.
My room has a king-sized four-poster bed with soft, white cotton curtains draped regally across the front and back, and a lounge area with large comfortable dark rattan couches. There's an indoor bathroom and an outdoor shower surrounded by stone-covered walls and filled with plants, so it feels as though you are showering in a rainforest. The crowning glory of these rooms is framed by the shuttered double doors that slide open to reveal a grassy lawn and the ocean, a hammock swaying between two palm trees in front of the deep plunge pool that is surrounded by tropical gardens for utmost privacy.
Although the resort has been owned by Sydney-sider Andrew Turnbull (famed for introducing Chupa Chups to Australians in the 70s) and his wife Yvonne for 27 years, the resort was designed and created in the 80s by Australian builder Gordon Giles Morris.
On a hilltop overlooking Tokoriki Island Resort is a simple white cross and a stone plaque to commemorate him. The resort was almost complete when he had a building accident and severed a main artery of his leg. Sadly, he could not be saved and the plaque reads: "Built with determination, perseverance, and endurance … with a constant pursuit of excellence in workmanship."
Today manager Patrice Belle – who has been with the resort for 11 years – takes the service and details of Tokoriki Island Resort to the kind of level that bring back her loyal guests year after year, with one couple celebrating their 50th visit a few years ago.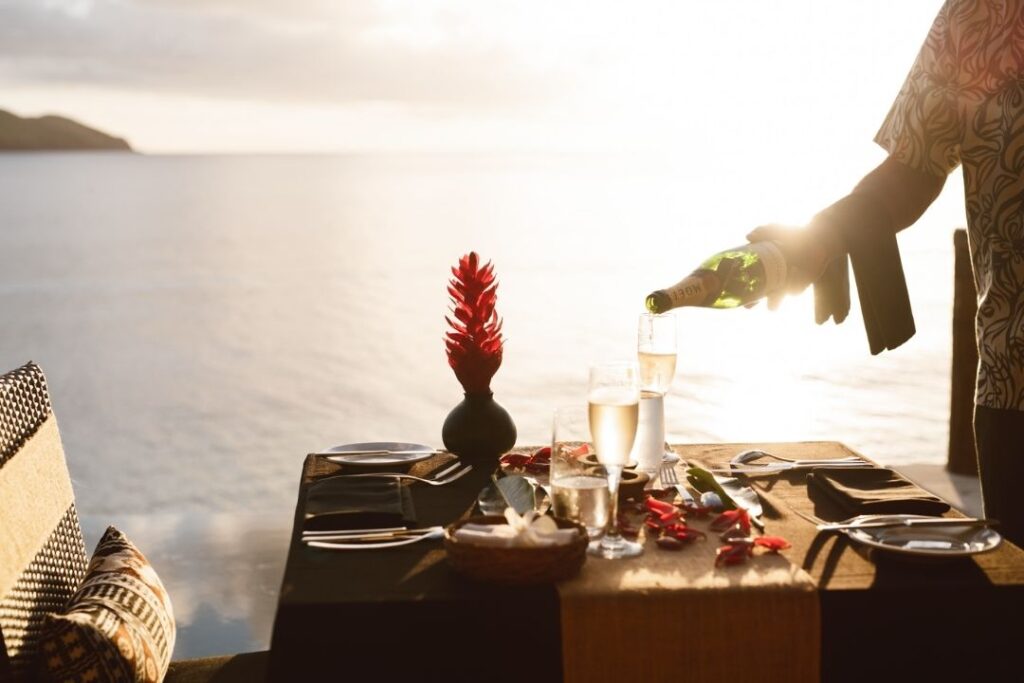 Floating through blissful days
My days settle into a routine that's in tune with the chalkboard in the reception that covers the activities of the day, and breakfast, lunch and dinner in a restaurant close to the pool that's surrounded by lush verdant gardens and ponds filled with Koi fish – another sign of luck.
I snorkel around the resort to my heart's content, enjoying the company of an abundance of fish. I take a boat out to snorkel along further-flung reefs where the group I am with is rewarded with larger fish, bright corals and a turtle that glides below us, disappearing into the blue with an undeniable sense of calm.
I paddleboard out to the resort's pontoon that sits in the middle of the lagoon and lie back, taking in the endless blue sky. There are scuba diving lessons in another pool set back from the infinity pool, where hours are spent reading books, sipping on champagne and watching the days slip by. No one tires of seeing the daily chopper landings on the jetty, and the elated faces of those arriving, and the grateful smiles of those departing while the Fijian farewell song fills the air.
Tokoriki Island Resort's restaurant is considered one of the best in Fiji, and Pacific and Asian influenced meals are lovingly crafted with local produce and freshly caught seafood.
Guests can dine in the restaurant or beneath a wonderland of stars at night, or choose from an ocean-front dinner, a seafood experience, an exclusive dinner where a table for two is set at the end of the jetty with the ocean in front and a romantic pathway of lanterns adding extra ambience. For those after a more private experience, indulge in a couple's massage at sunset in your villa, followed by a three-course dinner poolside, a bottle of Veuve Clicquot champagne with butler service, and a visit by a team of beaming serenaders. All meals are complemented by free-flowing champagne and a wine list expertly curated by the resort's sommelier.
Other activities include traditional basket weaving, board games, garden chess, glass-bottom boat trips, herbal medicine walks, hiking, table tennis, volleyball and there's even a TRX fitness platform. The spa is a magical place where a massage in the rainforest under the firm hands of the expertly trained masseurs will have you walking on air. Feeling gloriously light-headed, I step out into the balmy evening air after a one-hour massage, and take a stroll around the gardens, visited the on-site chapel, and admired the orchid greenhouse.
When my time comes to leave, the farewell song still plays on in my head as staff take me out in a small boat to meet the South Sea Cruises ferry in the middle of the lagoon.
I look back at the resort, surrounded by palm trees, startling white beaches, beautiful gardens and the ocean shimmering like a bejewelled silk blanket. Like the fading out of a film, I gradually lose sight of the pool lounges and people swimming, paddleboarding and snorkelling. But the happy sound of staff and guests talking and laughing drifts out across the water, and as I place my hand into one of the staff's open hands so that he can steady me as I step on to the ferry, I am bursting with happiness, knowing that this heartland of the Mamanuca Islands is once again open and thriving.
For more stories about our amazing pacific islands, read about finding the perfect balance in New Zealand.