Kastom crafts are making a comeback in Vanuatu, which means more work and income for the locals, and the production of pieces with precious stories to tell.
Leaning over the wheel, elbows on knees for stability, Brent Malessas gently sculpts a mound of spinning clay with wet hands, the excess seeping between his fingers like squeezed coconut cream. Using two small sponges, he deftly hollows the clay, pulling it upwards and outwards until an elegant bowl emerges. It's mesmerising watching him work, but now it's my turn.
Brent is ni-Vanuatu potter-in-residence at The Making Place, Havannah Boat House (H.B.H) on Sunset Beach, Efate. (Ni-Vanuatu or ni-Van for short, means 'of Vanuatu'.) He makes the bespoke homewares used at H.B.H and offers guests, and visitors by appointment, the opportunity to try their hand at the potting wheel while learning about ni-Van life.
Beneath my inept fingers the clay wibble-wobbles clumsily, refusing to take on a recognisable shape, giving us both the giggles. It's harder than it looks, so I try slab clay plates instead, imprinting them with leaves from the garden, imitating the palm leaf plates Brent has for sale.
The Making Place was developed by Australian Miranda Hodge, to honour and revive traditional ni-Van skills, provide local artisans a place to work following the devastation of Cyclone Pam in 2015, and nurture conversations between travellers and locals. "I want visitors to have a meaningful understanding and connection with Vanuatu and the people," says Miranda.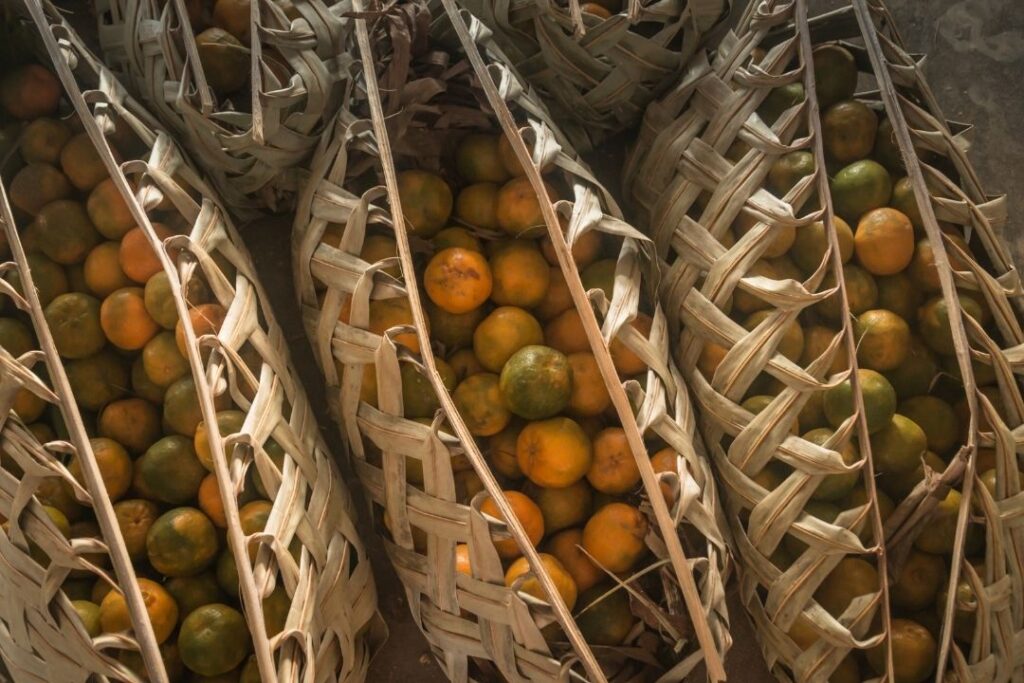 Weaving ni-Van stories
As I try weaving with Nellie Maika, she tells me about her family and life in Vanuatu. From nearby Lelepa Island, she learnt to weave from her father so she could decorate her own home. While basket weaving is predominantly women's craft, traditional wall panels woven from flat bamboo strips are often made by men. Nellie now uses time-honoured techniques to weave contemporary décor items like lampshades and decorative pots.
It takes concentration to grasp the pattern – interlacing, folding, pressing – but soon I'm seduced by the repetitive rhythm of the weave. Turns out I'm better at weaving than potting.
While Brent is Efate's only professional ni-Van potter, Vanuatu is renowned for its ancient Lapita pottery, unearthed at archaeological sites across the nation, including Teouma on Efate. The Lapita people were the first to settle remote Oceania about 3000 years ago. Their distinctive pots, used for cooking, storing and serving food, featured repeating geometric patterns incised onto wet pots with a sharp, fine comb-like tool, in a process known as dentate stamping, before they were fired.
Research shows the designs simplified over time and pottery making died out about 500 years after the settlers arrived. However, examples of Lapita pottery can be seen at the Vanuatu Museum, part of the National Cultural Institution in Port Vila, along with other traditional items, or kastom crafts, including weaving, carving and canoe making.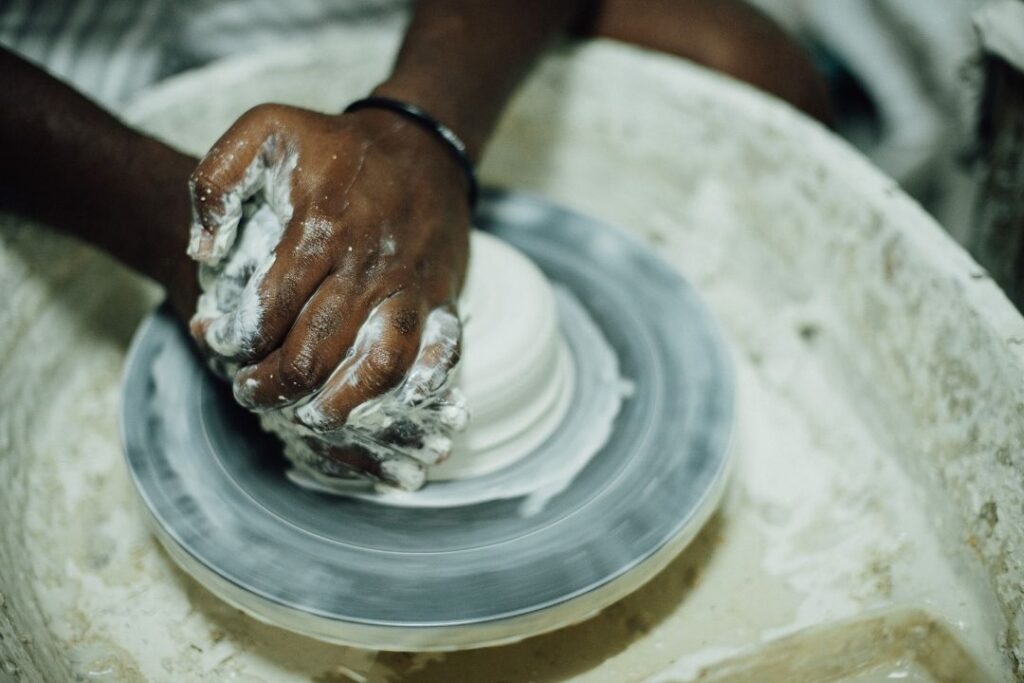 Island kastom creatives
Many of the country's 83 islands have their own distinctive kastom crafts and styles. Ambrym and Malekula Islands are renowned for tam tam drums, a slit-gong drum beneath a stylised head carving, among the largest free-standing instruments on earth. Usually made from the trunks of large breadfruit trees, they are used for communication and ceremonial purposes.
Weaving occurs all over Vanuatu, but styles, designs and materials differ between the islands. Fibrous pandanus leaves are commonly used for finely woven mats, baskets, fans and hats, but bamboo is used to make firmer wicker baskets on some northern islands.
Kastom crafts are currently having a renaissance in Vanuatu, actively promoted by The Ministry of Tourism Trade & Industry for cultural, economic and environmental benefits. Valuing kastom crafts encourages the passing on of skills to the next generation, ensuring the preservation of cultural heritage, and generating local employment opportunities.
Selling traditional, locally made souvenirs, rather than cheap imported trinkets, provides an income for ni-Vanuatu people, including villagers in remote islands. Demand for woven baskets has increased following a ban on single use plastic bags, resulting in the planting of more pandanus trees, in a double win for the environment.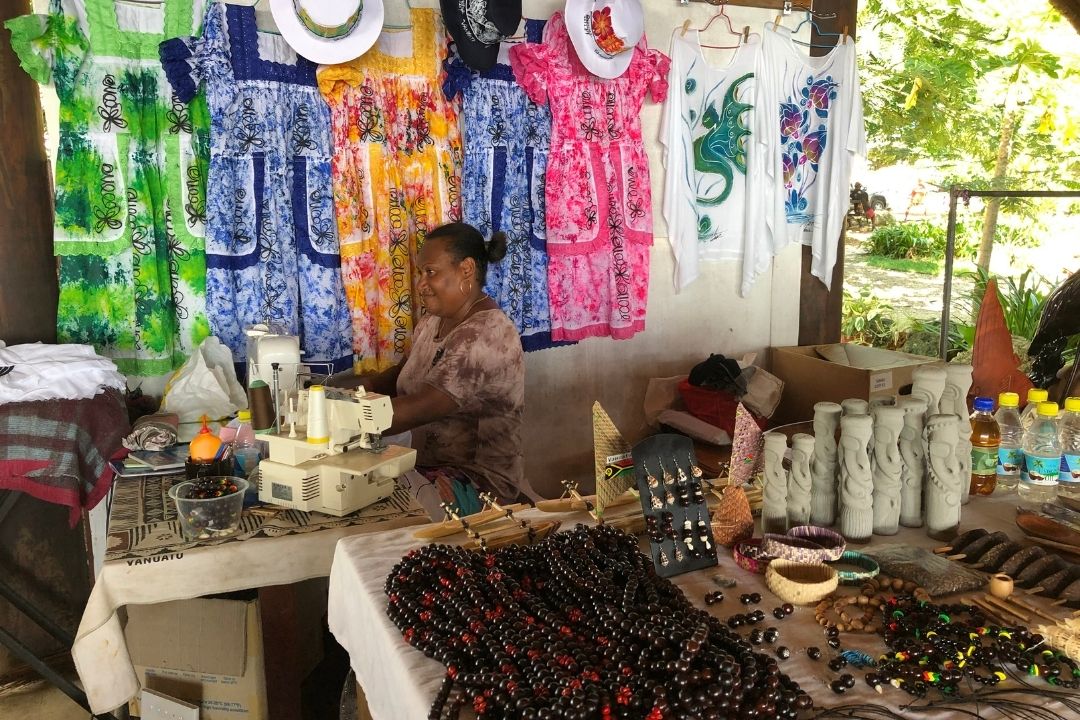 Where to get your authentic goods
The best place to buy locally made souvenirs is the Handicraft Market, Haos Blong Handikraft, at Port Vila Seafront, which also sells fresh local produce. Built after Cyclone Pam destroyed the previous premises, it's designed in traditional Melanesian style, with a natangora roof over high ceilings and open sides that facilitate cooling breezes and ocean views.
The market sells only Vanuatu Made wares and chatting with stallholders about the provenance of their products is a great way to learn about the culture of different islands. You can often watch artisans at work, sewing, making jewellery or weaving baskets that can take up to several days to complete.
I purchase a hibiscus wood statue, which stallholder Elsie tells me was carved by her grandfather who comes from Ambrym Island. I buy a finely woven pandanus bag to carry it in too, appreciating the heritage, skill and time involved in its production, thanks to my lesson with Nellie at The Making Place.
The island of Tanna is one of the most peaceful, underdeveloped islands in the Pacific. Read more about it here.