Located in the Coral Triangle, surrounding by the Bismarck, Coral and Solomon Seas, Papua New Guinea has a stunning array of diving experiences, with barrier reefs, coral walls, fringing reefs and sea grass beds as well as spectacular WWII wrecks and incredible biodiversity to be found in its 52,000 square km of reef systems.
A very special characteristic for Papua New Guinea diving is the deep water which comes very close to the shore. Vertical reef walls are often only a couple of metres from shore, which can reach down to depths of 300 meters or more, ensuring great visibility year-round.
Another distinguishing feature is the closeness of dive sites to the Islands. Short boat transfers, incredible marine biodiversity and the country's unique culture sets the diving in Papa New Guinea apart from other popular dive destinations in the South Pacific.
Hundreds of wrecks, many of them WWII wrecks, are scattered across the nation above and below the waterline. Boats, planes, submarines, some of them still in excellent condition, have been transformed into living coral reefs.
Here's a guide to the best diving locations in Papa New Guinea.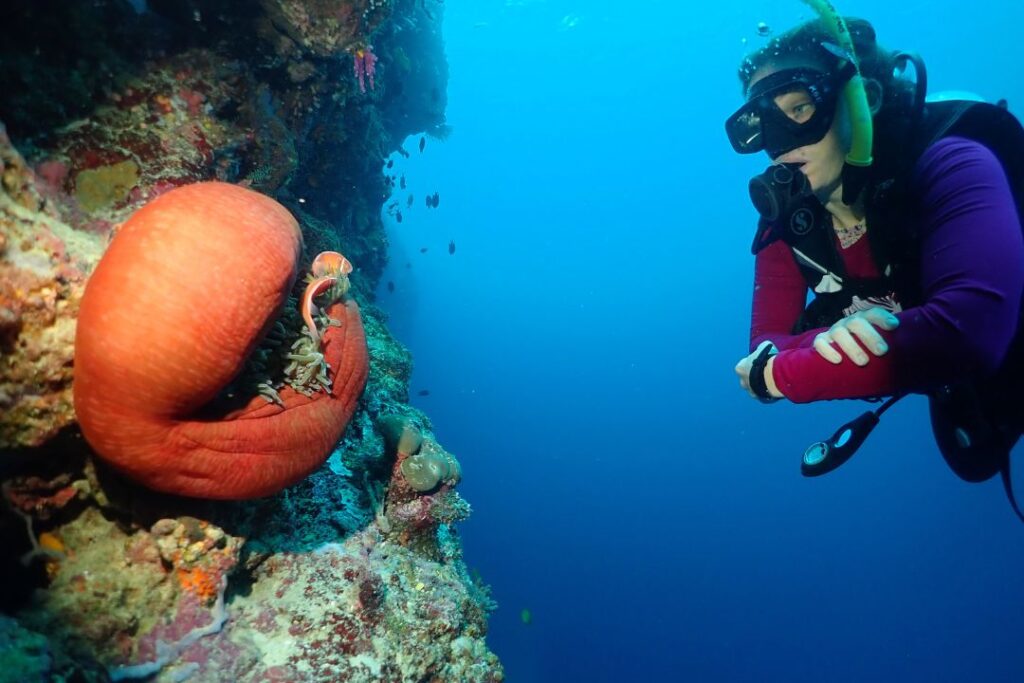 Diving into West New Britain
Kimbe Bay, Witu Islands and Fathers Reef are the most popular destinations in West New Britain. Characteristics of this region include the huge range of giant soft coral species, an abundance of barrel and elephant sponges and prolific marine life.
Kimbe Bay is very sheltered, and the diving is usually very calm and relaxing. The bay is home to over 190 reefs rising from approximately 600 metres. Coral can grow to enormous sizes in Kimbe Bay, as it is so sheltered, in fact, plate corals here have been known to collapse under their own heavy weight.
Witu Islands is a very pretty island group which offers a great variety of diving experiences. The islands are of volcanic origin and Garove Island (about 60 km northwest of Kimbe Bay) is a standout. The crater of this ancient volcano is now flooded with water and makes for great diving around the island that was created within the volcano's caldera. Expect to see big fish like barracudas, trevally, large dogtooth tuna, Spanish mackerel, and sharks.
Fathers Reef is a chain of reefs out in the open ocean, northeast of Kimbe Bay. Silvertip, grey reef sharks and barracudas are some of the attractions here. The reef formation and invertebrate life here are fantastic. And as the reef tops are shallow, it's also suitable for snorkelers.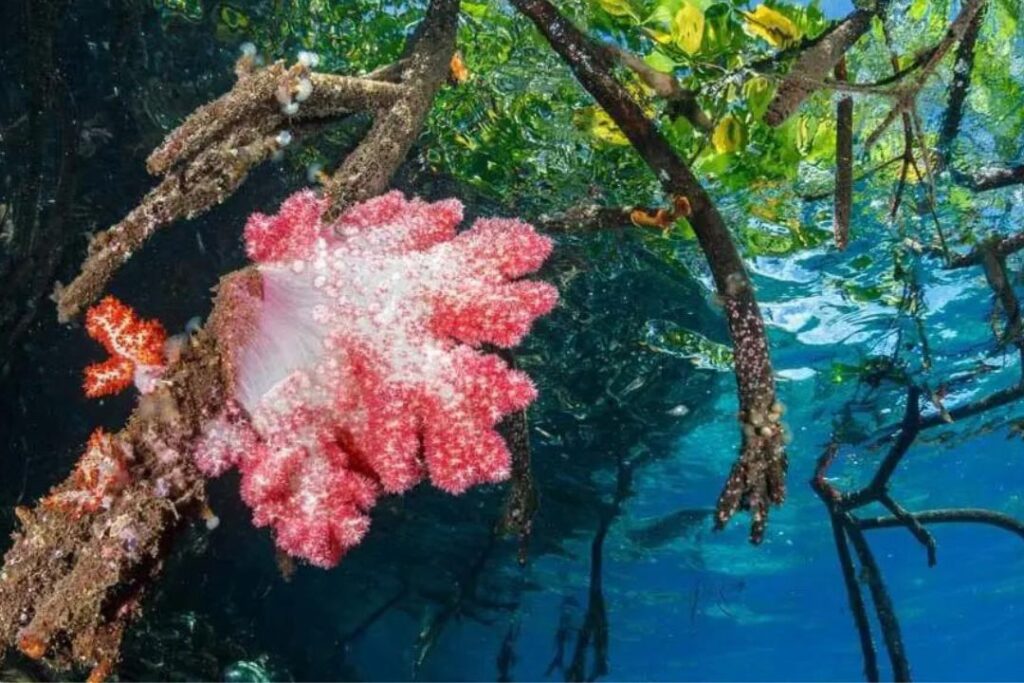 Relishing in Rabaul
Rabaul and the South Coast of New Britain are a critter lover's heaven. White sand beaches and uninhabited tropical islands stretch along the Southern coastline of New Britain Island, with rainforest coming right down to the water's edge. The channels between the islands are great for drift diving, however the specialty of this region is the amazing variety of rarely seen and unusual critters.
Rabaul was one of the bigger battle zones in the South Pacific during WWII, the legacy of which is many shipwrecks, some of which are very deep, beyond recreational diving limits. A highlight each year is the Rabaul Mask Festival in July, with dive liveaboards diverting here so divers can spend a few extra days enjoying this spectacle.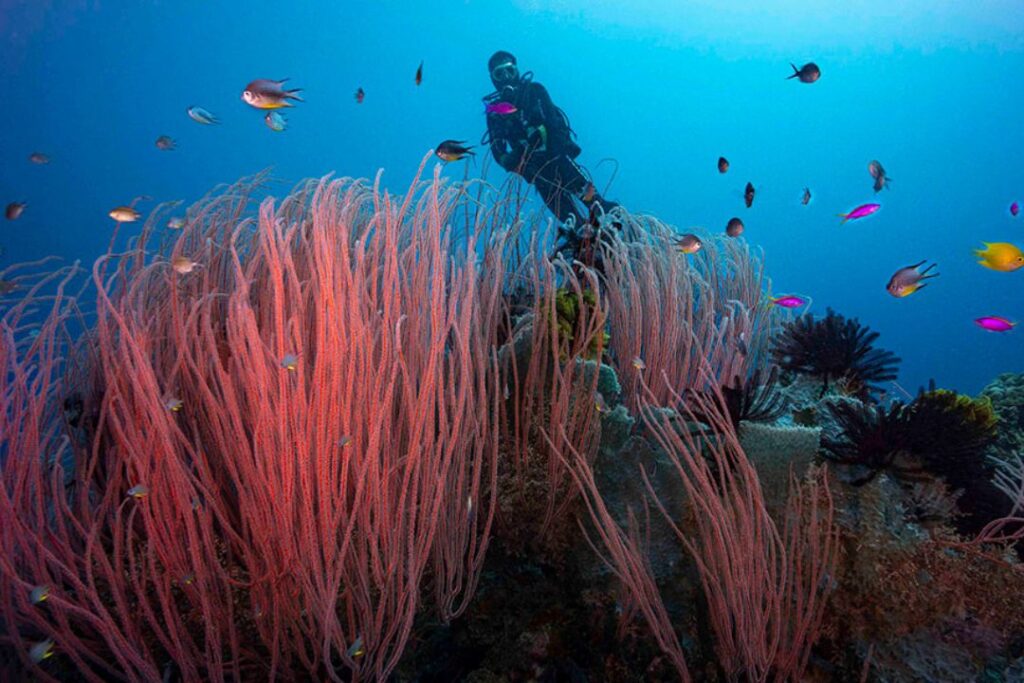 Cavorting in Kavieng
Kavieng in Papua New Guinea has a huge variety of marine life within its pretty coral gardens, famous for large sponges, many different species of nudibranchs and tropical fish, and everything from macro species to pelagic action. When the currents are strong, eagle rays, mobula rays, big dogtooth tuna, barracuda, plenty of Grey Reef Sharks and loads of other fish can be seen here.
Muck diving in Milne Bay
Apart from colourful, mainly hard coral reefs, walls and coral gardens, Milne Bay in Papua New Guinea is a great place for 'macro' or 'muck' diving – in fact the term 'muck diving' was coined here by legendary diving pioneer Bob Halstead.
The so-called "muck diving" is done in areas with sand and rubble bottom, where you find all sorts of weird but wonderful creatures, such as ghost pipefish, seahorses, frogfish, ribbon eels, mantis shrimps and rare scorpion fish like the Rhinopia aphanes (or Merlot Scorpionfish) seen regularly here, but you also will find creatures that have not yet been recorded from other places of the world.
A great wreck dive is the Bomber 'Black Jack', which is one of the best-preserved B17 planes in Papua New Guinea waters. It is right at the bottom of a teeming reef wall, which makes the deco stops on the way up a real pleasure.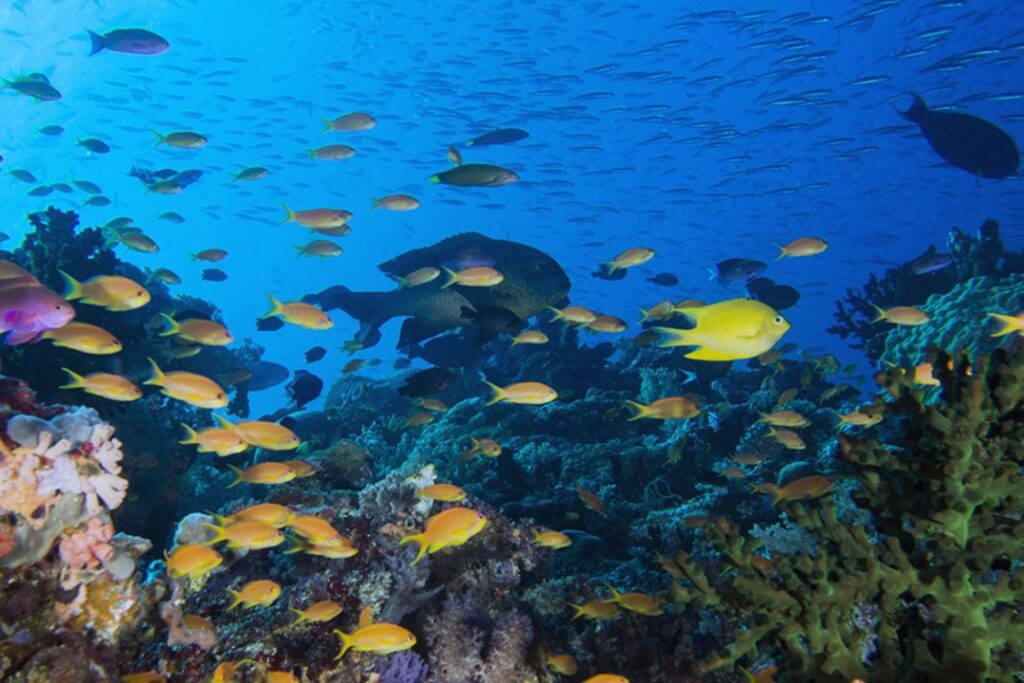 The crèches of Tufi
Deep fjords are the main feature of Tufi, one of the prettiest regions in Papua New Guinea. The fjords protect some fabulous labyrinths of fan and shelf coral and provide a natural 'crèche' for all sorts of juvenile marine life. This area was a United States base for P.T. Boats during WWII and you can dive the remains of two P.T. boats – still sporting a deck gun and loaded torpedo tube. Tufi's offshore reefs are hunting spots for a large variety of sharks and other pelagic fish.
City diving in Port Moresby
It is often claimed that Port Moresby is the best capital city in the world for diving. Lush reefs and wrecks with rare species of fish are easily accessible from this busy city. With around 30 charted dive sites, you'll be surprised by the abundance of marine life, colourful soft corals and clear water.
When to Dive
You can dive Papua New Guinea year-round, but conditions change based on which sea you are diving.
Generally, the South Pacific and Coral Sea are great from December to April, while the Solomon Sea is fine year-round.
The Bismarck Sea is best dived from May to November, but it does get a bit windy in August. September is manta season in Milne Bay.
Water temperatures range from 25-30°C throughout the country, and visibility usually ranges from 20-40m unless you are diving at muck diving sites or sites near mangrove swamps.
Here's why swimming with stingrays in beautiful Bora Bora should be on your bucket list.