Merging food, wine, e-bikes and mating gannets sounds like a perfectly balanced holiday in Hawkes Bay, New Zealand. What could possibly go wrong?
If you've never witnessed the bizarre antics involved in a gannet's mating rituals, then you're missing out. These majestic pale grey, lemon, blue and white seabirds are closely related to boobies. No, not that kind – we're talking about the cute ones from the Galapagos Islands that waddle about on blue flippers too big for their bodies.
But back to gannets. My partner and I went on a Gannet Safaris Overland adventure in Cape Kidnappers on New Zealand's North Island, which is home to the world's largest, most accessible Gannet nesting place. The site is a noisy, smelly, non-stop hub of entertainment, especially during mating season. The males fly off to gather chunks of seaweed for their nesting partners, returning like squadrons of jet fighter pilots, to then hover above thousands of squawking, squabbling fellow gannets, looking for their mate.
When they spot her, they slap her around the head with the seaweed before landing on her and having a go at mating. If she's not into it, the ever-enthusiastic male flies off, gathers more seaweed, returns, slaps her around the head again, and has another try until things work in his favour.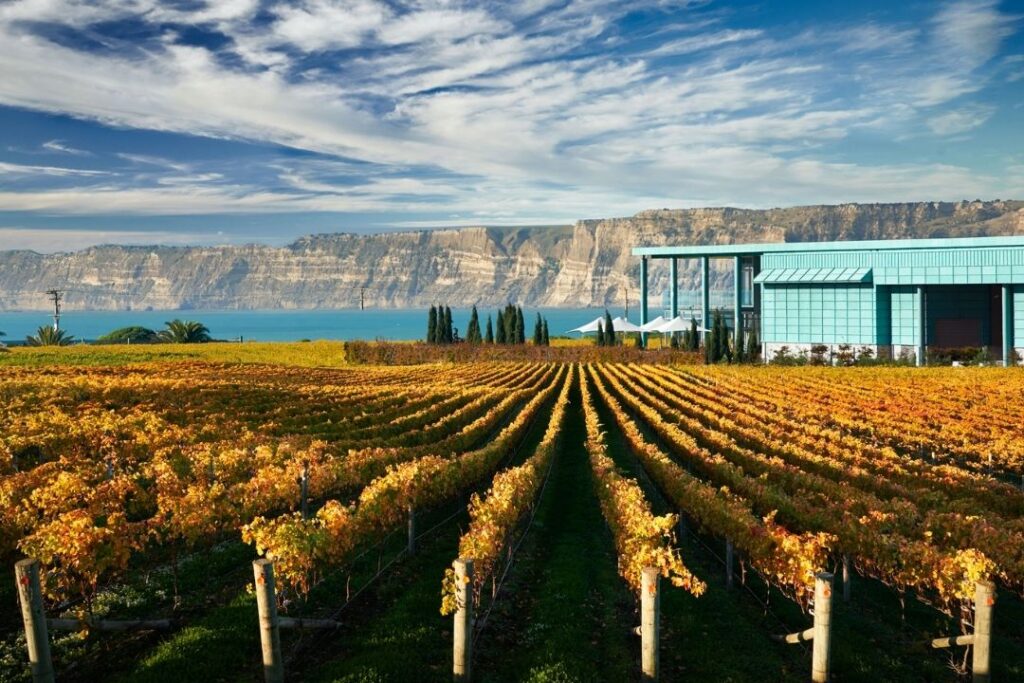 After witnessing much gannet gratulation, our safari bus cruises around the astonishingly scenic Cape Kidnappers, razor-sharp lime-green cliffs and ridiculously steep mountains plunging every which way around us. Up here, on highland country reminiscent of Scotland, you can play golf on one of the world's most beautiful, highly elevated courses, and stay overnight in exceptionally luxurious lodges. But we have some cycling to do instead.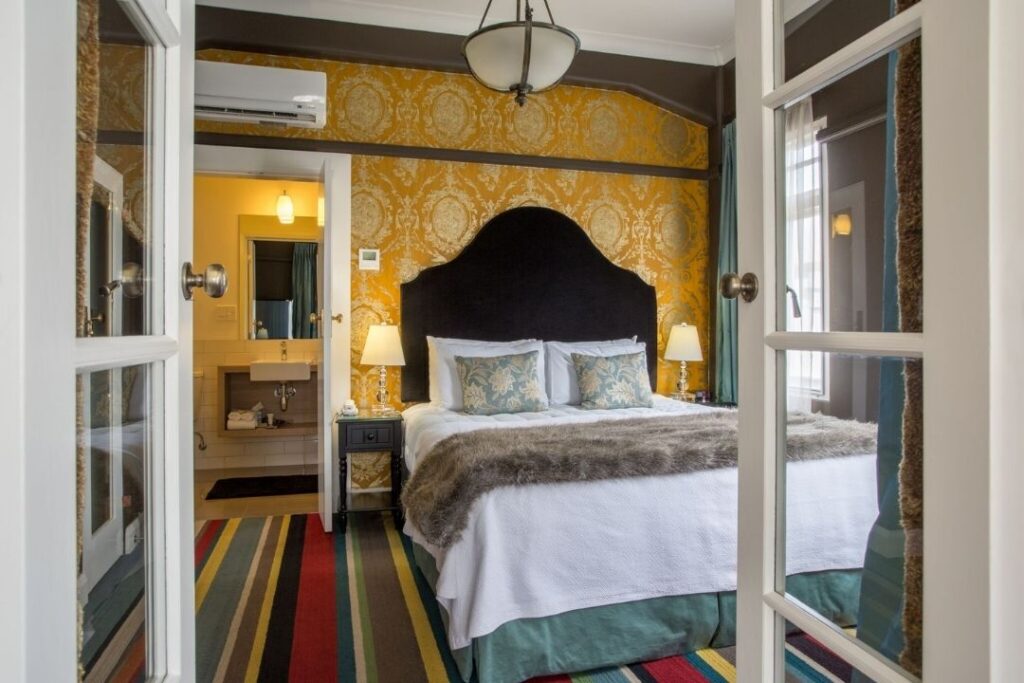 Next, we head to the art deco city of Napier and check into the stunning Art Deco Masonic Hotel, where we splash out on the Royal Suite — named so as Queen Elizabeth stayed here with dashing Prince Phillip during her 1953 Coronation tour of New Zealand.
A deadly earthquake completely decimated the region in 1931, fires razing most of the buildings to the ground. The hotel is one of the many art deco landmarks in the city that rose up in 1932 like phoenixes from the ashes — signs of strength in the face of adversity.
The earthquake killed 256 people and is still considered New Zealand's deadliest natural disaster. However due to the steadfast belief and tireless work of determined locals who banded together to create sturdy buildings in the style of the era, the city is now one of the most preserved art deco cities in the world. And miraculously, around it, 40 square kilometres of seabed was literally raised up from under water – along and the coast an inland where once lagoons dominated the landscape.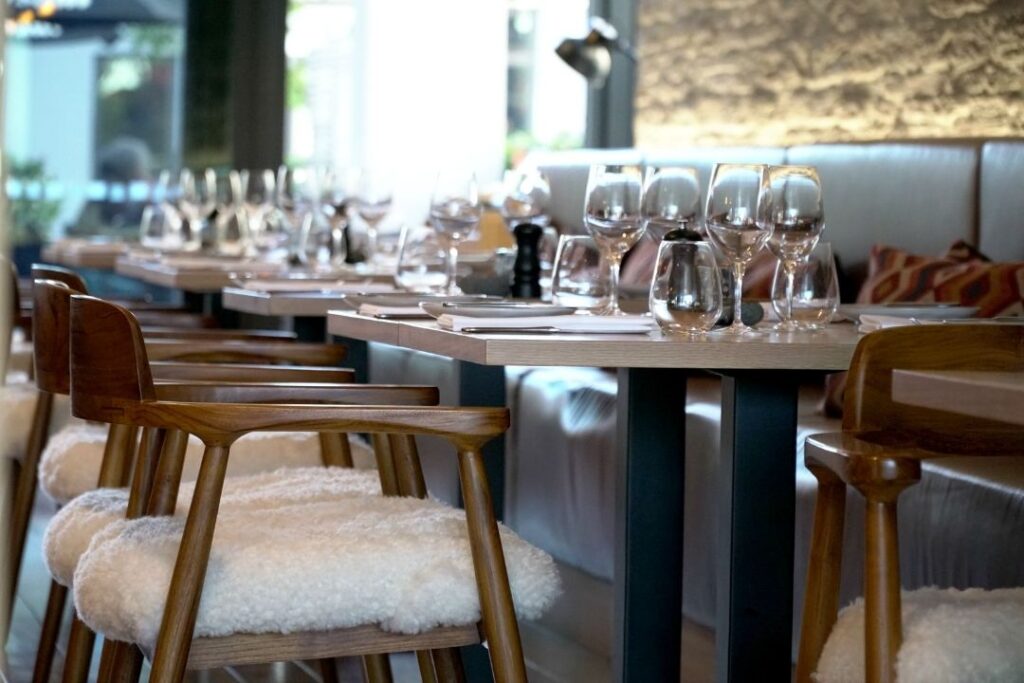 This raised land now plays host to over 200 kilometres of bicycle trails, meaning you can cycle in and out of picturesque villages, parks and bird-filled wetlands, and more importantly to some, dip in and out of wineries, country restaurants, bars, and food markets bursting with endless deliciousness.
Here's a tip. Combining food, wine and fitness is a fine idea (and obviously the definition of balance) but opting for e-bikes from Napier City Bike Hire and Tours will not only let you cruise along without too much manpower when you need a break to digest both your surroundings and your unavoidable indulgences, but also ensure that you can walk around the next day not looking like a cowboy.
We started our culinary adventure with an exploration of Hawkes Bay Farmers' Markets, which is a smorgasbord of eccentric, passionate producers, many of them happy to share tried and tested recipes over tastings, growing tips and favourite off-the grid places to experience the region's famous produce.
With our backpacks full of goodies – local beef jerky, handmade chocolates, plump green olives and oven-baked chilli crackers — we cycled on, the bikes making us fly along with excitable ease. Along the way, eagles hovered above fields waiting for careless mice, while many a portly cow demanded that we slow down and smell the apple blossoms, standing astride our trail, nonchalantly munching as we did our best to shoo them on their way.
Church Road Hawkes Bay was our first choice for lunch on the fly. A Tuscan-like mansion surrounded by gigantic stainless-steel wine fermenting tanks glistening in the sun, mountains around peppered with art deco homes, and sprawling balconies ideal for soaking up the setting, it sums up so much of what makes this region a peddler's paradise.
Church Road Winery is renowned for being the first in New Zealand to craft exceptional quality Bordeaux-style red wines, so inside a cavernous room with church-high wooden beamed ceilings, we enjoy an informative tasting of the winery's award-winning drops, before being seated outdoors to indulge in both the spectacular vista and an enormous platter of hors d'oeuvres. The colourful collection of artfully arranged dips, olives, chips, cheeses, meats and mini dishes of chicken, seafood and vegetable has us scooping up treats like kids in a candy shop.
That night, we laid our heads and tired limbs to rest at Porters Boutique Hotel in Havelock North, but not before fitting in a three-course meal at Malo, a marvellous one-hatted restaurant named 'Best New Regional Restaurant' in 2017 by Cuisine Good Food Awards. After all, when you're exercising all day, you need more calories to burn, right?
On our final day we opt for a bike ride along the beautifully windswept Te Awanga Coast to the enormous, aqua-coloured industrial shed of a building is the hub of Elephant Hill vineyard, winery and restaurant. This remarkable, unashamedly bold and modern building has an infinity pond reflecting the sky and spanning out to meet jaw-dropping views of the Pacific Ocean. The restaurant is headed up by Executive Chef Ashley Jones, who is one of a handful of incredibly talented local chefs firmly placing this region on the map for globe-trotting food- and wine-lovers.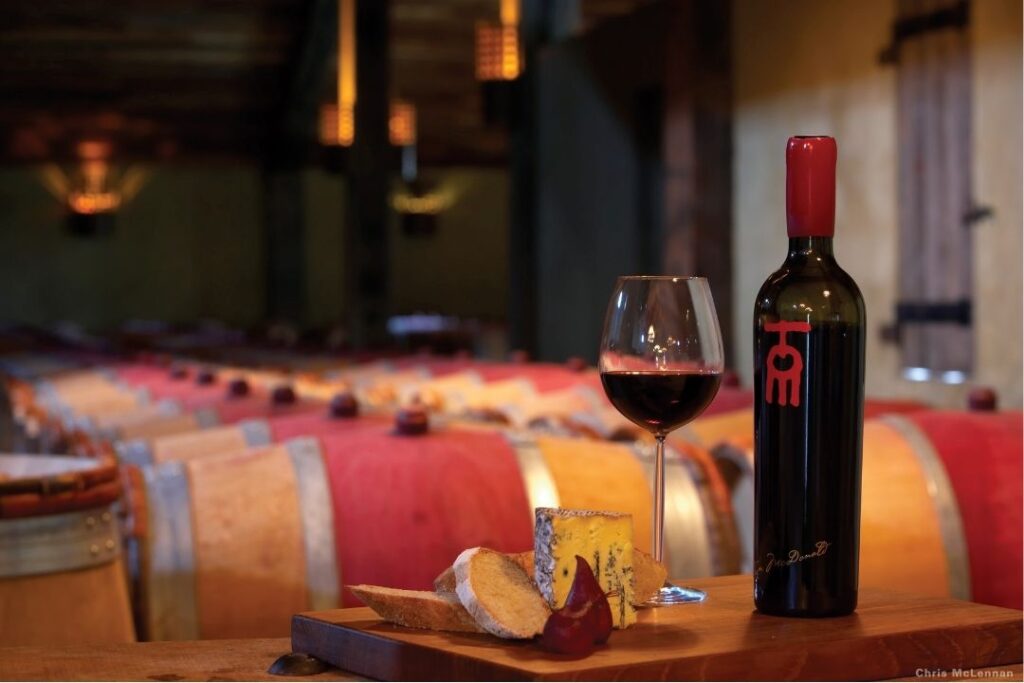 Back on our e-bikes, backpacks each carrying a precious bottle of Elephant Hill wine that we've been told to cellar for 10 years, we begin to burn off the five-course culinary experience lovingly produced by Ash and his team.
Cycling along the coast, we're feeling utterly balanced, but by the looks that the cows give us as we whizz by, our hearty hellos lost upon ocean winds, we're probably not. Oh well.
All aboard the TranzAlpine – one of the world's greatest train journeys through a spectacular region of New Zealand.