New Zealand is an amazing place to go walking, hiking, tramping. Whatever you call it, NZ trails are world class, diverse and stunningly beautiful.
In the 1990s, New Zealand decided that a few of their more popular trails would be classed as Great Walks. Most people have heard of the Milford Track, but there are nine other Great Walks including Abel Tasman Coast Track and Tongariro Northern Circuit. These well-established trails are so busy that hiking numbers are restricted, consequently they are harder to get on and more expensive.
Fortunately, there are plenty of alternative multi day hikes available in New Zealand. Just like the Great Walks, they range from easy to hard along with varied and stunning scenery. Plus, there are the added advantages of lower costs and less congestion. Here are two wonderful multi day walks that we did ranging from an easy supported track to a harder remote track.
Rees-Dart Track
Following this remote wilderness track, felt like a journey hobbits may have been on because some locations were used for the Lord of the Rings movies. It is a 61km hike in Mount Aspiring National Park that follows the Rees Valley, crosses over the Rees Saddle and back down the Dart Valley.
It is a 4-5 day tramp with three services huts along the way. Our group of six, was dropped off at the start of the walk from Queenstown. With our fully laden backpacks we were self-sufficient for our four days.
The 17 km first day gets us in the walking mode along the Rees River Valley in the shadow of the Forbes Mountains. One river crossing required our boots to come off and ease our feet into the cold glacial waters. Hiking poles are certainly useful when balancing on slippery water smooth rocks. All around are magnificent mountain vistas and sections of enchanting beech forest. After a long thrilling days hiking, we arrived at our accommodation for the night, the welcoming Shelter Rock Hut with it 22 bunk beds.
The next day is a tough 10km hike where we tackle the saddle. We climb up one challengingly steep mountain, stopping briefly for morning tea along with an inquisitive Kea parrot. Reaching the summit, the hard work was rewarded with a spectacular mountainous view down the Dart Valley. This is one of those days where you are in awe of the scenery all day. A swing bridge which spooked a couple of people, crosses the Dart River. This is removed during winter, so it doesn't get washed away.
There was a huge sigh of relief when we arrived at the Dart Hut after all the ups and downs of the walk. Again, this hut is serviced and heated, a bonus.
Day three at 18km in length is long, but mercifully easier with downhill and flat sections. The landscape is a mix of green forest cover and open grassed plains surrounded by steep majestic mountains. Daley's Flat Hut provides the accommodation for our last night on the track.
On our final 16km day we climb up to a high viewpoint over the Dart River, through Beech Forest and to the end of the walk. The track is easy in parts and tough in parts, but always scenic. Only the occasional jet boat from Queenstown breaks the wilderness serenity. The hike ends at Chainman's Flat car park.
I said earlier that prices are lower on the alternative trails when compared with the Great Walks. Here's proof. A night at a Milford Track hut could set you back a whopping $110. Rees and Dart huts are somewhat cheaper. They are serviced huts, with toilets, heating, kitchens and bunks. Prices vary from hut to hut depending on your age and time of year. For example, the first hut, Shelter Rock Hut is NZ$20 per night for 18 plus year olds to NZ$5 for camping around the huts in tents. The other huts are The Dart Hut and Daley's Flat Hut. You need to find out how to pay for accommodation in advance on the Department of Conservations website where you can also get the latest track conditions before turning up.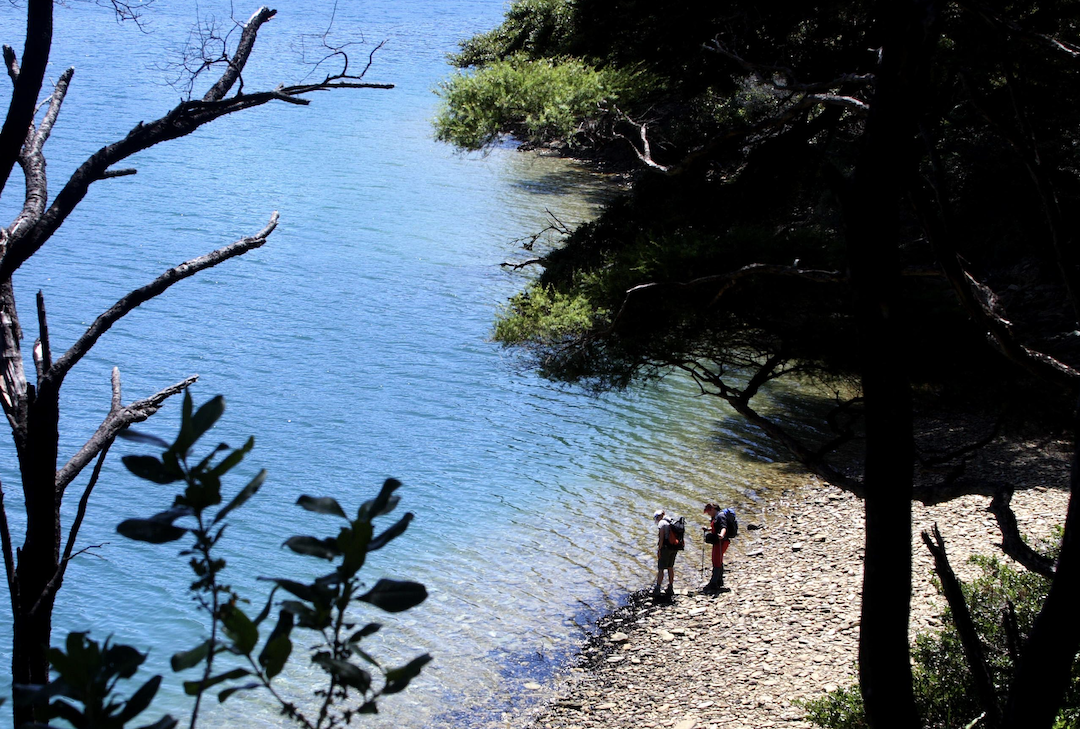 Queen Charlotte Track
The Queen Charlotte Track is at the other end of the South Island in the Marlborough Sounds. Different to the Rees – Dart Track, as there are no mountains, this 3-5 day tramp can be done hiking and camping, hiking and staying in accommodation or mountain biking.
We get picked up from Picton by the water taxi and dropped off at Ship Cove to start the walk. The best bit is that same ferry will drop our packs off at the jetty where we are staying that night. Without heavy packs, we walked past giant ferns and numerous beautiful bays with a yacht or two. We walk through and stay at small communities of batches (Kiwi holiday shacks), small boutique hotels and occasional pub.
The trail is wider than the other walking style tracks and is dual use so we watch out for mountains bikes going around bends.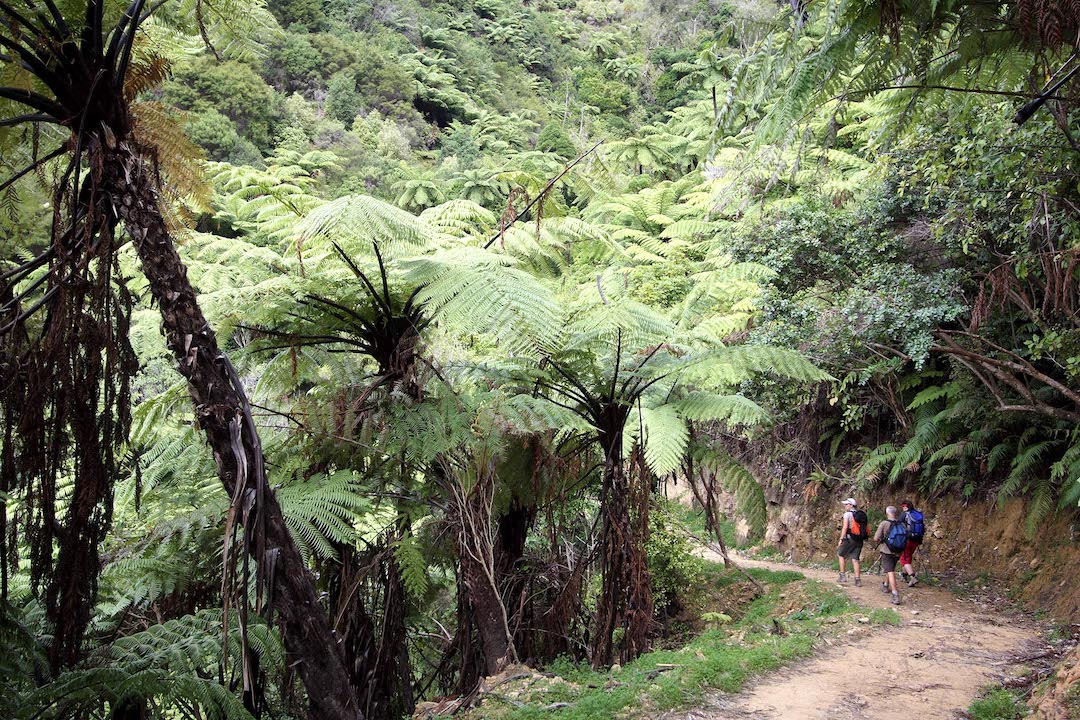 Our daypacks held our lunch, snacks and water. Our larger backpacks had clothes, and breakfasts. We were able to get our dinners at cafes and restaurants along the way. Since we chose the accommodation and luggage transfer, we stayed in a range of accommodation from hotel rooms, cabins, private batches and even a homestay. We finished off with a place that had a hot tub on a deck to ease our sore muscles.
It is essential that you book accommodation on this walk well in advance. Check out website: marlboroughnz.com for all details.
All the New Zealand walks we have done have all been great. So don't limit yourself to the Great Walks. Try something different.
Loving these alternative walks to the great walks in New Zealand? Click here to discover what else is on offer.