Whether you want to get out into the great outdoors, sit around a pool in the sun, or hang out with turtles, Hawaii for families is a dream destination.
In the Disney film Moana, there are two main characters: Moana, the spirited teenager determined to become a master wayfinder and fulfil her ancestor's unfinished quest, and Maui: an enormous, tough, once-powerful demi-God. Together they sail the ocean on a traditional Polynesian outrigger canoe, having an epic ocean adventure.
Moana's home in the film could be one of the many pristine Pacific Islands, but I'm convinced it's set on Hawaii's Maui — as the sweeping beaches, towering lush mountains, swaying palms and island silhouettes in the distance all bear an uncanny resemblance to the land and ocean I'm currently surrounded by while sitting in an outrigger canoe with our three kids, coincidentally learning about the ancient art of wayfinding — the art of navigating the seas by reading the stars.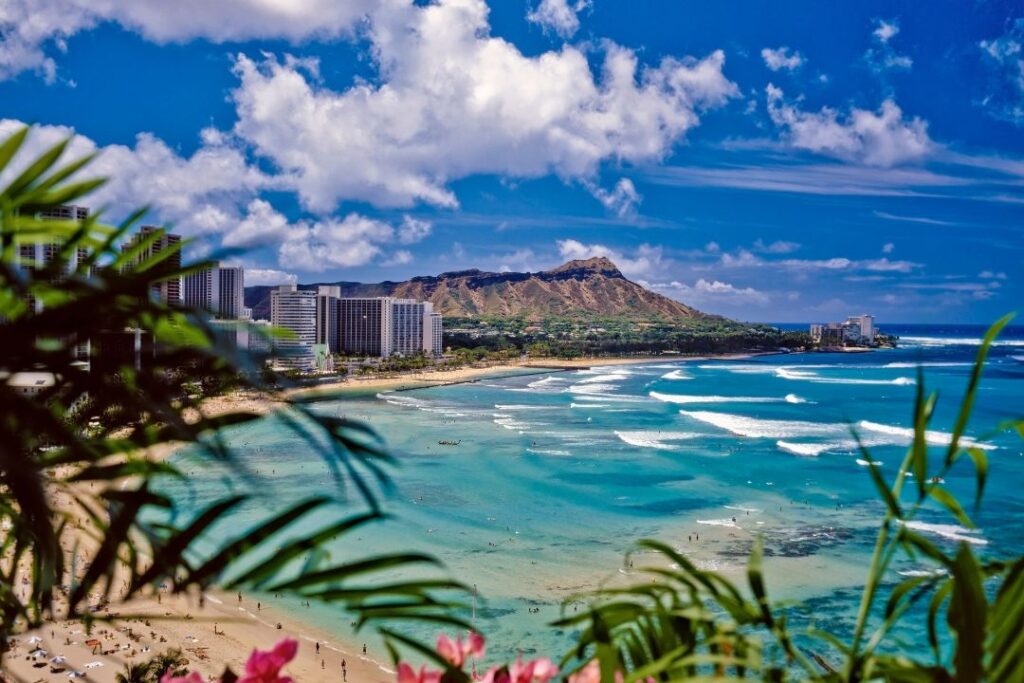 Our guide is explaining that the area that we are sitting has been dubbed 'Turtle Town', due to many resident giant sea turtles. The kids are delighted to see many turtles popping their heads up, and then right beside us, an enormous sea turtle raises his head and cruises around canoe, checking us all our before heading off into the beautiful waters. 'That's King George!" our guide shouts, grinning from ear to ear. "He's the biggest turtle in these parts, and he loves a bit of company."
Water elevators and pool fun
Back at Grand Wailea Resort, the kids can barely contain their excitement about hitting what has to be one of the best hotel pools in the world, as not only are there nine individual pools on six levels within this 25,700 square foot, 770, 000 gallon pool, the different areas are connected by waterslides, and rivers for tubing and drifting.
There are pool bars, including one for adults that is inside a cave, cafes, spas, and the Piece de Resistance:  the world's only water elevator. About 14 people can sit on a tubular seat in a volcano-like funnel, and the water fills up from below, pushing everyone out the top of the manmade hill, from where they can skid on to waterslides leading to other watery wonderlands. Apparently the man who created it all had a son confined to a wheelchair, so he wanted him to be able to make his way around some of the resort by water.
By the time we make it to the edge of the beach, one of our kids is already in the biggest pool, waving frantically and screaming out in pure unbridled joy: "There's waterfalls, Tarzan swings, and an elevator in the pool mum!" They're beside themselves.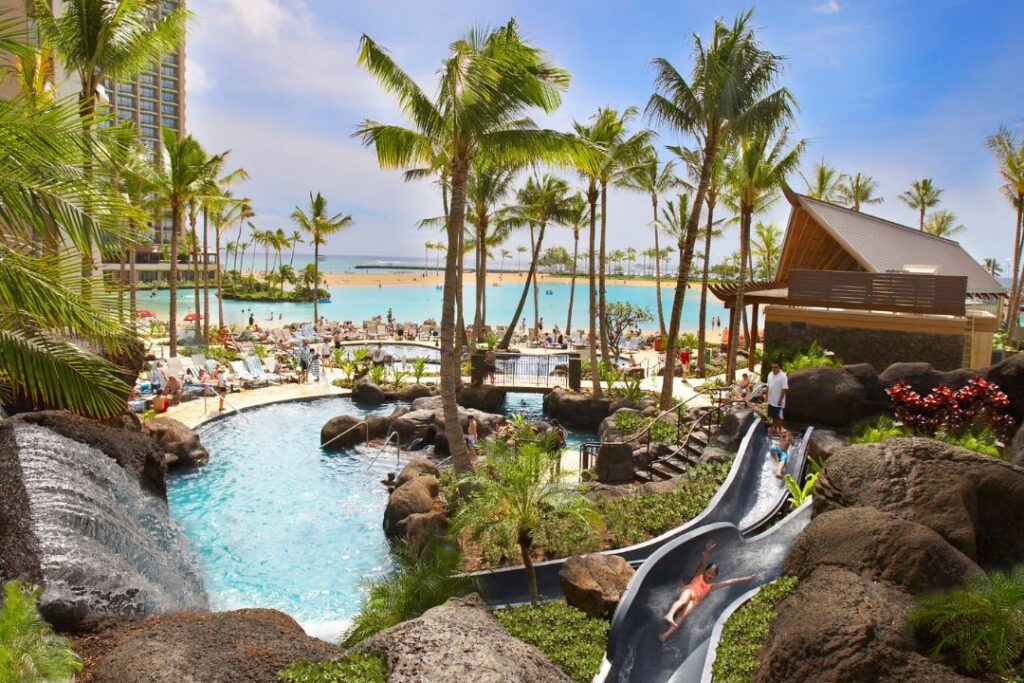 This heaven-sent resort has the obligatory kids' club, and it's called 'The Rock', but like the pool, it's no ordinary club. It's a 20,000 square-foot mini-resort that is a wonderworld of fun stuff, with a games rooms with X-Box, Kinect, PlayStation, Nintendo Wi, ping pong, foosball and air hockey tables, snack bars, and there's activities if they do want a break from the pool (very funny), such as lei making and hula lessons. Outside on the beach, there's paddle-boarding, surf lessons, kayaking, snorkelling and diving.
Grand Wailea has beautifully appointed two- and three-bedroom suites, and the larger more expensive suites are between 1,300 and 1,950 feet. All are spacious and all enjoy wonderful views — of the jungle-like tropical gardens, Wailea Beach and the islands across the sea, or of Maui's highest peak, Mount Haleakala.
Fun times at Waikiki Beach
Our kids don't want to leave Grand Wailea, but the upside is that we're taking a half-hour plane ride to Oahu, where we're staying at the Hilton Hawaiian Village Waikiki Beach Resort. Not only does it have the biggest most accessible beach for a resort in Waikiki, it's quite literally a village, or rather more like a town, so the amount of things to do is mind-boggling. There are loads of taxis and regular buses, so for a few dollars you can get to most parts of Oahu.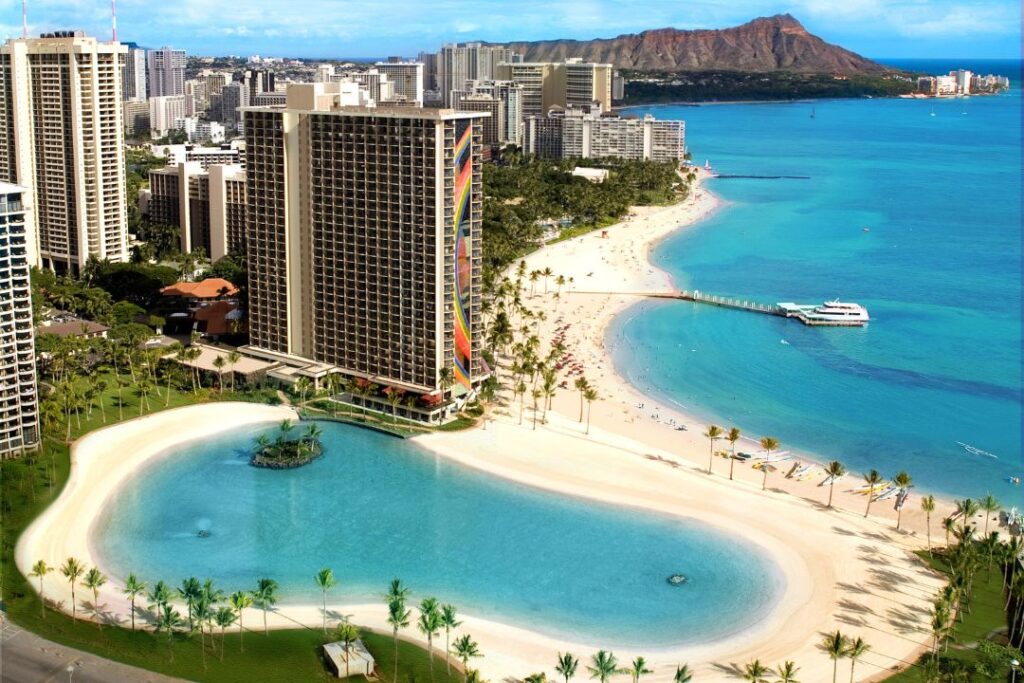 Some of the more common attractions outside of the resort are the Honolulu Zoo, the Sea Life Park and the Waikiki Aquarium (home to more than 420 species of aquatic animals and plants), or there are plenty of boat charter companies doing cruises around the island. But our kids were had their hearts set on something more exciting: a high-tech submarine cruise where we explored reefs teeming with fish and the wreckage of a coastal freighter and an old submerged passenger plane. And it's right there on the resort's doorstep.
Back at the 'Village' we fitted in more hours of family fun, paddle-boarding around Duke Kahanamoku's (five-acre) Lagoon, and on Wednesday and Saturday nights, the kids took off to enjoy movies under the stars while we had dinner and drinks above the beach.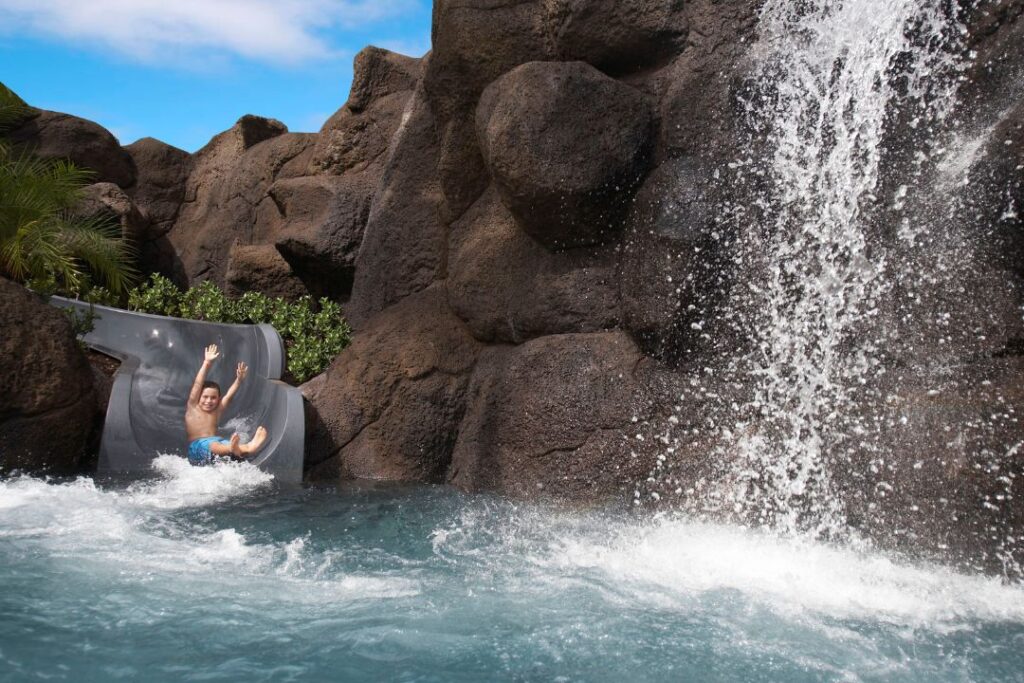 Warriors and Moana
After three viewings of Moana, our daughter had mastered every word of the theme song: 'How Far I'll Go.' On our last evening in Hawaii, she stood on the beach looking out the horizon, singing her little heart out. The ocean was still and glassy, spread before us like a shimmering land of silk, the sandy beach soft on her bare feet. The feel of warm sand and the sound of water lapping on to a shore sums up some of our best holiday moments.
As the Polynesian warriors emerged from the darkness, flame spears in hand to light the resort's tall torches, I once again thought of Moana. Looking up at the night sky, the stars were shining bright — sparkling signs leading to other magical places. After the whole family shouted out for more, all of us cheering her on, she turned and sang to us:
See the light where the sky meets the sea — it calls me…
And no one know-ohs, how far it go-ohs!
If the wind in my sail on the sea stays behind me
One day I'll know-oh, how far I'll go-oh!
Culture vulture? Here are the seven best museums in Hawaii.